Coming Back to Life After Cancer
Former ESPN and FOX personality Britt McHenry, 35, is still going strong with her passion for sports and zest for life after battling brain cancer … and multiple controversies.
The podcast host was originally trying to keep her diagnosis under wraps, but decided to take control of the narrative back in February of 2020, and ever since she has been a highly vocal advocate for brain cancer awareness.
It is crucial to immediately go get checked if experiencing any strange symptoms in your head like long-lasting pain and pressure, especially when coupled with nausea, but the good news is most brain tumors aren't actually cancerous.
TV anchor Britt McHenry, 35, is thriving after beating brain cancer, and looking stunning while doing so!
Most importantly, the former ESPN and FOX personality is still going strong with her passion for sports and zest for life after facing multiple controversies. Not only was the outspoken reporter back on the sidelines during football season, but she's hosting a podcast discussing mental health in sports, among other topics, while staying away from controversy.
Read More
"This is the strongest I've felt in a long time," the
Pump the Brakes
podcast host
wrote in her latest Instagram post, alongside a pic of herself posing in the mirror in a leather mini-skirt. "When you beat brain cancer and continue to watch your health, sometimes you take little victories."
 

View this post on Instagram

 
She has also had some larger victories (cancer included). In 2019, McHenry filed a lawsuit against Fox over sexual harassment claims and they wound up settling with her outside of court. She alleged that her Un-PC co-host George Murdoch, aka Tyrus, sent her sexual texts and "engaged in inappropriate behavior," according to Deadline.
"I am very proud to have to stood up for my rights and hope that I have empowered other women to do the same," McHenry said in a statement at the time of her settlement. "Although I fully stand by the truth of my allegations, I am pleased to put this matter behind me and move forward with my career." Fox said they were pleased to have come to an agreement, though they added they were "confident" they would have "prevailed in the lawsuit."
Related: 'Does This Mean I'm Not Going To Work This Year?' —TV Journalist Erin Andrews Says Cancer Made Her Worry About Her Career
Prior to her brief time at Fox, McHenry said on Twitter she was fired by ESPN in 2017, during a round of lay-offs, for being conservative and white. She later admitted there were a number of factors involved in her dismissal (she had previously been suspended by the network after a video went viral of her insulting a woman in a parking lot due to her car being towed).
Now that she has put her career and health issues behind her, McHenry can enjoy lighter things in life, like gambling. The New Jersey native recently Tweeted about juggling watching Jeopardy while sports-betting on the Washington Capitals and Florida Panthers hockey game.
Juggling watching #MatteaRoach winning her 21st #Jeopardy game while I bet $1k on the #Caps #Panthers money line live-streaming on my iPad is multi-tasking at its finest.

— Britt McHenry (@BrittMcHenry) May 3, 2022
We are guessing that the Washington D.C.-based TV personality had her money on the "Caps," and is now $1,000 richer, as the team wound up beating Florida 4-2.
Britt McHenry's Cancer Diagnosis
It's great to know that McHenry is getting back to enjoying all of the things that she loves personally and professionally, but it is also particularly admirable that she is an advocate for brain cancer awareness.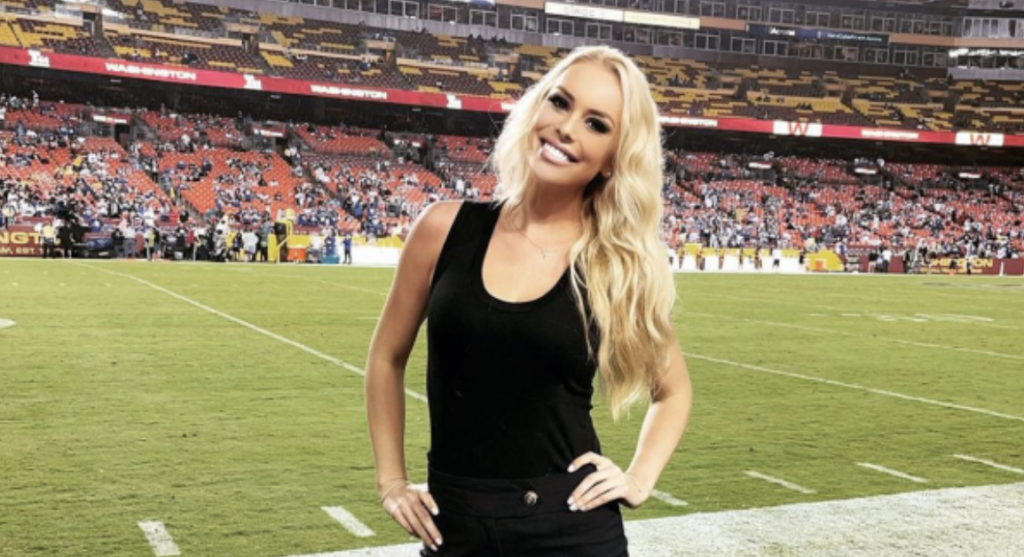 Although McHenry was originally trying to keep her diagnosis under wraps, she decided to take control of the narrative back in February of 2020, and ever since she has been vocal on her socials and urging people to get in and get a brain MRI if something doesn't seem right.
It was actually McHenry's chiropractor who suggested she get an MRI, which caught her cancer just in time. "I will always be grateful to him," she has said.
Be Pushy, Be Your Own Advocate … Don't Settle
When McHenry decided to speak out about her health, she shared with her supporters that a "golf-ball sized" tumor was found on her brain, and added that she would be having surgery. She said that her doctors believe the tumor was cancerous, but it was unknown at the time.
Related: Fox News Host Britt McHenry Goes Public About Brain Tumor After Her Health News Leaks Online
"I was trying to keep this relatively private. But as usual, things are being said without my consent," she wrote on Twitter. McHenry had surgery for her brain cancer in April of 2020. She disclosed that the tumor was found in her left frontal lobe.
SNTV Presents 'Endless Abilities,' Sports Can Bring Together People of All Abilities
"I struggled a bit emotionally with that quick turn of events later," she posted on Instagram about the surgery. "The headaches I had attributed to stress from hard stuff I was experiencing were actually brain tumor symptoms. It had grown so large, it was near my eyes and the headaches involved vomiting."
Related: 'I Just Thought I Had a Small Hangover': Mom Blamed Lump On Head On Drunken Fall But It Turned Out To Be A Brain Tumor
Headaches are common, but if they don't go away after proper hydration and rest, it's important to go in and get checked, especially if you are experiencing nausea as well.
Not All Brain Tumors Are Cancerous
Even though McHenry's story is quite scary and can happen to anyone, it is also very rare to experience. Plus, a lot of people think "cancer" when they hear the word tumor. However, most brain tumors aren't actually cancerous. Less than one third (about 32%) of brain tumors are considered malignant (cancerous), according to the American Brain Tumor Association.
If a tumor is made up of normal-looking cells, then the tumor is benign. But these tumors may still require treatment, such as surgery. Because of this, they are often referred to as "non-malignant," since the word benign can be misleading.
Related: She Beat Brain Cancer as a Child, Now Miss Columbus State University Is in School to Become a Pediatric Oncology Nurse
The most common type of non-malignant brain tumors are meningiomas, however, there are 120 different types of brain and central nervous system tumors, according to ABTA.
Oftentimes after an MRI, a biopsy will be performed on a brain tumor to determine its type. Sometimes, the results of imaging tests show that a tumor is likely to be non-malignant, and a biopsy is not necessary. McHenry didn't disclose whether or not she had a biopsy, simply stating that her tumor would be removed with surgery.
All that matters is that she beat the disease and is giving others hope who are having to suffer from the same ordeal. Please talk to a doctor immediately if you have similar issues to McHenry or any other concerns.
Contributing by SurvivorNet staff.
Learn more about SurvivorNet's rigorous medical review process.