NFL sideline reporter for Fox Sports Erin Andrews, 41, says that when she was first diagnosed with cancer, one of her biggest concerns was whether or not she'd be able to continue working during treatment.
"[My] initial [reaction was] shock, fear, crying, [thinking], 'Does this mean I'm not going to work this year?' We had the Super Bowl that year, I want to do the Super Bowl, I have Dancing With the Stars,'" she said in an interview with Entertainment Tonight.
Read More
RELATED: Brave Sportscaster Erin Andrews Preps For The NFL Season– Remarkably Open About Her Cancer & Fertility After Treatment
Andrews was diagnosed with cervical cancer in September of 2016, though she didn't make her diagnosis public until five months later, in January 2017.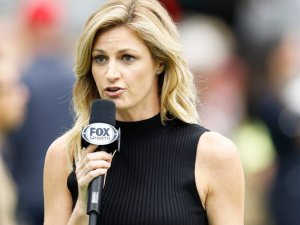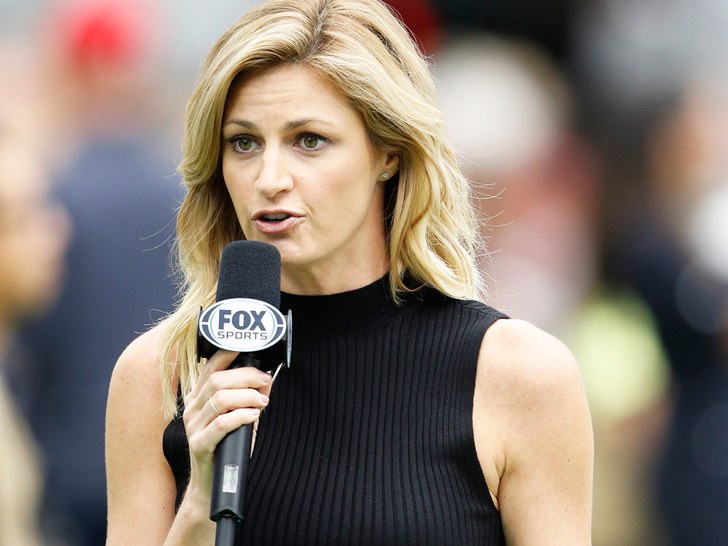 '"Uh, what?' That was what went through my mind," Andrews said. "It was football season and when you hear from your doctor on a Saturday it's not good. It's like, 'Oh boy what's this text coming in?'"
RELATED: The Reality About Going Back To Work After Cancer
Fortunately, Andrews was able to keep working during her treatment. 17 days after her diagnosis, Andrews had surgery for her cancer, and 48 hours later got on a plane to Wisconsin to cover the Green Bay Packers, according to People.
Andrews also said that her work is her favorite thing to talk about, and she sometimes has a hard time with more personal things like her health, "I don't really like dealing with the things like this in my life," she said. "I want to talk about next year's Super Bowl and Dancing With the Stars and the fall season, and everything like that."
But she also said that she was able to get into a confrontational mindset to take on the illness, "Then it went into problem solving. How do we fix this? How do we take care of this and fast?"
And that her husband, former professional hockey player Jarrett Stroll, was by her side the whole time to make the process a little bit easier, "He just went into competitive mode, which I love so much about him," she said. "I think if anything it got us stronger. He went to a lot of doctors' meeting, saw a lot of diagrams and sat there. And this is a guy who cares about winning face-offs and winning penalty kills and so forth, and he was like, 'We got this, we got this.'"
Update on Andrews' career after cancer
Two years after her cancer battle, Andrews is covering the topics she loves most. In a recent Instagram, Andrews posted about a TV interview with Ram's football player Aaron Donald, "Week 2 with @nflonfox ! [football emojis] @aarondonald99 @rams."
She also posted a photo of herself dancing alongside Dancing With The Stars Host Tom Bergeron, writing "Uncensored Dress Rehearsal @tombergeron @dancingabc [dancing emoji] #actnatural #uncensored."
Information about going back to work after cancer
There are a lot of people who can continue to work during cancer treatment, and a lot who need to take some time away. The reality is — it really depends on the person, their individual cancer, and the treatment.
People who work in the oncology field — doctors and social workers — have told SurvivorNet that they absolutely recommend working during cancer treatment, if you can, because work can really establish a sense of normalcy in a person's life. However, not everyone can. Victoria Rego, a triple-negative breast cancer survivor, said that during her treatment — work simply wasn't possible.
RELATED: VICTORIA REGO ON TELLING FAMILY ABOUT CANCER
"My treatment went through a year and a half, at which point I had stopped working," Victoria said. "I was on leave for about a year, and when I went back they had hired two people to replace me, so they laid me off. I was actually kind of grateful for it."
Breast cancer survivor Victoria Rego on the reality of going back to work after cancer
In Victoria's situation, the loss of one job was kind of serendipitous. She discovered that SHARE Cancer Support, an organization meant to educate and empower women with breast and ovarian cancer, was hiring.
"SHARE Cancer Support, which helped me out during my treatment, happened to be hiring and I applied," Victoria said. "There are all these other side effects and body image aspects that you don't really hear about when you're diagnosed … People claim they don't discriminate, people try not to discriminate. But they do look at you like, hey, what's going on? So when I was interviewing at SHARE, it was like a relief, almost, knowing that I was going into a place where they would get it."
Erin's concern about fertility after cancer
Another aspect of Andrews' cancer journey that she has spoken candidly about is the question of having children after cancer. When Andrews and her doctor first decided they would go the surgery route for treatment, her doctor sat her down to tell her that if she wanted children to be a part of her future, she should consider freezing her embryos. At the time, she and her husband were not yet married and hadn't discussed the topic of children in depth.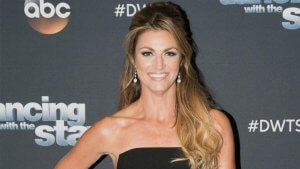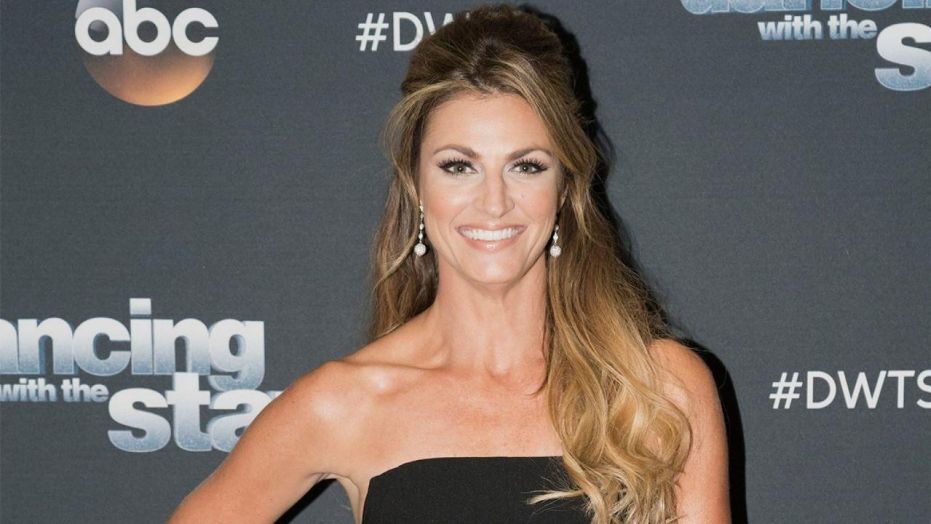 Andrews was really worried that even if she froze her embryos, she would not be able to carry a pregnancy and the couple would need to use a surrogate. Luckily, she had a very supportive partner through it all.
"After that first appointment, we sat at The Ivy across from the hospital and ordered a bottle of Pinot Grigio. I was bawling, and wondering if I'd be able to have kids," Andrews told InStyle. "I said, 'What if we have to get a surrogate and I'm not pregnant for our baby shower?' and he said, 'Then we'll go to Napa with all of our friends and just drink.' I was very lucky that he looked at it that way, but there was still the thought of, 'What if?' We had to have some very real conversations."
Fertility after cervical cancer
For young women battling cervical cancer, and many other types of cancer, there are fertility preservation options available. But it's important to have the conversation with your doctor about which options you may be able to take advantage of before you undergo cancer treatment. A woman's ability to get pregnant after cervical cancer depends on the stage of the cancer and the treatment received.
In a previous conversation with SurvivorNet, Dr. Jaime Knopman, a reproductive endocrinologist at CCRM NY, said that when it comes to preserving fertility for women with cancer — time is always of the essence. So this is a conversation to have with your doctor sooner rather than later.
"The sooner we start, the sooner that patient can then go on and do their treatment," Dr. Knopman said. "A lot of the success comes down to how old you are at the time you froze and the quality of the lab in which your eggs or embryos are frozen in. Oftentimes we just do what we call a 'fast start.' We start them no matter where they are in their menstrual cycle. Because of that, it can sometimes take a bit longer than it would for traditional IVF stimulation. But all in, you're never really talking about more than two weeks."
Learn more about SurvivorNet's rigorous medical review process.