There's a lot of good news for former Miss Universe Dayanara Torres, 45, as she continues her treatment for metastatic melanoma. She will be back on TV as a judge on the new season of Univision's "Mira Quién Baila All Stars," (MQBAS) and, far more importantly, the actor and model told Hola!, will likely finish cancer treatment this March.
Torres said her career was just beginning to reemerge from "the little cave I was hiding in with my children" when, in 2019, she learned in she had cancer.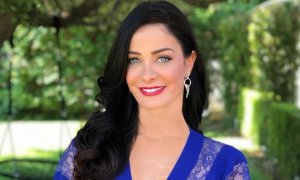 Read More
"Suddenly, I find out I have cancer and that I need to start the treatment, I am still going through it," she told Hola! of the diagnosis. "But thank God I will be finishing in March. I hope all is negative in the last three tests."
Dr. Anna Pavlick, Oncologist at NYU Perlmutter Cancer Center on how to know if you are at high risk for melanoma
Torres' Melanoma Journey
Torres first announced she had cancer in an Instagram video recorded in Spanish in February, 2019.
This December, Torres updated her fans with a video of herself in the hospital, looking relaxed and happy as she shares that she has had two surgeries.
"Gracias Dr. Hamid & the whole staff at #TheAngelesClinicAndResearchInstitute for your incredible Love & Support, always making me feel loved like family… I know I'm in the best hands," she wrote.
Torres and Her Children
Torres and ex-husband singer Marc Anthony share two teenaged sons named Christian and Ryan, and Torres told the publication that she worries about them more than herself. "I know I will be fine, but when the night comes and you go to bed, you think about your children and that uncertainty is so strong."
Raising Melanoma Awareness
Torres also said that the primary reason she's gone public with her disease is to help others who may be at risk: "The reason why I decided to open up and share the process I was going through was that it all took me by surprise. … [I] didn't know it could be so dangerous."
Early Detection for Skin Cancer
As Torres mentioned in a recent post, skin checks are something you can do at home in front your mirror, and they can play a crucial role in early detection.
In a previous interview, Dr. Cecilia Larocca, a dermatologist at Dana-Farber Cancer Institute, told SurvivorNet that she recommends people do a skin check once every month and look for any abnormal moles or markings using the ABCDE method.
The ABCDE method, Dr. Larocca told SurvivorNet, can help people identify if they have any new moles, any moles that are changing color or shape, or any skin markings that are becoming itchy or painful — all of which may be early indicators of melanoma. However, Dr. Larocca also pointed out that having an atypical mole doesn't necessarily mean you have cancer — but it is something to get checked out by a dermatologist.
Learn more about SurvivorNet's rigorous medical review process.
---