Many members of the SurvivorNet community have turned to the arts while going through or recovering from cancer treatment as a way to cope — and this awesome 9-year-old from Arizona is no different. Peyton Gonzales, who suffers from a very rare cancer called adrenal cortical carcinoma, turned to painting to help her cope with the challenges of dealing with cancer. And now, she's selling those paintings to raise money for her own cancer treatment, and to help out other kids who are also battling cancer.
RELATED: HOW I GOT THROUGH CANCER – PAINTING & DREAMING
Read More
Peyton's artistic journey began when she overheard her parents, Jake and Brittany, talking about how they were going to pay for a $6,000 medical bill related to her cancer.
Speaking to AZCentral
, Peyton's father recounted how she burst into the room and apologized for causing them money problems.
"She came over to me and put her head down to say she was sorry," Jake wrote on a GoFundMe page he and his wife set up for Peyton. "It broke my heart and I told her she didn't have to worry about the money stuff, but to just focus on getting better."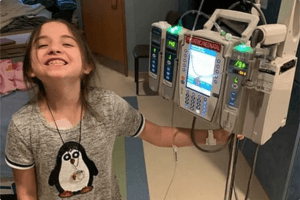 They tried to assure the fourth grader that she shouldn't worry about money, but instead, Peyton came up with an idea of how to raise some. Peyton had recently been doing a lot of artwork, paintings of things she enjoyed like dogs, lady bugs, and sunsets. She decided to begin selling her work to raise money for the bills.
Through a website called ThroughPeytonsEyes, Peyton's fans and supporters are able to purchase her art, and are then directed to her GoFundMe page to make a donation. So far, Peyton has raised more than $12,000!
The GoFundMe page explains a little more about Peyton's rare disease. It all started when her parents took her to her pediatrician after they noticed a very sudden weight gain, and early signs of puberty (Peyton was 8 at the time). Blood work revealed that Peyton's hormone levels were out of range. Eventually after more testing, doctors figured out that Peyton had a large tumor on her right adrenal gland. The family scheduled a surgery to get the tumor removed, and doctors assured them that no chemotherapy would be needed.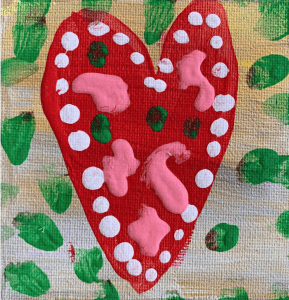 However, doctors soon found that Peyton's tumor was surrounding the IVC, the main vein that returns blood to the heart. They had to wait for a special spot to open at a different medical center where they had the tools and a children's vascular surgeon. Peyton's surgery was a struggle for the whole family, and it lasted more than double what doctors had initially planned due to complications, but doctors were able to get the tumor out and Peyton was able to begin her recovery.
The family decided that Peyton would undergo chemotherapy, to reduce the chances of any cancer returning. Through it all, Peyton has been just as positive as ever — and that positivity seems to be contagious. When her father, Jake, first posted on Facebook that Peyton would be selling some of her artwork, the response the family got was huge and heartwarming.
"She wants to use a portion for her medical bills, a portion for fun stuff (bucket list), and a portion for other kids going through cancer," Jake wrote on Peyton's GoFundMe page.
We here are SurvivorNet are big fans of embracing the healing powers of art. Interested in a painting by Peyton? This delightful and determined fourth grader's artwork can be found here.
Learn more about SurvivorNet's rigorous medical review process.