Scanxiety and Colorectal Cancer
FOX anchor Lindy Thackston, 40, was diagnosed with stage 3 colorectal cancer in May 2020.
She has completed treatment and has since returned to work, but still feels "scanxiety" or the feeling of fear that her cancer will be detected on scans.
Colorectal cancer screenings have made a huge difference in colorectal cancer prevention. But with colorectal cancer cases in younger people on the rise, the recommended age for beginning screening has been moved from 50 to 45.
FOX anchor Lindy Thackston was diagnosed with stage 3 colorectal cancer just over a year ago but has since finished treatment and even returned to work. Although she's slowly returning to her pre-diagnosis life, Thackston still lives with "scanxiety" or fear that her cancer will return.
The 40-year-old began her cancer treatment with four surgeries and 15 rounds of chemo pills and radiation. She then had 10 rounds of "clean-up chemo," as she calls it, which quickly became "pure torture." She was initially going to have 12 rounds, but she decided – with support from her doctor – that 10 rounds was sufficient given the increasing severity of her side effects like fatigue, nausea, neuropathy (weakness, numbness or pain from nerve damage) and gastrointestinal issues. During her time in the hospital, Thackston lost 40 pounds, and, on top of it all, has dealt with hair loss.
Read More
Given everything she's gone through, it makes perfect sense that Thackston is anxious about the idea of her cancer potentially returning. In a recent Instagram story, she shared a picture of her sitting at her doctor's office for a check-up.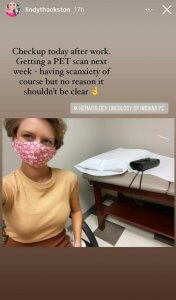 "Getting a PET scan next week," she wrote above her photo. "Having scanxiety of course but no reason it shouldn't be clear."
Understanding Colorectal Cancer
Colorectal cancer is a type of cancer that occurs in the colon or rectum. Like any cancer, colorectal cancer presents its own unique challenges for patients on the road to recovery. But Dr. Heather Yeo, a surgical oncologist and colorectal surgeon at New York Presbyterian Weill Cornell Medical Center, wants to remind people how far the treatment of this disease has come.
"One of the most exciting things about my job is that we've made a lot of progress on treatment options," Dr. Yeo says in a previous interview with SurvivorNet. "However, patients are still — while they're living longer, they are still living with colon cancer, and so I think it's really important that we talk about how some of the things in your life affect you."
How to Approach Treatment for Advanced Colon Cancer
Dr. Yeo also wants people to know how important colorectal screenings can be. In fact, she says most colorectal cancers can be prevented early with screening.
"In the United States, on a national level, colorectal cancer has been decreasing for the last 20 years," Dr. Yeo explains. "And much of that is thought to be directly due to screening for colon cancer."
Even still, colorectal cancer cases are rising among younger people like Lindy Thackston. Because of this increase, the United States Preventive Services Task Force has recently updated their screening recommendations to beginning at age 45 as opposed to 50.
RELATED: All Americans Should Begin Colorectal Cancer Screening at Age 45, According to New Guidelines; Previous Age Was 50
Handling 'Scanxiety'
The lingering fear of a cancer recurrence, often referred to as "scanxiety," is a very real thing – as Lindy Thackston can attest to. Some people are able to turn these check-up scans into a positive event, but the reality is that many cancer patients report that waiting for test results is even worse than the initial cancer diagnosis.
Unfortunately, we know that no one is truly ever "safe" when it comes to cancer, but survivors sometimes feel less anxious as more time goes by. And although it can be very scary awaiting these uncontrollable results, sometimes it can help to focus on the things that are in your control.
Three-time Cancer Survivor on Coping With Anxiety
Dr. Ken Miller from University of Maryland School of Medicine tells SurvivorNet the most important ways to stay healthy in between scans to help prevent another cancer diagnosis.
One is exercise. I'm going to want you to be doing at least two hours a week of some exercise, and walking counts.
The second is I personally recommend a low-fat diet.
Third thing is I recommend a colorful diet. So I think there's real value to fruits and vegetables.
And the fourth is trying to be close to ideal body weight.
Learn more about SurvivorNet's rigorous medical review process.
---