Lindy Thackston Shows Off Post-Chemo Hair
Lindy Thackston was diagnosed with stage 3 colorectal cancer in May 2020, and recently finished her chemotherapy treatment.
Chemotherapy side effects like hair loss have taken an emotional toll on Thackston, but she recently showed off her new haircut with pride on Instagram despite having some detractors in the comments.
Hair loss is generally a side effect of chemotherapy, but there are options like wigs and scarves to help camouflage the hair loss if that will help your self-esteem. Ultimately, a patient should do whatever will make them happiest, whether that be rocking a bald look or donning a stylish hat.
New 'do, who this? FOX anchor Lindy Thackston proudly shared a picture of her new haircut after finishing chemotherapy treatment for colorectal cancer earlier in April.
Her new look frames her face with an edgy, short hairdo. Her stylist swept her dark blonde locks up in a longer pixie-style cut with good volume on the top and short sides. It's a definite contrast from the long blonde haircut we're used to seeing, but the new look carries a sort of sophisticated swagger. In short, she looks like a cancer-beating tough cookie with style to spare.
Read More
Thackston was diagnosed with stage 3 colorectal cancer in May 2020. She began treatment with four surgeries and 15 rounds of chemo pills and radiation. Then she had 10 rounds of "clean-up chemo," as she calls it.
Thackston explained in a recent episode of her podcast "Life with Lindy" that chemo became "pure torture" when she got to round nine. She was initially going to have 12 rounds, but, with support from her doctor, she decided to stop at 10 because of the increasing severity of her side effects which included fatigue, nausea, neuropathy (weakness, numbness or pain from nerve damage) and gastrointestinal issues.
On top of it all, Thackston was dealing with hair loss. This side effect of chemotherapy might not be as physically painful as her other side effects, but hair loss can take a huge emotional toll on a person. But when Thackston recently showed fans her new hairdo, she was decidedly happy with her fresh look.
RELATED: Brave Indy 500 Speedway Announcer and FOX Anchor Lindy Thackston Shares Why She Had to Stop Chemotherapy for Colorectal Cancer Early
View this post on Instagram
She made sure to thank her hairstylist Cristopher Caudill for "making an emotional thing so easy." Although most of the comments under her photo shared nothing but glowing praise, Thackston still had to deal with some negative feedback. On her Instagram story, she shared a comment that someone left saying "Omg…….fail." In response, she wrote on her story saying, "You think I wanted to get cancer and cut my hair John?"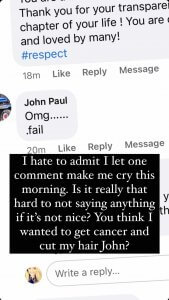 RELATED: 27-Year-Old Artist Designs & Donates Incredible Henna Crowns to Help Women Cope With Hair Loss During Cancer
And while she admitted the negative feedback got her down for a moment, she posted a second picture on her story reminding fans of what's truly important: informing the public about colorectal cancer. Thackston said she had two upcoming interviews to "spread the colorectal cancer word" with a sassy shot of her showing off her locks.
Chemotherapy and Hair Loss
Hair loss can be a very challenging side effect of chemotherapy – both physically, and mentally. Chemotherapy targets quickly-dividing cells throughout the body which includes cancer cells, but also hair cells. As a result, women may lose the hair on their scalp as well as their eyebrows and eyelashes, too.
Dr. Yvette Williams-Brown explains what cancer patients can expect when it comes to hair loss
"Despite many claims that there are ways to prevent that from happening, it is a side effect unfortunately that cannot be stopped," says Dr. Yvette Williams-Brown, a gynecologic oncologist at the LIVESTRONG Cancer Institutes at UTHealth Austin.
RELATED: Not Your Parents' Chemotherapy: New Solutions for Nausea, Hair Loss, and Other Chemo Side Effects During Ovarian Cancer Treatment
Going bald can take a heavy emotional toll on a person, but Dr. Williams-Brown says that the hair will typically grow back once treatment ends. Although some women, she notes, may experience some changes to hair color and texture when it begins growing back.
But while the hair is gone, there are options. Wigs, scarves and hats can help to camouflage the loss if that's something that's important to you. Many insurance companies will cover the cost of a wig, and women can often find one that resembles their original hairstyle. Some cancer patients choose to embrace their new look, and, ultimately, it up to each person to do whatever they see fit. Having good self-esteem, like Thackston showed in her social media post, is a crucial aspect of a person's cancer journey.
Learn more about SurvivorNet's rigorous medical review process.
---