Moving On After Cancer
Actor Cameron Mathison was diagnosed with kidney cancer in 2019; he beat the disease following surgery and says in a new interview he's "feeling fantastic."
The type of cancer Mathison had was renal cell carcinoma, which occurs when malignant cells form in the tubules of the kidney.
After beating cancer, Mathison joined the iconic soap opera General Hospital as Drew Cain last year.
General Hospital actor Cameron Mathison, 53, has received another "all clear" report on his most recent check up, after beating kidney cancer in 2019. In addition to the good news, the husband and father has admitted he's feeling great.
"I'm feeling fantastic. I actually just got my… this is the scary time of year when you get your annual scans and X-rays and everything," Mathison said on Good Morning America this week, alongside his co-star Laura Wright. "And I literally just found out that, all clear. All clear, three years down. Thanks for asking, I appreciate that."
Read More
Mathison was responding to GMA host George Stephanopoulos, 61, asking: "You're looking great. But we all remember back in 2019, you had that cancer scare. How are you feeling?" Mathison and Wright appeared on the show with Stephanopoulos, Michael Strahan and Cecilia Vega to discuss how things are going with General Hospital, a soap opera that recently celebrated 60 years of being on air and its 15,000th episode.
Related: 'General Hospital' Star Cameron Mathison, 52, Beats Kidney Cancer Possibly Tied to Heartburn Medication: 'I'm On an Ongoing Health Journey'
The actor, who played Ryan Lavery on "All My Children" between 1998 and 2011, recounted the time working for that TV series as "very special." In regards to how his current role is going with General Hospital, Mathison told the GMA hosts, "ABC Daytime, it feels like coming home to me. Coming on to this show has just been amazing – the cast and production. I come into work super prepared knowing how good everybody is there. Every day, feels like coming home." He joined the iconic soap opera as Drew Cain last year.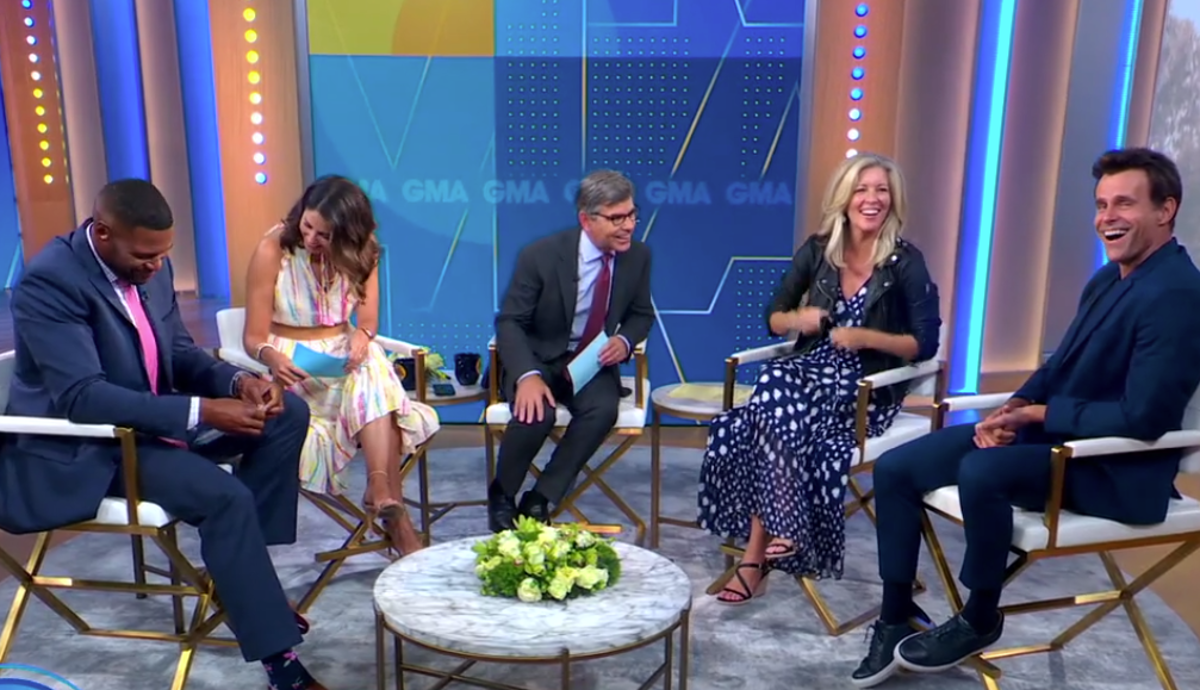 In another interview, earlier this summer, the Los Angeles-based soap star spoke with PEOPLE at the 49th annual Daytime Emmy Awards about his new health habits. "I work with a health coach now — I thought I knew a lot about what I was doing in the right and the wrong ways or whatever, but in the last year, I'd say, maybe 14 months, I've learned more about my own specific health challenges and growth than I have probably in decades before that."
"The way that it's changed, it's increased my desire and my willingness and my effort and motivation to help others and to spread the word and just to be a benefit," he added. "I got so much help through my journey, and it's like, not everybody has that."
Related: New Jersey Father, 62, Was Told His Very Sore Toe Was 'Stenosis:' It Turned Out To Be A Strange Kidney Cancer
In 2019, Mathison was diagnosed with renal cell carcinoma, a type of kidney cancer. And he had kidney surgery in October 2019 to get rid of the cancerous tumor growing there. In surgery, part of his right kidney was removed. There are two primary types of kidney cancer found in adults: renal cell cancer and transitional cell cancer. Mathison's type of cancer, renal cell carcinoma, occurs when malignant cells form in the tubules of the kidney.
Healthier Habits After Cancer
The general recommendations for a healthy lifestyle are the same whether you have cancer or not. And we can all use a reminder to live our best lives—which starts with a life of balance.
Dr. Ken Miller, the Director of Outpatient Oncology at the University of Maryland Greenebaum Cancer Center, has some guidelines for cancer survivors who are concerned about a recurrence:
Exercise at least two hours a week … walking counts!
Eat a low-fat diet. Experts find that a low-fat diet is associated with reduced risk for cancer recurrence.
Eat a colorful diet with lots of fruits and vegetables. The American Cancer Society recommends aiming for two to three cups of vibrant vegetables and fruits each day.
Maintain a healthy weight. Studies have shown that being obese can increase your risk for several types of cancer.
Recommendations for a Healthy Lifestyle—One Doctor's Advice for Cancer Survivors
Signs of Kidney Cancer & Advocating For Your Health
Signs of kidney cancer may include blood in the urine and a lump in the abdomen area. Other symptoms of kidney cancer may be persistent pain, unexplained weight loss, loss of appetite and anemia.
It's important to listen to your body and note any changes that may be occurring, so you can seek a physician's care if needed. Remember, too, to always be your own best advocate for your health and physical needs. If you don't get sufficient answers about what's going on in your body, seek a second, or third opinion.
Related: Woman, 31, Has Stage 4 Kidney Cancer: How She Was Honest About Her Cancer Battle, And STILL Landed A Great Job
Our expert, Cedars-Sinai's Dr. Zuri Murrell, a colorectal surgeon, advises patients to lead each appointment with a plan and to do their own research. He says, "It's important for you to actually educate yourself and be your own health care advocate."
"And that's something that I think is really important," says Dr. Murrell. "You should lead each doctor's appointment with a plan."
Mathison echoes Dr. Murrell's advice in speaking with ET. The soap star says, "Really be in-tune with your own body, listen to your body, listen to what happens when you eat something and it doesn't feel right, really be in tune with it, because your body could be telling you something. It's saved my life."
"I had to fight for an MRI," says Mathison. "It took me two years to get one, so you've got to really listen to your body. I really believe that."
Be Pushy, Be Your Own Advocate… Don't Settle
Contributing: SurvivorNet Staff
Learn more about SurvivorNet's rigorous medical review process.
---