Support During a Trying Time
Robin Roberts' ABC co-host Lara Spencer, 52, says she has been recruited for an extra special project to help revamp her colleague's home as Robert's partner Amber Laign battles breast cancer.
This is the second time that Spencer—who says she loves finding a good bargain—has helped design for her Good Morning America colleague and close pal.
Amber Laign was diagnosed with breast cancer in February, and Roberts, as a two-time survivor herself, has been her primary caregiver.
Robin Roberts' ABC co-host Lara Spencer, 52, says she has been recruited for an extra special project to help revamp her colleague's home as Robert's partner Amber Laign battles breast cancer.
"This is the second project I've done with Robin," the Good Morning America personality told the HELLO!. "I'm working with them to give a little refresh to their home in New York City."
Read More
Spencer divulged that she is definitely into a good bargain hunt when it comes to styling homes.
"If I'm shooting a show at a flea market, I have Amber and Robin in mind as I'm walking around," Lara said of her clients and "closest" friends. "Then if there is a break for lunch and I know I need a little trinket for the top of their coffee table, I'll take a spin at the flea market, send them pictures and grab what they like on the way out."
 

View this post on Instagram

 
For Roberts part, between balancing her full-time career and caregiving for Amber, having someone she trusts to spruce up their sanctuary must be helpful amid the stress that they're going through.
Decorating their home is likely a welcome distraction for Robin, 61, and Amber, 47, as they continue to deal with Amber's breast cancer diagnosis.
Roberts, who is a two-time survivor herself, has been by Amber's side since her diagnosis back in February.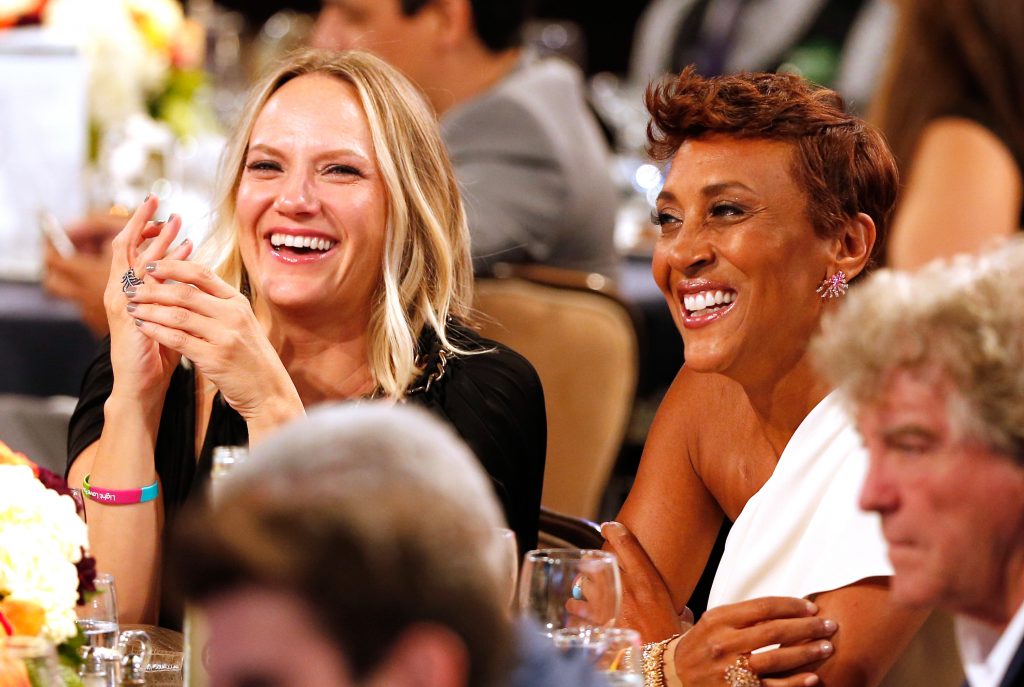 "Like many people, she had put off going to the doctor during the pandemic," Roberts divulged to Ellen DeGeneres during a recent guest appearance.
"And at the end of last year, she followed through with a regular exam and it was discovered. The message is 'get those regular exams, it could save your life,'" she told the audience as they applauded with support.
Getting the Emotional Support You Need
Robin and Amber's Cancer Battles
Robin Roberts has been open in saying that her faith got her through both of her cancer battles, and now she is continuing to lean on her faith as she helps Amber through her own journey, after getting diagnosed late last year. Amber is a bit more private in her life, but Roberts, as a public figure, has felt compelled to continually raise awareness for what she has been through.
Roberts was diagnosed with breast cancer in 2007 after discovering a lump. Ironically, she made this discovery while prepping for a news segment on performing self-checks, which shows just how important they are to perform at home.
Related: Getting to Know Your Breasts with Self-Exams
"At first I thought, 'This can't be. I am a young, healthy woman,'" Roberts said, which tends to echo through many women's heads following a diagnosis.
The journalist's early detection was a critical factor in her survival. She treated her breast cancer with surgery, one of several treatment options for this disease, which can also be treated with radiation, chemotherapy, hormone therapy and immunotherapy.
Living with Breast Cancer
In addition to battling breast cancer, Roberts had  MDS, which stands for myelodysplastic syndrome—a rare type of blood cancer where abnormal cells form in the body's bone marrow.  Roberts had to undergo a bone marrow transplant.
Related: What's the Standard Treatment for MDS (Myelodysplastic Syndrome)?
Chemotherapy for breast cancer could have likely contributed to Roberts' secondary cancer. Although it is rare, it is one of the risks of treatment. MDS caused by cancer treatment is called "secondary MDS" or "treatment-related MDS."
Although risks and complications can happen with treatment, many patients feel that is is highly better than the alternative—and that the benefits outweigh potential side effect and future outcomes. So, while treatment may feel like your ultimate foe while going through it, just keep reminding yourself that there is light at the end of the tunnel, it is most likely only a temporary situation, and never give up hope.
Learn more about SurvivorNet's rigorous medical review process.