Today, 43-year-old athlete Jamie Whitmore is a consistent gold-medal champion in the Paralympics. She runs, she cycles, and she swims—and she forges world records in it all, despite having had a cancer tumor the size of a grapefruit wrapped around her sciatic nerve and vital organs.
Whitmore's story is one of perseverance and mindset as much as it is a physical one; it's about returning from cancer more motivated and successful than ever before.
Read More
But her story is also a cautionary tale:
don't ignore your symptoms
.
Whitmore was already a star athlete before her cancer diagnosis. She was a six-time U.S. champion in XTERRA mountain biking, a two-time champion of the European Tour, and widely considered to be one of the most successful athletes in the country.
In 2007, Whitmore—31 at the time—was in the middle of competing in a triathlon when she felt the first signs of what she would eventually discover to be a rare cancer called spindle cell sarcoma. She had just finished the swimming portion of the competition when she got on her bike and felt "something off" in her left leg. She rode through it, but when she started the running portion of the race, she told Reader's Digest, "I was shuffling. It was hard to pick my legs up. I knew something wasn't right."
Whitmore cut back on running for a while following the race, but she kept swimming and biking, assuming the leg pain was just the result of a muscle that she'd worked too hard.
But the pain kept getting worse, culminating in the moment when she got on her bike and immediately experienced pain that was so intense, she started bawling.
It was only then that Whitmore rushed to the hospital, where doctors found a tumor near her ovary the size of a grapefruit. When the doctors went in to try to take a sample of the tumor with a laparoscopic (small-incision) procedure, they found that the tumor was essentially encompassing all her major organs, as well as her sciatic nerve.
She decided to see a specialist at the University of California San Francisco, where she received her cancer diagnosis: spindle cell sarcoma, a soft-tissue tumor that begins in the bone. The cancer is extremely rare, making up only two-to-five percent of all bone cancers.
Whitmore's multiple surgeries were complicated; all-in-all, her doctors had to remove all of her sciatic nerve, sacral nerve, and part of her tail bone. When she woke up from her first surgery, she couldn't use her leg from the knee down. She had complete drop foot, meaning an inability to lift the front part of the foot due to nerve damage.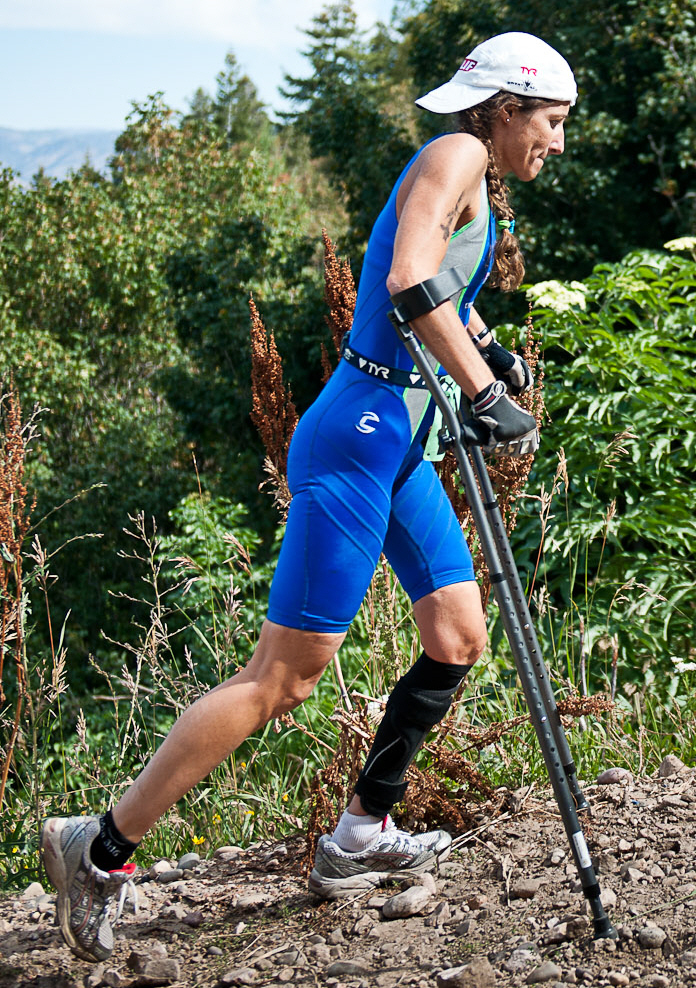 "Doctors told me I'd never run again, my pro career was over, and I'd probably never ride anything other than a stationary bike," Whitmore told Self.com.
How wrong they were. After multiple surgeries, radiation, her cancer returning once, and a bad sepsis infection, Whitmore finally beat her sarcoma.
She defied her odds, taught herself to walk again, gave birth to twin boys, and was back on her bike competing within three years, winning gold medals and setting world records once again.
"Never let anyone tell you what you can and cannot do," Whitmore advises others facing limitations. "You have to find out yourself."
Whitmore's positive attitude, determination, and appreciation is what helped her get to where she is today: 10 years cancer free, and accomplishing more than her doctors ever thought possible.
When it comes to living with cancer, there's expert-backed proof that attitude makes all the difference.
"I'm pretty good at telling what kind of patient are going to still have this attitude and probably going to live the longest, even with bad, bad disease," Dr. Zuri Murrell, a colorectal surgeon and Director of the Cedars-Sinai Colorectal Cancer Center, previously told SurvivorNet. "And those are patients who, they have gratitude in life."
Learn more about SurvivorNet's rigorous medical review process.