Grammy Nominees & Family Cancer Battles
The Grammy nominations were announced today and multiple nominees have parents who have battled cancer.
Artists like Taylor Swift, Jazmine Sullivan, and Megan Thee Stallion know the emotional hardships of having a a parent diagnosed with cancer.
Coping with a loved one's cancer diagnosis can be helped with therapy.
With the Grammy nominations today, artists such as Taylor Swift, Megan Thee Stallion and Jazmine Sullivan are showing that you can bravely channel the pain of a loved one's cancer diagnosis into successful art.
Related: Taylor Swift Added Many New Songs to 'Red (Taylor's Version)', But 'Ronan' Tells the Moving Story of a Boy Who Passed From a Rare Type of Cancer; Coping With Losing a Child to Cancer
Read More
Swift, Megan and Sullivan, all have mothers who have fought cancer. Swift was nominated in the category of "Album of the Year" for her powerful
Evermore
, which was released during the pandemic.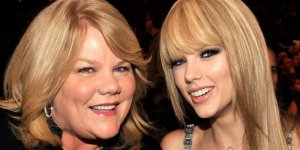 Texas native Megan Thee Stallion was nominated for "Best Rap Performance" for her song Thot. Like Swift, she's been unstoppable since she hit the music scene.
Related: 'My Mom is Now in Remission' Says Jazmine Sullivan Accepting BET's Album of the Year Award As Her Mother, a Breast Cancer Survivor, Stands By Her Side
Relative newcomer Jazmine Sullivan was nominated for "Best R&B Performance" for her song Pick Up Your Feelings. And Sullivan knows what it's like to pick up yourself and your feelings when times get tough; her mother fought breast cancer, and she's now in remission.
View this post on Instagram
Megan's Mom's Brain Tumor
Megan Thee Stallion's mother, Holly Thomas, passed from a brain tumor in 2019. We don't know the specifics around Thomas's brain tumor and her treatment path, but we do know that brain tumors can result from brain cancer, as well as from other cancers.
This is especially true when cancer spreads from one area of the body to the brain; when cancer spreads it is often called "metastatic cancer," or advanced cancer. With cancer that has spread, treatment options may be more limited.
In a previous interview, Dr. Melanie Hayden Gephart, a neurosurgeon at Stanford Medicine, explains the spread of cancer. She says, "Lung cancer is one of the most common types of tumors to metastasize to the brain. I think the key is that if we can minimize the side effects of the treatment, that's our main goal, and provide effective treatment of the brain tumor. That frequently looks like a combination of systemic chemotherapy, or targeted therapies, focused radiation, and surgery."
When Lung Cancer Spreads to the Brain
Taylor's Mom's Cancer Battle
After her mother, Andrea Swift, was diagnosed with cancer, the country-star-turned-global-phenom shared the news with her fans on Tumblr in 2015.
Related: Taylor Swift's Surprise Album "Folklore" Is Pure Joy Amid Mom's Cancer Battle
She wrote to her fans that her mom had been diagnosed with cancer. "I'd like to keep the details of her condition and treatment plans private, but she wanted you to know," Swift explained.
Swift used her mom's diagnosis as an opportunity to raise awareness around screenings. She said, "[My mom] wanted you to know because your parents may be too busy juggling everything they've got going on to go to the doctor, and maybe you reminding them to go get checked for cancer could possibly lead to an early diagnosis and an easier battle. Or peace of mind in knowing that they're healthy and there's nothing to worry about."
When Should I Get a Mammogram?
Pam Sullivan's Cancer Battle
Jazmine's mother Pam was diagnosed with breast cancer in October 2019, the singer shared on Instagram. Jazmine writes: "Late October 2019 our world was flipped upside down when U were diagnosed w IBC (inflammatory breast cancer). our days were no longer filled w convos of u telling me to hurry up and finish my project, but of chemo treatments and hospital visits…."
Jazmine continues to say: "…Shit got real, Fast. But if being your daughter has taught me one thing it is how to work w something ugly, painful even, and make it a work of art."
Pam underwent chemotherapy to treat her breast cancer. And she shared some happy news in March 2020, saying, "I never expected to hear my doctor say 'you're done with chemo' today. I believed it would happen earlier than expected cause I asked God to do that for me, but after so much discouragement from my doctor, not this soon…"
When Jazmine Stook home a BET Award for Album of the Year for Heax Tales earlier this year, she brought her mom onstage with her.
"Two years ago we would've never expected to be here. My mom was diagnosed with breast cancer two years ago. We didn't see any of this happening but God has been so faithful to us. My mom is now in remission. This is my prize, this is my gift – it means more to me than anything that she's here with me…," Jazmine said.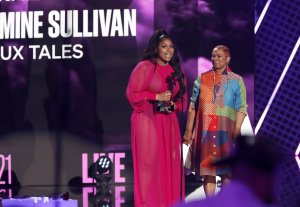 Coping with a Parent's Cancer Diagnosis
Jazmine Sullivan has spoken openly about seeking help after her mom battled breast cancer. It's wise and brave to put your mental health first in the wake of life-altering news like a parent's cancer diagnosis.
Although it's not easy to put your wellness first when a parent is ill, it's imperative to do so, so that you can be the best, healthiest version of yourself for your loved one fighting cancer.
Related: "Therapy Saved My Life": After Losing A Loved One, Don't Be Afraid To Ask For Help
Dr. Marianna Strongin explains in her advice column for SurvivorNet, "Talking about difficult things does not cause more anxiety. It is NOT talking about the very thing that we are all afraid or worried about that causes our body to feel dysregulated and anxious."
For people with sick parents, like Jazmine, Dr. Strongin says, "I encourage you to talk about your feelings with your immediate family as well as your parents."
Dr. Marianna Strongin on Prioritizing Mental Health
Learn more about SurvivorNet's rigorous medical review process.