"Rather than allowing my mind to worry or resist about what is happening, I actually find myself in gratitude for the realization of how temporary this beautiful life is and my deep appreciation that as a human race we are becoming more conscious of our interconnectedness which will lead us to creating a new world that works for everyone," says Jean Trebek, writing on her website Insidewink.com.
The wife of "Jeopardy" host, Alex Trebek, has demonstrated a talent for looking on the bright side during her husband's battle with stage 4 pancreatic cancer. And he's beating the odds — celebrating a one-year cancer milestone in early March.
Read More
Now, Jean is finding the gift in life under quarantine. "Although we are physically being confined," she writes on her website, 
insidewink.com
, "we also have the great opportunity to truly be or invest in ourselves at a deeper level."
Taking Comfort in the Possibilities
Trebek sees this time as a "grand retreat." As we take a "much-needed break from all the business, agendas, routines, politics," we enter a time to "learn new things, discover old hobbies … reorganize your house, and touch base with family and friends that you haven't talked with in a while."
RELATED: Alex Trebek Says He's 'Humbled' by the Response to His Pancreatic Cancer in New Interview
Rather than "concentrating on the things that are beyond our control," Jean Trebek is focusing on the possibilities that lie within our "temporary, new normal," she writes. "I feel that we're each being asked to take a good look at ourselves and the lives we've been living, and perhaps use this time to give our inner world some vital attention."
RELATED: 'Jeopardy!' Host Alex Trebek Poses Smiling With Daughters in Heartwarming #Girlsdad Post
Trebek sees this time as an opportunity "to come back to what is most important in life. To recognize the simple actions we are each taking, rather than mindlessly moving through our day on autopilot."
Universal Gratitude
Jean Currivan Trebek, 55, has been practicing sound healing for 10 years. The practice, along with an ancient healing technique called Reiki, is part of Trebek's spiritual faith, called Religious Science.  When asked what she would say to someone seeking spiritual answers during difficult times, Trebek's advice is simple:
"Just ask the universe," she said, in an interview with SurvivorNet, "what's the next step for me?'" she said. "The universe will always respond. I am absolutely sure that we live in a benevolent universe that is always conspiring for our highest and greatest good."
Son, Matthew Trebek: Offering Food and Compassion
In late February, Jean shared some inspiring news about what her son Matthew Trebek is doing for his New York community. Matthew (pictured below with business partner, Nodar Mosiashivili) owns three restaurants in New York's Harlem neighborhood; Oso, Lucille's, and Pizza by Lucille. (Lucille's is named in honor of Alex Trebek's mother) , with a third partner, Alexander Perilla.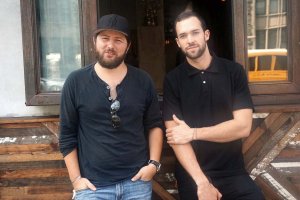 Matthew and his partners have created a weekly soup kitchen called Lucille's Family Meal for people who are living in poverty or transitional housing in the North Harlem area. Lucille's Family Meal, held every Wednesday at St. Matthew's Baptist Church and is able to feed approximately 100 people.
 The MD Anderson Pancreatic Cancer Moon Shot is tapping the combined cancer expertise at MD Anderson to accelerate the search for a cure, Dr. Anirban Maitra, co-leader of the Moon Shot, explains.
Trebek's Cancer Journey
Trebek announced in March 2019 that he had been diagnosed with pancreatic cancer — one of the more difficult cancers to treat because it is often diagnosed late. The "Jeopardy" host was diagnosed at stage 4. He responded well to his initial chemotherapy treatment, announcing in May that some of his tumors had shrunk a significant amount, and the results were "mind-boggling." But by September, Trebek announced a reversal of those initial positive results.
RELATED: 'I Hope This Helps A Little Bit' Alex Trebek Donates $100,000 to L.A. Faith-Based Homeless Shelter Amid Stage 4 Pancreatic Cancer
But in a March 4 health update, Trebek announced that he had beaten the odds and reached a rare Stage 4 pancreatic cancer milestone: He'd survived one year after his diagnosis. A small 18% of patients achieve this milestone. "I'd be lying if I said the journey had been an easy one," Trebek added. But his oncologist says he looked forward to celebrating his second anniversary of survival, for which there is a 7% chance. "Anything is possible," Trebek noted, telling fans: "I'll keep you posted."
A one-year update from Alex: pic.twitter.com/W9101suZeZ

— Jeopardy! (@Jeopardy) March 4, 2020
RELATED: Jean Trebek Tells SurvivorNet 'The Universe Will Always Respond' When You Ask for Help.
Trebek has continued to host the show — which shifted to tapings without a studio audience as a safety precaution when the coronavirus outbreak reached the U.S.
Advances in Pancreatic Cancer Treatment
There has been hopeful progress made in the areas of pancreatic cancer research and treatment. While the disease does still have a poor prognosis (it is the only major cancer with a five-year survival rate under 10%), there have been incredible advances over the past couple of years.
One of the biggest developments in cancer research this year involved pancreatic cancer: A clinical trial showed, for the first time, that a class of drugs called PARP inhibitors may be effective in treating pancreatic cancer.
RELATED: How Do PARP Inhibitors Work for Pancreatic Cancer?
PARP inhibitors work by preventing cancer cells that have been damaged — often during the course of chemotherapy — from naturally healing themselves, and have shown significant promise in treating ovarian cancer and breast cancer. However, a study presented at the American Society of Clinical Oncology (ASCO) Annual Meeting in June revealed that one of these PARP inhibitor drugs, called olaparib (Lynparza), may work for pancreatic cancer as well.
The drug extended the amount of time that patients with advanced stages of pancreatic cancer who had mutations of the BRCA gene could live without the cancer getting any worse (a measurement doctors call "progression-free survival"). The drug was actually just officially granted full Food and Drug Administration (FDA) approval today.
Immunotherapy
While Trebek has said that immunotherapy was not effective in treating his own cancer, another study this year showed some promising results for immunotherapy, the process of activating a patient's own immune system to recognize and attack pancreatic cancer cells. The study, funded by the Parker Institute for Cancer Immunotherapy and released in April, combined two immunotherapy drugs with chemotherapy — and found some patients experienced either shrinking of tumors, or a slowing of the progression of tumors.
Up until this unique combination of drugs was tested, immunotherapy for pancreatic cancer hadn't historically worked well.
"Up until now, immunotherapy hasn't had a big role," Dr. Allyson Ocean, Medical Oncologist at Weill Cornell Medicine and NewYork-Presbyterian, told SurvivorNet at the time. "Now this study is combining two immunotherapy drugs with frontline standard chemotherapy, and we're seeing response rates that are significantly better than what was published with other chemotherapies alone."
Immunotherapy does not work for all patients with advanced pancreatic cancer, but the advances presented in this study and others throughout 2019 are giving those facing this disease a lot of hope.
New Set of Radiation Guidelines
A new set of guidelines released late last summer from the American Society for Radiation Oncology (ASTRO) clarified when and how radiation should be used to treat pancreatic cancer. The guidelines are the first to address pancreatic cancer treatment with a newer radiation, called "stereotactic ablative radiation therapy," or "stereotactic body radiation therapy (SBRT)."
"SBRT," which is the type of radiation therapy that Justice Ruth Bader Ginsburg received — and the type of radiation that the ASTRO guidelines address in pancreatic cancer for the first time — can administer very high doses of radiation to a precise location in the body. The way this works is through a number of separate high-intensity beams of radiation targeting a tumor from different angles.
"It's a very focused form of radiation that's used to treat small tumors… that have not spread to nearby lymph nodes or other parts of the body," Dr. Billy Loo, an associate professor of Radiation Oncology at Stanford University's Stanford Cancer Institute, explained to SurvivorNet in a previous conversation.
Why Is Pancreatic Cancer so Difficult to Treat?
One of the biggest challenges with pancreatic cancer is that it is so often diagnosed in later stages, when it has become really difficult to treat. Screening is a major issues because the disease often doesn't present any symptoms until it has advanced and spread outside of the pancreas.
"Because the pancreas is inside the abdomen, it often doesn't have symptoms that would tell you that something is wrong with your pancreas," Dr. Anirban Maitra, co-leader of Pancreatic Cancer Moon Shot at MD Anderson Cancer Center, told SurvivorNet in a previous interview. "By the time individuals walk into the clinic with symptoms like jaundice, weight loss, back pain, or diabetes, it's often very late in the stage of the disease. Each year in the United States, about 53,000 patients get pancreatic cancer, and unfortunately, most will die from this disease within a few months to a year or so from the diagnosis."
Dr. Maitra pointed out that a large issue lies in screening methods, which unfortunately, still need to be improved. Testing everyone for the disease, Dr. Maitra said, would lead to too many false positives.
"It is not prudent to be screening everyone," he said. "So instead, our efforts are now focused on screening only those subsets of individuals who are at higher risk for pancreatic cancer."
Who is at Risk for Pancreatic Cancer?
Dr. Matira pointed out that those at higher risk would be anyone who has two or more family members who had pancreatic cancer, those with an abnormality in germline DNA and those with cysts in their pancreas.
Detecting pancreatic cancer in early stages opens up treatment options significantly. Because the disease is often diagnosed so late, as it was for Rep. Lewis, most people facing the disease will not be able to undergo surgery to try and remove it. Dr. Maitra pointed out that only about 20% of people diagnosed with pancreatic cancer are eligible for surgery.
While there have been great advances in treating pancreatic cancer in its later stages, early detection for the disease is still crucial.
Know Your Tumor: Customizing Treatment
Because every pancreatic cancer patient – and every tumor – is unique, PanCAN recommends that all pancreatic cancer patients undergo testing of both their tumor tissue along with blood and saliva to identify individual treatment options for that patient. The organization offers a free Know Your Tumor precision medicine service as well as free, personalized resources on the disease.
Learn more about SurvivorNet's rigorous medical review process.
---