As Alex Trebek, 79, navigates life with stage 4 pancreatic cancer, the "Jeopardy!" host and his wife, Jean, remain focused on giving back. To that end, the Trebeks just surprised an L.A.-based homeless shelter with a generous donation, according to a Monday TMZ report, while Jean shares guidelines for kind words on her website, InsideWink.
RELATED: Alex Trebek Praised as 'the Nation's School Teacher' as He and Wife Jean Accept Award from Fordham Univ. Amid His Cancer Journey
Read More
Ken Craft, founder and
CEO of Hope of the Valley Mission
 said Trebek, who has long supported the nonprofit, recently invited Craft to his L.A. home. Trebeck had toured the mission's North Hollywood shelter project, which plans to accommodate 85 beds; but, Craft said, he wanted to discuss it further. During the visit, Trebek slipped Craft an envelope, saying: "I hope this helps a little bit." Inside the envelope was Trebek's gift to the shelter, a check for $100,000.
"Making a Difference in L.A."
Craft also said Trebek invited him to a "Jeopardy" taping, along with Craft's wife. During a commercial break, Trebek introduced Craft to the studio audience:  "I don't normally do this," he explained, "but I wanted to bring these two people on stage because they are making a difference in L.A." Hope of the Valley Rescue Mission's website says, "We believe that everybody and everything deserves a second chance. As a faith-based compassion
RELATED: 'It's a Close-Ended Life' — Alex Trebek, a Role Model for Cancer Survivors, Opens Up About the Power of Prayer — and His Legendary Sense of Humor
ministry, we focus on the spiritual, emotional, physical, relational, occupational, and financial needs of our clients." To show their appreciation, the organization plans to name a wing of the new shelter facility in honor of Trebek.
Jean Trebek's Words of Compassion
At the same time, Alex's wife Jean, 56, shares her thoughts on compassion on Tuesday. Jean and her InsideWink co-editor work to "encourage kinder living, to reveal silver linings, and see the world's perpetual generosity."
RELATED: I'm 'Choosing a Life of Gratitude' Says Jean Trebek as Husband Alex Continues His Treatment for Pancreatic Cancer
In an essay on compassionate communication, Jean — who is listed on the InsideWink website as a religious science practitioner, reiki master, and sound healer — says "words are so powerful," which makes it easy to get them wrong.
 RELATED: Jean Trebek Tells SurvivorNet 'The Universe Will Always Respond'  — A Conversation on Healing and Spirituality
"If your message is in alignment with your heart," she reassures readers, 'then it's the right thing to say." Jean remembers the rules of compassionate communication with the acronym T.H.I.N.K. Ask yourself five questions to be sure you're communicating with compassion, Jean explains:  T: Is what I'm saying true?  H: Is it helpful? I: Is it inspiring? N: Is it necessary? And, finally, K: Is what I'm saying kind?
Alex Trebek's Cancer Journey
Trebek announced in March 2019 that he had been diagnosed with stage 4 pancreatic cancer. However, he's kept an optimistic attitude throughout his yearlong cancer journey. He was initially treated with chemotherapy and had responded quite well — announcing in May of that year that some of his tumors had shrunk a significant amount, and the results were "mind-boggling." But by September, Trebek announced a reversal of those initial positive results.
RELATED: Enormous Love for Brave Alex Trebek as Jeopardy! "Greatest Of All Time" Tournament Begins
In an interview with Good Morning America, Trebek said that he would need another round of chemotherapy after recent tests revealed "sky-high" numbers, and he experienced rapid weight loss. Trebek responded so well to his first round of chemotherapy that his doctors took him off his regimen, hoping to start immunotherapy shortly thereafter — so Trebek's own immune system could be rallied to begin killing off cancer cells. However, Trebek revealed that immunotherapy didn't do anything for his disease.
The latest news of Trebek's donation was not accompanied by further health updates.
The American Cancer Society estimates that about 57,600 people in the United States will be diagnosed with pancreatic cancer in 2020, and that 45,750 people will die of the disease. The 5-year survival rate for people with pancreatic cancer is 9%.
Could Cannabis Hold the Key to Slowing Pancreatic Cancer?
A new study shows that a chemical derived from cannabis has been showing promise in slowing the progression of pancreatic cancer. Researchers from the Dana-Farber Cancer Institute have seen evidence that a chemical derived from cannabis may be useful for fighting the disease. Because pancreatic cancer is notoriously difficult to treat, the study suggests that cannabis may be a promising focus for further research.
The study was just published in the journal Frontiers of Oncology, and it explains that "flavonoids," a compound which provides the color for plants, vegetables, and fruits, are useful for stopping pancreatic cancer tumors from growing, and for stopping pancreatic cancer from spreading.
RELATED: More Cancer Patients Are Using Medical Marijuana For Pain: How Can You Benefit During Your Treatment?
They aren't sure exactly why flavonoids prevent the spread of cancer, and but they've begun to develop a hypothesis for further research.
Dr. Junella Chin on using marijuana to alleviate side-effects of chemotherapy
The most common use of cannabis in cancer is for pain relief and managing side effects, but in this study, cannabis actually proved useful for treatment. "It was very surprising," said Dr. Wilfred Ngwa, Global Health Director at Dana-Farber Cancer Institute and Brigham and Women's Cancer Center at Harvard Medical School.
RELATED: Understanding How Medical Marijuana Alleviates Pain
"Microscopic Drones" — Delivering the Drug to the Tumor
The researchers also developed a technology to direct the flavonoids to the actual cancer tumor. They call the delivery system "microscopic drones." With most drugs, according to Dr. Ngwa, you only get about 5 percent of the drug to the site it needs to reach. With the new technology, they delivered 90 to 100 percent of the drug, which may make it possible for the drug to go into clinical trials.
Why Study Cannabis and Pancreatic Cancer?
At first, the doctors were studying cannabis so that they'd have a better idea about how to answer patient questions about its use for pain and side effect management. Dr. Ngwa said that patients come to doctors with a lot of questions about cannabis, like "Should we take cannabis to manage side effects?" And doctors are not always able to tell them what to do, because they don't have a prescription for them. "We can't say 'take this amount,' because different growers are different. So it has been our interest to actually isolate some active molecules, and see if they would be active in cancers and pain," he said.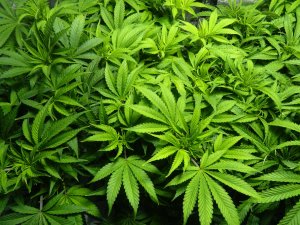 And at the time, they weren't focused on pancreatic cancer at all, "We initially weren't interested in pancreatic cancer, we were actually trying to look at lung cancer," he said, adding, "We had just done this other study on pancreatic cancer, and we said, let's just isolate these molecules and see." The researchers were shocked that it actually yielded results. "We actually had to do some repeat studies to make sure [the findings] were actually true," he said.
Fine-Tuning Cannabis Research
This isn't the first time researchers have explored the impact of flavonoids on pancreatic cancer but, in the past, study results have often proved contradictory. In this study, researchers tried to address that problem by screening the cannabis plants before they took the flavonoids out.
"We had a hypothesis," said Dr. Ngwa, "that plants grown in California might be different from plants grown in Massachusetts."
By screening the plants first, they made sure that they knew that the results wouldn't be influenced by variations among cannabis growers and the plants they supplied.
Learn more about SurvivorNet's rigorous medical review process.
---