A Proud Milestone
Rolling Stones drummer Charlie Watts turns 80 years old today, which is quite impressive after decades of time spent on the road.
The throat cancer survivor is one of a handful of famous musicians who have been diagnosed with the disease.
Alcohol, tobacco, and the sexually transmitted virus HPV are all linked to throat cancer, experts tell SurvivorNet.
Happy 80th birthday to Rolling Stones drummer Charlie Watts! Watts is a throat cancer survivor; this type of cancer seems to be highly common among touring musicians.
The Rolling Stones formed in 1962 and are one of the last legendary '60s bands with most band members still standing. Frontman Mick Jagger gave up heavy drinking and drugs years ago, guitarist Keith Richards has survived a pretty intense alcohol and drug addiction, and bassist Ronnie Wood (since 1976) is a two-time lung cancer survivor after a lifetime of heavy smoking. Additionally, founding bassist Bill Wyman—who is no longer with the band—beat prostate cancer.
Read More
Related: Rolling Stones Guitarist Ronnie Wood Beat Lung Cancer Despite Decades Of Heavy Smoking — "How's That For A Get Out Of Jail Free Card?"
Watts, who joined the band a year after they formed, is married to longtime love Shirley Ann Shepard, who he met before the band got famous. They wed in 1964 and have one daughter, Seraphina, now 53.
View this post on Instagram
The "Wembley Whammer," as he has been nicknamed by Jagger with a nod to Watts' hometown of Wembley in London, was diagnosed with throat cancer in 2004 and completed six weeks of radiotherapy at London's Royal Marsden Hospital, according to a family spokesperson at the time. He had two surgeries and admitted that he thought he was going to die.
Related: Having Oral Sex With Multiple Partners Can Increase Risk for Throat Cancer, Says New Study
"It was benign, but [the doctor] said we should take it out. On the slide, it had tiny cancer cells on it," he explained in a 2011 interview with Ultimate Classic Rock. "He said, 'You have cancer of the whatever.' And that night I thought I was going to die. I thought that's what you did. You get cancer and waste away and die."
The second operation was to take the lymph nodes out, he said.
View this post on Instagram
"When they [take out the lymph nodes], the muscles go," he said to Rolling Stone in 2005, a year after after beating cancer. "Then you sit around for eight weeks in treatment. You can't lift your arm. It's like being minorly paralyzed. It was a worry, because of what I do for a living. We've got a tour, and I didn't know if I could get through a song. You can't stop once you get going, if you're a drummer … I didn't know if I could make it … but it's amazing how quickly your body heals."
View this post on Instagram
Does Hard Partying Lead to Throat Cancer?
Watts pushed forward and continued tour life, but these days things are different. The years of wear and tear on the road, all-nighters, smokes, drinks, drugs (not to mention sex) can theoretically kill you. Tobacco and alcohol, along with the sexually transmitted virus HPV, can cause throat cancer.
Beatles lead guitarist George Harrison, Sammy Davis Jr., Megadeth lead singer Dave Mustaine and Eddie Van Halen all battled throat cancer.
Harrison had surgery and radiation treatment in 1997 for throat cancer, which he blamed on heavy smoking. He died in 2001 at 58 years old.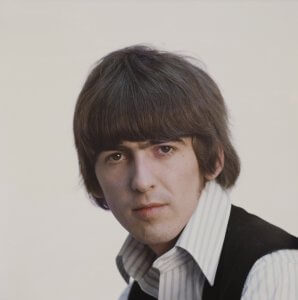 Davis Jr. died in 1990 at 64 following a recurrence of throat cancer. Mustaine, the only current survivor from the bunch, was diagnosed in 2019 and luckily became all clear later the same year after "51 radiation treatments, and nine chemo treatments."
Eddie Van Halen died at 65 of metastatic throat cancer, shocking the music world. It's tragic when any child, parent, spouse, or in this case, global rock idol, loses their life, but this one hit particularly hard.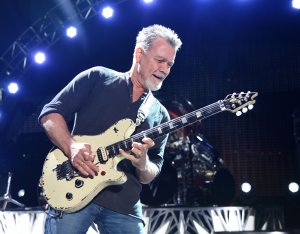 The two primary causes of throat cancer include smoking and excessive drinking, and Van Halen said that he started smoking and drinking when he was only 12 years old.
A Tobacco, Alcohol, and HPV-Related Cancer
There are no annual screenings for throat cancer like other types of cancer. However, there are signs to look out for and consult your doctor if they happen often. Symptoms of throat cancer may include vocal changes, coughing, trouble swallowing, ear pain, a lump or sore in the throat that won't heal, unexplained weight loss and a persistent sore throat.
Another cause of throat cancer, as mentioned above, is HPV, or the humanpapillomavirus.
A lot of people don't know that Human Papillomavirus can cause cancer – or assume that it can only cause cervical cancer, because that's the cancer that's talked about the most. But HPV can cause a handful of other cancers, including throat. Cancers in the back of the throat are often caused by tobacco and alcohol, according to the Centers for Disease Control and Prevention (CDC), but recent studies have indicated that as many as 60-70% of these throat cancers may be linked to HPV – or caused by a combination of HPV, alcohol and tobacco.
Related: HPV-Related Cancers Are on the Rise And More Than 70 Cancer Centers Call for Urgent Action to Increase Vaccinations; What You Need to Know 
Dr. Jessica Geiger, a medical oncologist at Cleveland Clinic Cancer Center, spoke with SurvivorNet about this difficult disease.
"There are no screening guidelines to screen for throat cancer, unlike cervical cancer with pap smears," says Dr. Geiger. "There are no standard tests to determine if you harbor the virus."
However, HPV-related throat cancer is generally very responsive to a combination of radiation and chemotherapy treatments, according to Dr. Geiger. "The cure rates for people who have HPV-related disease are a lot higher than those who have tobacco-related throat cancer."
What Do We Know About HPV-Linked Throat Cancer?
People should also be aware that HPV puts them at risk of developing several other cancers as well.  Cancers of the vagina, penis, and anus have all been linked to HPV.
"The strains of HPV that cause cervical cancer are the same strains of HPV that cause throat cancer," Dr. Geiger tells us. "The average patient with HPV-related throat cancer tends to be males in their 40s or 50s."
Get the Facts HPV Can Cause Cancer in Men Too
Learn more about SurvivorNet's rigorous medical review process.