Remembering Patrick Swayze & Pushing For Progress On Pancreatic Cancer
Iconic actor and dancer Patrick Swayze was born on August 18, 1952.
Patrick Swayze was diagnosed with pancreatic cancer in March 2008, and passed away on September 14, 2009, at age 57.
Pancreatic cancers are particularly aggressive and can progress rapidly, which means we need to catch them early. But given the pancreas is deep inside the body, a tumor on it isn't as readily detectable.
Pancreatic cancer symptoms – including jaundice and weight loss – typically present at a later stage in the cancer's development.
The
Dirty Dancing
heartthrob Patrick Swayze lost his fight to pancreatic cancer in 2009, but his widow Lisa Niemi Swayze keeps his legacy going by promoting funding and research for the disease that took her husband.
In addition, since Swayze's death, it should be noted that clinical trials are currently looking for treatment options that could change the way we look at treatment.
Read More
"He had his moments," Lisa told
Good Morning America
in
an interview
. "But, of course, Patrick was always aware that he was the one who would pay the ultimate price. You know, it's just not fair that he had to be taken so soon in life. I don't want to see that happen for other people." Patrick died on September 14, 2009, at the age of 57 from stage four pancreatic cancer. He was known for his starring roles in memorable films, like
Ghost
,
Roadhouse
,
Point Break
,
The Outsiders
, and of course,
Dirty Dancing
.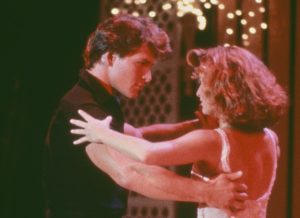 Now, Lisa is outspoken about the need for more funding for pancreatic cancer research.
"Just because Patrick passed on … didn't mean that fight was over, and I was carrying that on for him," Lisa told GMA.
"The fact that November is Pancreatic Cancer Awareness Month is so important," Lisa told GMA. "The only way we're going to stop it is by funding and research and better treatments and early detection."
Patrick Swayze's Pancreatic Cancer
Swayze was diagnosed with pancreatic cancer in March 2008, and fought the disease for a year-and-a-half. The talented dancer began experiencing symptoms in December 2007, but he didn't realize it at the time. Instead, he thought he was just having digestive issues.
In his own 2009 memoir, The Time of My Life, Swayze wrote about how he thought the bloated feeling would just go away on its own.
"I had been having some digestive trouble," he wrote. "Mostly acid reflux and a kind of bloated feeling, for a few weeks. I've had a sensitive stomach my whole life, so I hadn't thought much of it, but lately, I just couldn't shake the constant discomfort."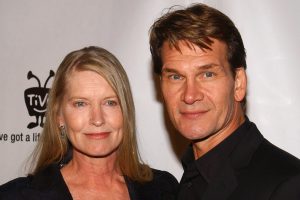 Patrick's battle with cancer brought out the side of him "he always wanted to be," which was a "truly courageous, humble, loving, determined [and] strong" person," Lisa told GMA.
Understanding Pancreatic Cancer
Pancreatic cancer is an aggressive disease that is difficult to detect because symptoms – including jaundice and weight loss – typically present at a later stage in the cancer's development. In a previous interview with SurvivorNet, Dr. Anirban Maitra, the co-leader of the Pancreatic Cancer Moon Shot at MD Anderson Cancer Center, explains what he typically sees when patients develop this disease.
RELATED: If You're A First Degree Relative of Someone With Pancreatic Cancer, Screening and Surveillance Could Save Your Life; Here's Why
"Because the pancreas is inside the abdomen often doesn't have symptoms that would tell you that something is wrong with your pancreas," he says. "By the time individuals walk into the clinic with symptoms like jaundice, weight loss, back pain or diabetes, it's often very late in the stage of the disease."
Detecting Pancreatic Cancer Early Is Crucial
Parents, siblings and children of someone with pancreatic cancer are considered high risk for developing the disease because they are first-degree relatives of the individual. PGVs (pathogenic germline variants) are changes in reproductive cells (sperm or egg) that become part of the DNA in the cells of the offspring. Germline variants are passed from parents to their children, and are associated with increased risks of several cancer types, including pancreatic, ovarian and breast cancers. Germline mutations in ATM, BRCA1, BRCA2, CKDN2A, PALB2, PRSS1, STK11 and TP53 are associated with increased risk of pancreatic cancer.
Jessica Everett, a genetic counselor at NYU Langone's Perlmutter Cancer Center, encourages people in this category to look into possible screening options.
"If you're concerned about pancreatic cancer in your family, start by talking to a genetic counselor to learn more about your risk and what options you have," Everett said.
Progress in Pancreatic Cancer
Progress has been made over the last few years in the world of pancreatic cancer treatments. One clinical trial recently found that the drug Onivyde, in combination with chemotherapy in the so-called Nalirifox regimen, helped patients live longer compared with chemotherapy in previously untreated patients with metastatic pancreatic ductal adenocarcinoma (mPDAC), according to Ipsen, the pharmacautical company that bought the drug.
"The prognosis for people diagnosed with pancreatic cancer is extremely poor and we plan to submit these new findings to the regulatory authority as, if approved, we believe this regimen could offer up an important new treatment option for people living with an aggressive and hard-to-treat cancer," Howard Mayer, Executive Vice President and Head of Research and Development for Ipsen, said. "We thank the patients who participated in the study, their families and their healthcare teams."
The drug is currently approved in the U.S., Europe, and Asia in combination with fluorouracil and leucovorin as a treatment for mPDAC after disease progression and following gemcitabine-based therapy.
Another example of progress being made comes in the form of immunotherapy, a type of cancer treatment that uses your own immune system to fight cancer.
"Up until now, immunotherapy hasn't had a big role," Dr. Allyson Ocean, a medical oncologist at Weill Cornell Medical Center, previously told SurvivorNet.
Dr. Allyson Ocean explains why pancreatic cancer is so hard to treat.
A clinical trial led by researchers at the Perelman School of Medicine at the University of Pennsylvania, and sponsored by the Parker Institute for Cancer Immunotherapy, found "a combination of chemotherapy with an immunotherapy meant to unleash the anticancer capacity of the immune system was effective against one of the hardest targets in cancer care, pancreatic cancer," said Penn Medicine.
"The researchers found that in 34 patients with advanced pancreatic cancer randomized to receive the immunotherapy nivolumab with two chemotherapy drugs, nab-paclitaxel and gemcitabine, had a one-year survival rate of 57.7 percent, significantly greater than the historical average of 35 percent with chemotherapy alone," the institution said.
Dr. Benjamin Musher, the director of medical oncology at the Dan L Duncan Comprehensive Cancer at Baylor St. Luke's Medical Center, recently said there were currently multiple "home-grown clinical trials testing novel immunotherapies in all stages of pancreatic cancer studies underway at Baylor St. Luke's." But only about 5 percent of patients with pancreatic cancer participate in such studies.
"We know that we are not going to improve outcomes without more patients enrolling," Musher said.
In addition, there are immunotherapy clinical trial innovations being made to allow for multiple immunotherapeutic approaches to be tested and compared to one or several standard-of-care options within trials. In other words, "investigational treatments can be added or dropped from the trial over time, depending on preclinical and clinical evidence."
"We're encouraged by the trend toward more innovative clinical trial designs to improve the drug development process and ultimately lead to better patient outcomes," PanCAN Chief Science Officer Lynn Matrisian said in a recent article from the Pancreatic Cancer Action Network.
Clinical Trial Advancements
Clinical trials, in general, are research studies that compare the most effective known treatment for a specific type or stage of a disease with a new approach.
Dr. Beth Karlan, a gynecologic oncologist with UCLA Health, previously told SurvivorNet that clinical trials can play an important role for some patients' treatment, but they also serve a larger purpose.
Clinical Trials Can be Life-Saving for Some
"Clinical trials hopefully can benefit you, but it's also providing very, very vital information to the whole scientific community about the effectiveness of these treatments," Dr. Karlan said. "We need everyone to be partners with us if we're ever going to truly cure cancer or prevent people from having to die from cancer."
That being said, there is no guarantee you'll receive more effective treatment than the standard of care, and clinical trials certainly aren't right for everyone. You should always talk with your doctor(s) before getting involved in one. Some risks to consider are:
The risk of harm and/or side effects due to experimental treatments
Researchers may be unaware of some potential side effects for experimental treatments
The treatment may not work for you, even if it has worked for others
But if you've already decided that a clinical trial is right for you or you're just beginning to explore your treatment options, you should know that SurvivorNet has a tool for you. Introducing the SurvivorNet Clinical Trial Finder: an A.I. driven tool for patients to find clinical trial options for treatment.
The tool, which launched earlier this month, is built on top of clinicaltrials.gov – a database maintained by the U.S. government that compiles privately and publicly funded clinical trials conducted around the world – and gives access to more than 100,000+ individual clinical trials, updated daily.
To use the SurvivorNet Clinical Trial Finder, simply answer some basic questions using our custom-designed chat feature and we'll send customized clinical trial options within your region right to your email. In simplifying the search, we hope to offer multiple opportunities for clinical trial sponsors and clinical research organizations to engage with patients.
Contributor: SurvivorNet Staff
Learn more about SurvivorNet's rigorous medical review process.