High School Quarterback's Cancer Battle
A high school quarterback and senior from Massachusetts, James Tellier, has opened up about beating non-Hodgkin Lymphoma.
After experiencing symptoms of what he initially thought was a 'stomach bug,' a CAT scan revealed a blockage in his small intestine. It wasn't until after James underwent surgery to remove the blockage that he learned he had diffuse large B-cell, a type of non-Hodgkin's lymphoma.
The Lymphoma Research Foundation says that diffuse large B-cell lymphoma (DLBCL) is the most common form of non-Hodgkin's lymphoma. It accounts for about 23% of new cases each year.
A high school quarterback, of Braintree, Massachusetts suffered several symptoms earlier this year that his family dismissed as a "stomach bug" as his aunt had some type of gastroenteritis at around the same time. James Tellier soon learned he had diffuse large B-cell, a type of non-Hodgkin's lymphoma.
Months after his diagnosis, the six-foot-five Braintree High School senior has opened up about his cancer journey and is ready to kick off his team's 2022 season.
Read More
"At the end of June I kept getting sick, couldn't hold any (food) down," James explained to
The Patriot Ledger
. "(I was in) a lot of pain. No sleeping. Couldn't do much." The teen's family admitted they first suspected James to have a bad stomach bug because his mom Barbara Tellier's sister wasn't feeling well and had been in contact with him.
However, when James visited the doctor, a CAT scan revealed a blockage in his small intestine. It wasn't until after James underwent surgery to remove the blockage on July 1 that he learned he had cancer.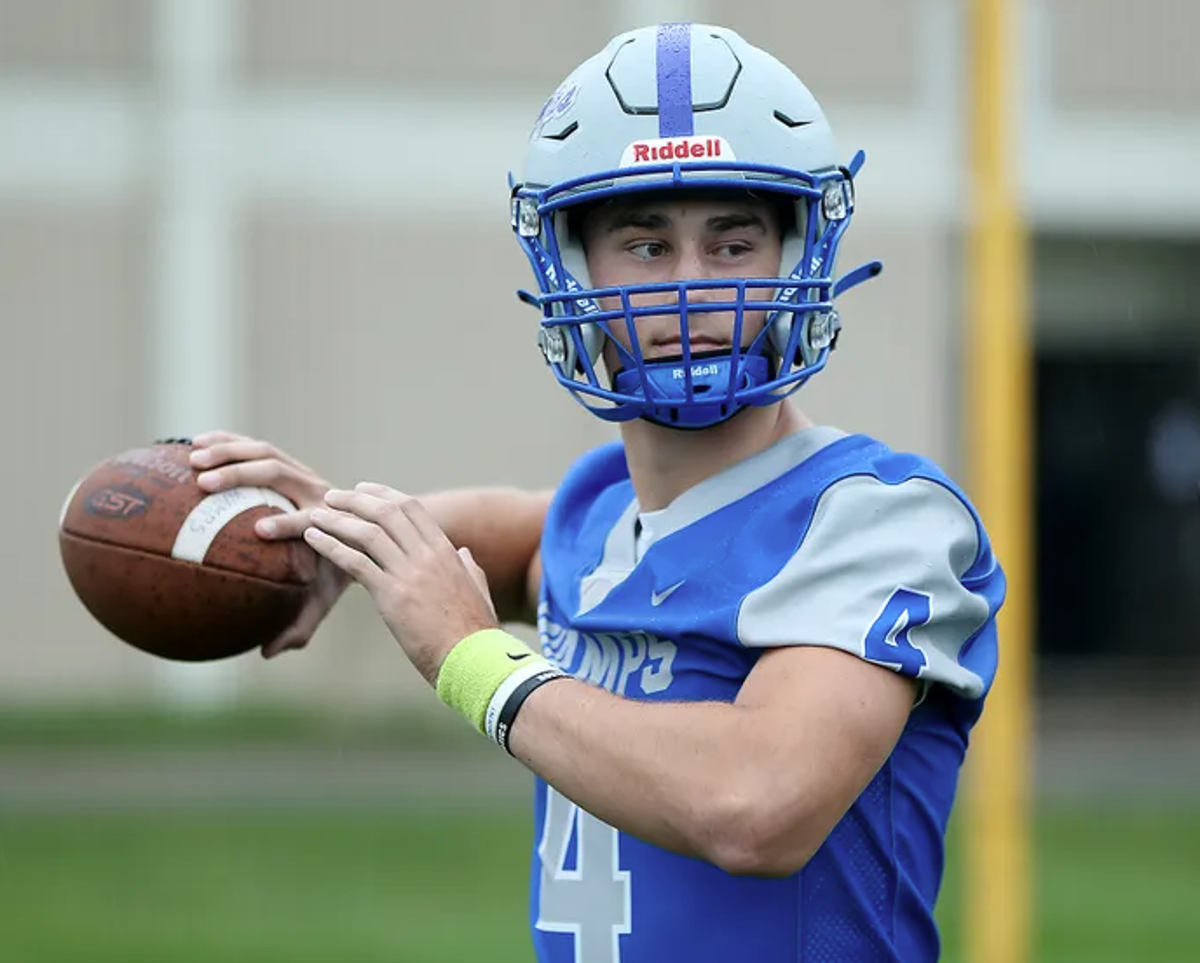 The news came as a shock to James' teammates and family. "It's the call you certainly never anticipate. Your world stops," his mom Barbara said. "As parents our world just stopped and you become hyper-focused on that one thing. Time stops. Everything else that's going on in the world, you just don't pay attention to it."
Barbara said her son, who previously was diagnosed with Type 1 diabetes in February 2021, reacted to his diagnosis by becoming "more quiet than usual."
"We found out on a Tuesday and we were in (the) Dana-Farber (Cancer Institute) on Thursday, meeting with the oncology team. Once we processed everything that they were saying, he was very much like, 'OK, let's do what we have to do and get it over with. Do what we gotta do.' That's how he approached the diabetes, too. That was his entire focus throughout all of it," she explained.
James, who had to undergo surgery and two rounds of chemotherapy, was content with how the doctors at the Children's Hospital and the Jimmy Fund Clinic treated him, noting that "they didn't hold anything back."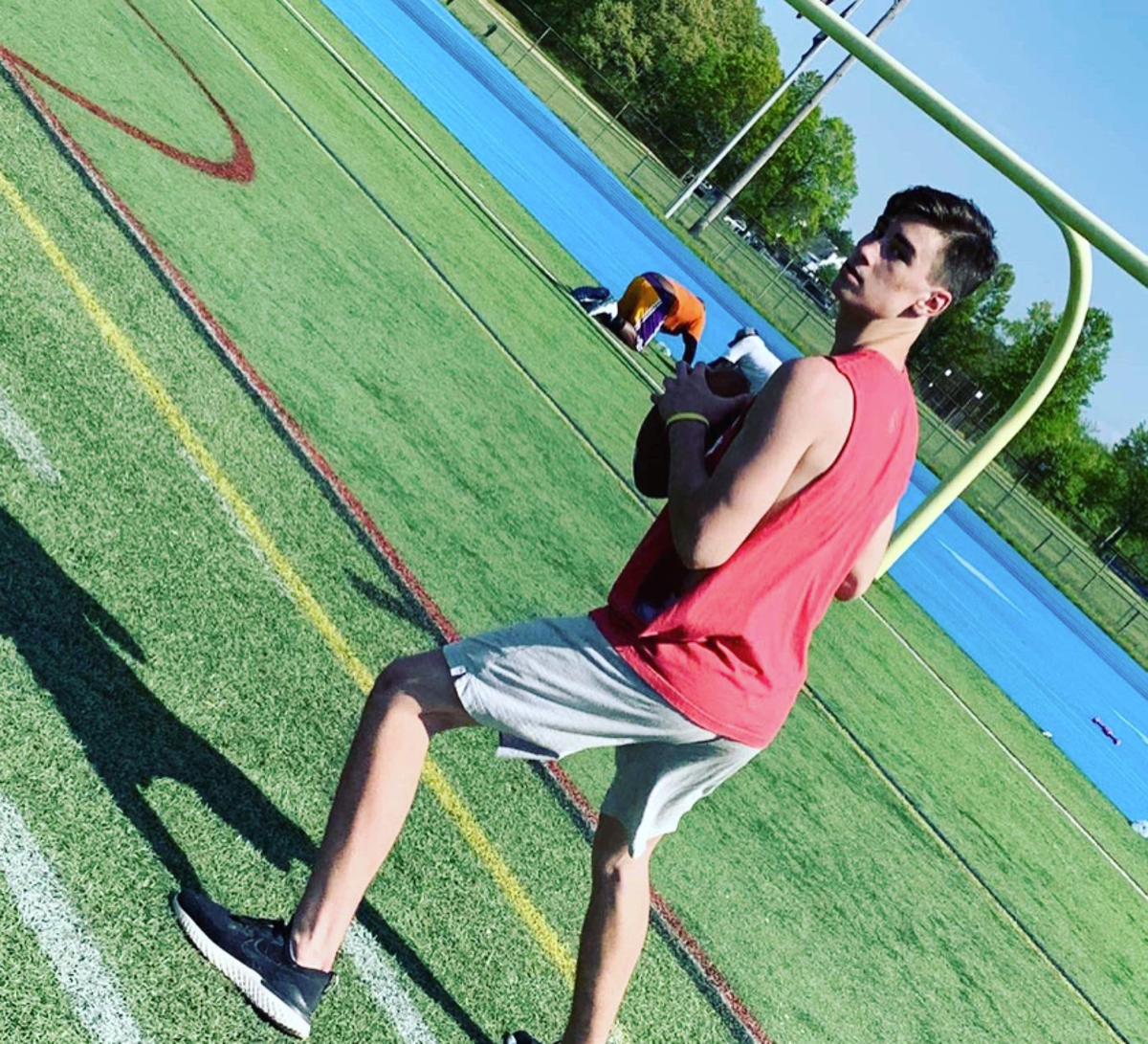 He also recounts worrying that the cancer treatment would "ruin" his summer, but revealed keeping his mind on football "the entire time" was a good distraction. His mom agreed, adding, "Thinking about football and thinking about the first day of football (practice) and the first game" helped him get through treatment. "He had so many things planned and he had worked so hard before the summer and got in such great shape and was ready for camps … and then we got a curveball," she added.
Despite undergoing treatment, James was able to play some seven-on-seven football before his second chemotherapy cycle. He also "always kept his spirits up," according to one of his teammates. Senior linebacker/running back Ryan Brooks told the Ledger, "He kept his personality the same. He never let us see a weak side of him. He always stood strong. Seeing that he didn't really back down from anything was really big for everyone on our team."
Thankfully, James was informed that his cancer went into remission on August 30, the same day he made The Patriot Ledger/Enterprise's list of the Top 100 Players to Watch this season. And although James isn't as strong as he was before his cancer battle and has lost his hair, he remains hopeful for what the future brings.
Learning About Lymphoma
Since there is no screening test available for lymphoma, it is important to understand your risk factors and watch out for symptoms.
"Screening is a test we do with the goal of detecting lymphoma in a very early state," Dr. Elise Chong, medical oncologist at Penn Medicine, told SurvivorNet in a previous interview. "For something to be a good screening test, we need to see that the screening helps people live longer, and helps people have better outcomes."
Related: Single Mom Of Four Told Her Constant Itching Was Due To Pregnancy Is Battling Lymphoma After Doctors Discover Softball-Sized Tumor
At this point in their research, doctors have not found evidence that detecting lymphoma early helps patients live longer. "That's the second part of screening that we need to see," Dr. Chong explained. "Because we don't meet those two criteria, we don't have a good screening test for lymphoma yet, although people are certainly working on this."
Understanding Diffuse Large B-Cell Lymphoma
The Lymphoma Research Foundation says that diffuse large B-cell lymphoma (DLBCL) is the most common form of non-Hodgkin's lymphoma. It accounts for about 23% of new cases each year.
This form of the disease is both aggressive and fast-growing. It can arise in lymph nodes, or sometimes even outside the lymphatic system in the gastrointestinal tract, testes, thyroid, skin, breast, bone, or brain.
Related: 'He's a fighter, on the field and in life:' Meet Beloved Quarterback And Cancer Survivor Austin Heck
DLBCL attacks the body's B-lymphocytes–the white blood cells that produce antibodies that help the body fight infections and viruses. They develop from stem cells in the bone marrow, and they are essential to the healthy function of the body's immune system.
What Kind of Lymphoma Do You Have? Why Your Type Matters
Once DLBCL takes over a cell, it stops producing the antibody protein. The current treatment for this is typically four months of targeted therapy plus standard chemotherapy.
DLBCL is most frequently diagnosed in adults over 50, with men slightly more likely to have the disease than women. People with compromised immune systems are at a much greater risk.
What Are Your Risks?
"The patients who are diagnosed with lymphoma early, typically it's luck," Dr. Chong says. They may have a symptom that causes their doctor to check them, or the cancer may show up on a scan or blood test that the person had for another reason.
Related: 20-year-old with Rare Cancer Teams Up With His Mom to Make Inspiring TikToks Following His Father's Death
Until an effective screening test becomes available, you can increase your odds of finding lymphoma early by knowing whether you're at risk, and staying alert for symptoms.
You might be at higher risk for this cancer if you:
Have been infected with the HIV or Epstein-Barr virus
Had an organ transplant
Have a family history of lymphoma
Have been treated with radiation or chemotherapy drugs for cancer in the past
Have an autoimmune disease
Speak with your doctor about your family's cancer history, if any, and ways you can stay on top of your screenings and limit risk factors for all cancers.
Treatments and Side Effects of Non-Hodgkin's Lymphoma
Symptoms of Non-Hodgkin Lymphoma
Although symptoms of non-Hodgkin lymphoma tend to be indistinct, being aware of what to look for can also help to detect the disease earlier. Many different conditions, including infections, cause these same symptoms, so experiencing them is no reason to panic.
However, it's still worth it to see a doctor if you are experiencing common non-Hodgkin lymphoma symptoms, such as:
Swollen glands in your neck, armpit, or groin
Fever
Chills
Night sweats
Weight loss without trying
Feeling tired
Swelling in your belly
Contributing: SurvivorNet Staff
Learn more about SurvivorNet's rigorous medical review process.
---