Finding Resilience During Cancer
Actress Shannen Doherty's departure from the 1990s sitcom "Beverly Hills 90210" stems from a "toxic" working environment on-set according to her co-stars Tori Spelling, 50, and Jennie Garth, 51.
Doherty worked alongside Garth and Spelling on "90210" until 1994 when she left the show.
In Doherty's personal life, she was first diagnosed with breast cancer in 2015. It went into remission in 2017 but returned as stage 4 cancer in 2019.
Doherty's breast cancer spread to her brain causing her to undergo surgery to remove a tumor in her brain.
Since brain surgery, Doherty's recovery appears to be going well as social media posts by the beloved actress show her in good spirits surrounded by loved ones.
Beloved actress Shannen Doherty, 52, has overcome several obstacles in her life, among them stage 4 breast cancer. She's thankfully had the support of loved ones including fellow cast members from "Beverly Hills 90210." However, as one of Doherty's longtime friends revealed in a recent podcast, her departure from the popular TV show wasn't easy.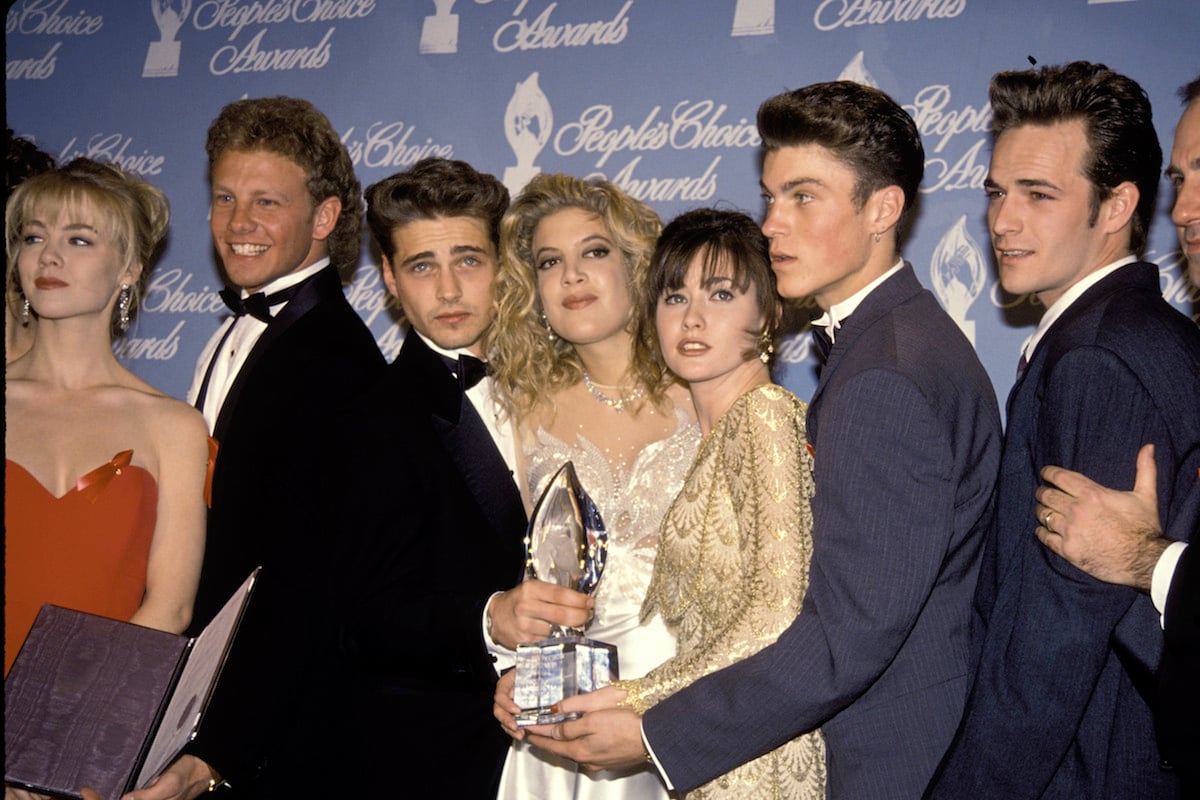 "I wish that Brenda would have stayed on the show," actress Jennie Garth, 51, said during a recent episode of fellow actress Tori Spelling's "90210MG" podcast.
Read More
"I don't know where they were gonna go with her character," Garth continued. Doherty was a regular cast member on the 1990s teen TV hit show "Beverly Hills 90210." She portrayed Brenda Walsh on the show that centered around a group of teenage friends living in Beverly Hills, California navigating high school and college. Doherty left the award-winning show in 1994, which ran from 1990 to 2000. Garth and Spelling described a toxic environment on set that contributed to Doherty's departure.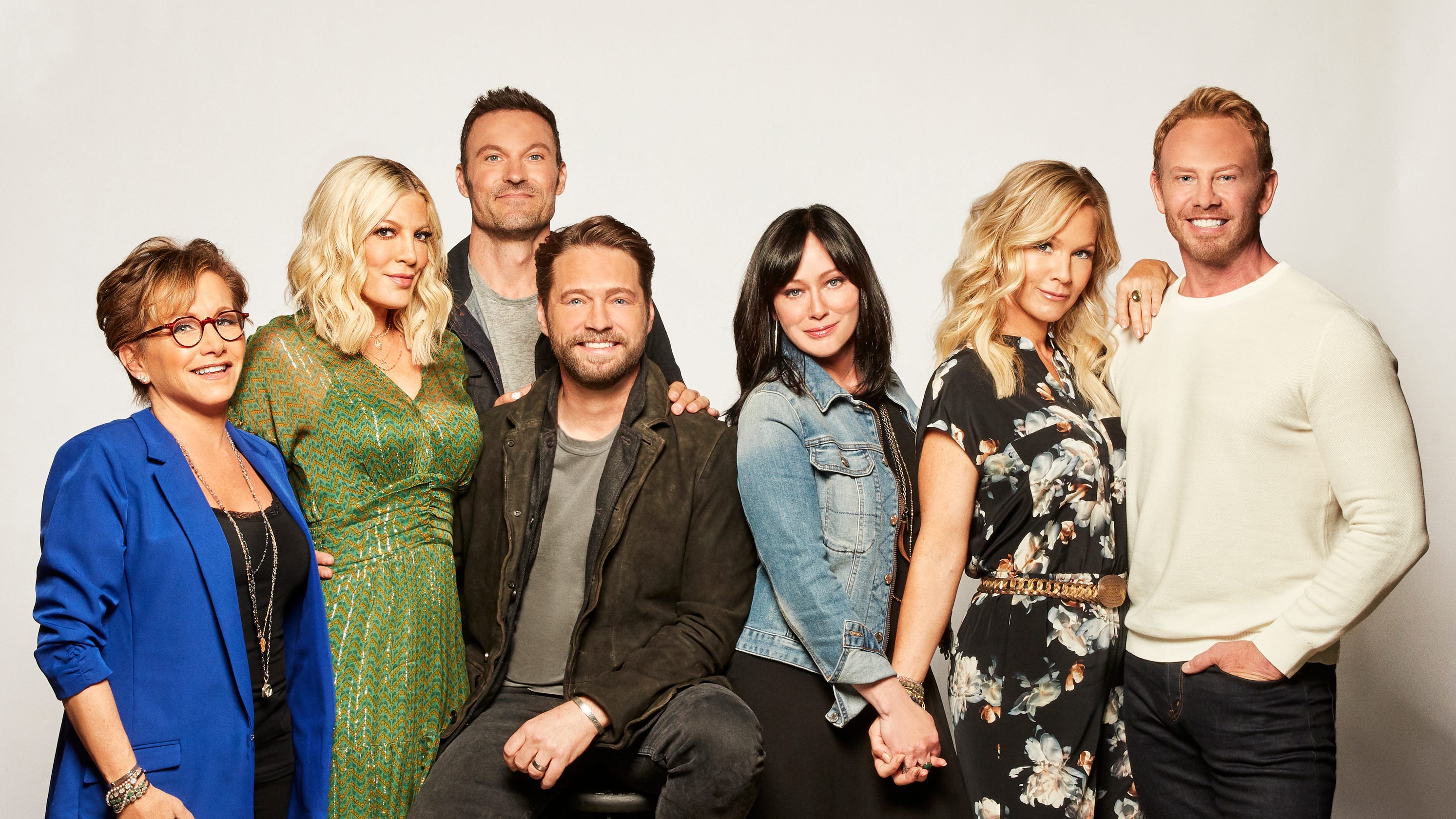 "The energy became toxic on set. I'm not saying she [Doherty] made it toxic, just from everything going on. So it did need a break. But yet, if we had taken a breather, and everyone had calmed down and sorted out, it would have been really nice to have Brenda come back," Spelling, 50, said.
Doherty's award-winning acting career began in the early 1980s. Aside from "Beverly Hills 90210" which helped make her a household name, she also starred in "Charmed" during the 1990s.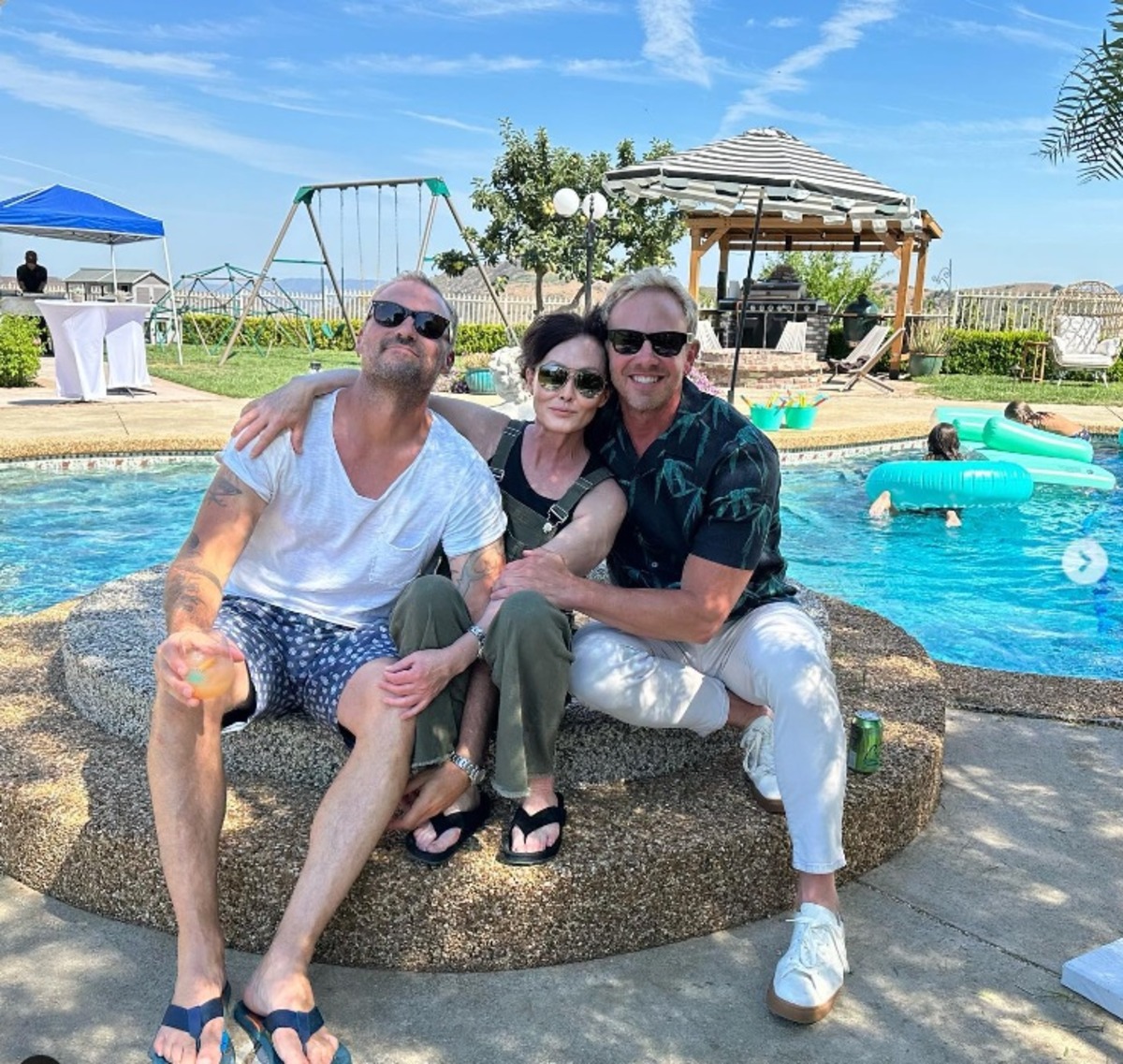 Off-screen, the beloved actress was first diagnosed with breast cancer in 2015. It went into remission in 2017 but returned as stage 4 (or metastatic) in 2019. Metastatic cancer, for which there is no cure, means it has spread to distant areas of the body. In Doherty's case, her cancer spread to her brain.
Despite her cancer diagnosis, the resilient actress is still focused on the positive. Since undergoing surgery for her cancer earlier this year, she's been spotted a few times in public enjoying life.
This Fall, she will be reuniting with her 90210 castmates for a "90s Con" event in Florida. According to E News, "Beverly Hills 90210" alums including Tori Spelling, Jason Priestly, Jennie Garth, Brian Austin Green, Ian Ziering, and Gabrielle Carteris are expected to join Doherty in Tampa for the Sept. 16 and 17 meet-and-greet sessions in Tampa, Florida.
Even though things didn't fully work out while working together on "90210," Doherty has remained friends with the cast in the decades since.
Doherty's Cancer Journey Is Filled with Resilience and Inspiration
Shannen Doherty's initial breast cancer diagnosis arrived in 2015 after she discovered a lump in her breast. For treatment, she had hormone therapy, a single mastectomy (the removal of all breast tissue from one breast), chemotherapy, and radiation.
In 2017, she achieved remission status, but the disease returned two years later in 2019. This time around, her breast cancer was metastatic, or stage 4.
Having metastatic breast cancer means the cancer has spread, or metastasized, beyond the breasts to other parts of the body. Most often, it spreads to the bones, liver, and lungs, but it can also spread to places like the brain.
WATCH: Dr. Comen overviews the many options for treating advanced breast cancer.
"With advanced disease, the goal of treatment is to keep you as stable as possible, slow the tumor growth and improve your quality of life," SurvivorNet advisor Dr. Elizabeth Comen, an oncologist with Memorial Sloan Kettering Cancer Center, said of managing metastatic breast cancer.
"I have so many patients who are living with their cancer… It isn't just about living but living well," Dr. Comen adds.
Doherty's cancer then spread, or metastasized, to her brain. As a result, she's undergone both radiation and surgery in the form of a craniotomy to improve her prognosis.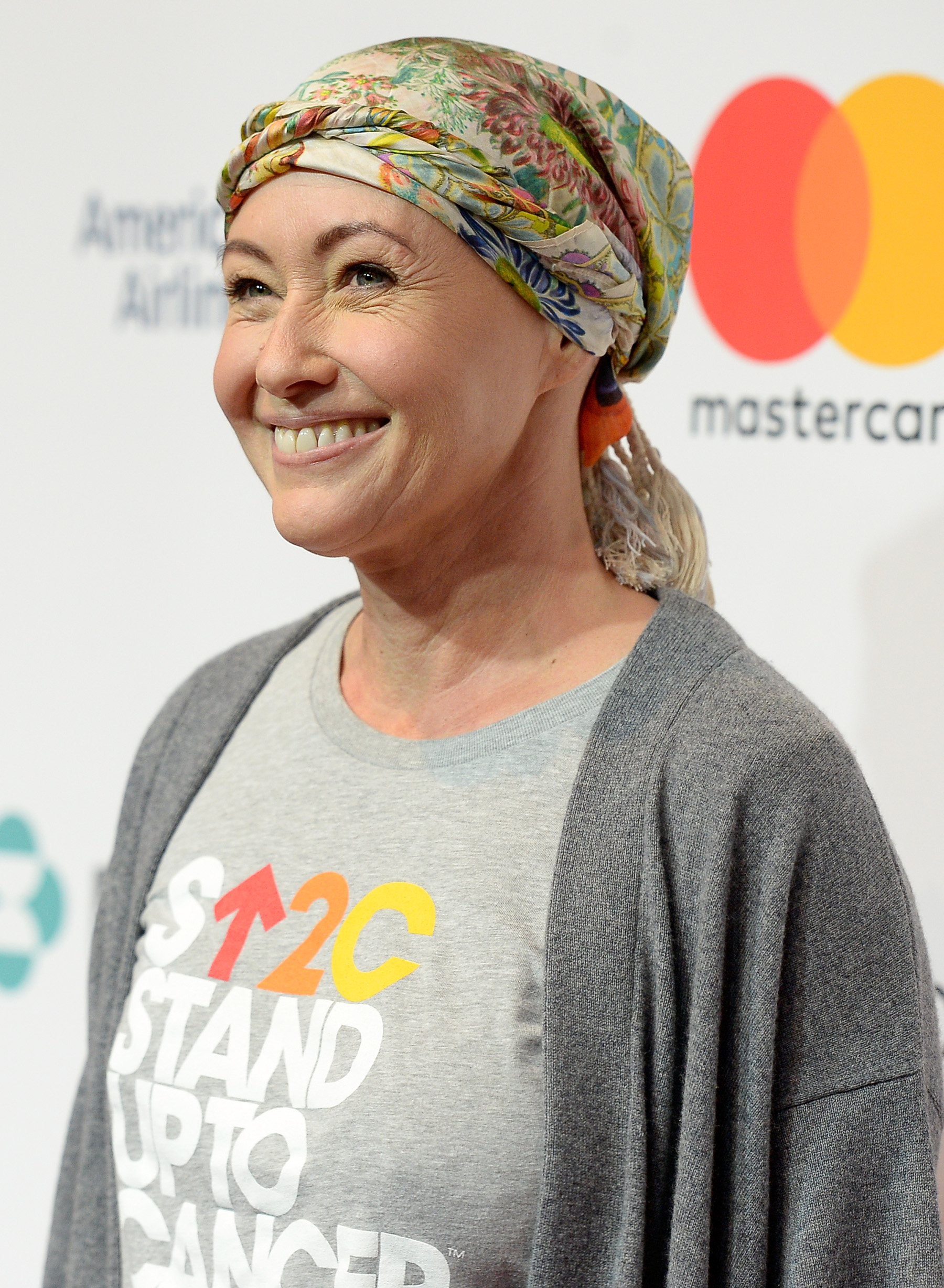 As cancer treatments improve year over year so does the number of people battling this form of cancer that spreads to the brain says Dr. Michael Lim who is the Chair of the Department of Neurosurgery and a board-certified neurosurgeon specializing in brain tumors at Stanford Medicine.
WATCH: When cancer spreads to the brain.
"A third of the patients with systemic cancers develop brain metastasis and we estimate that number is starting to go higher not because the cancers are becoming more aggressive but because people are living longer," Dr. Lim explained.
According to Dr. Kimberly Hoang, a board-certified neurosurgeon at Emory University School of Medicine, a craniotomy procedure like Doherty underwent earlier this year, is "a procedure to cut out a tumor" on the brain that may be particularly useful "if the tumor is causing symptoms or if it's large."
"A couple of decades ago, to have a brain metastasis was a very bad prognosis for patients," Dr. Hoang said. "They didn't live for more than a couple of months, so it was a very terminal thing. Thanks to a lot of advancements in microsurgery we do and radiation…patients are living longer," Dr. Hoang continued.
Some cancers are more prone to spread to the brain than others, Dr. Krishanthan Vigneswaran, a neurosurgeon with UT Health Houston and Memorial Hermann tells SurvivorNet.
"Breast cancer is among the types of cancers that more commonly spread to the bone and to the brain along with melanoma, prostate cancer, renal cell cancer, and lung cancer," Dr. Vigneswaran explained.
Since undergoing brain surgery, Doherty has been seen throughout the Spring and Summer spending time with loved ones as she continues battling stage 4 cancer.
What To Ask Your Doctor
If you have been diagnosed with breast cancer, you may have questions about how to keep your strength through treatment. Here are a few questions to help you begin the conversation with your doctor:
What treatment will I be receiving?
What side effects are associated with this treatment?
Are there steps I can take in my daily life to help minimize these side effects?
What physical activity routine do you recommend for me during treatment?
Do you have recommendations for someone who doesn't particularly enjoy exercise?
Can you recommend a dietician who can help me with healthy eating tips and maintaining a healthy weight?
I've been having trouble sleeping, do you have any treatment recommendations?
Learn more about SurvivorNet's rigorous medical review process.
---