Learning about the Resilient Jimmy Carter
After a nuclear accident in Canada during the 1950s, a young Jimmy Carter helped prevent a nuclear disaster and exposed himself to massive amounts of radiation.
The former president is also a cancer survivor whose metastatic melanoma was previously treated with Keytruda – a type of immunotherapy drug called a checkpoint inhibitor.
Immunotherapy drugs have been a game changer for advances in cancer treatment. They work by activating immune cells against cancerous cells by using the body's own ability to fight off the cells. Immnotherapy drugs are used for many different types of cancer including melanoma, bladder cancer, colorectal cancer, lung cancer, blood cancers, pancreatic cancer and breast cancer, among others.
Carter's nonprofit recently announced that he would be placed on hospice care after "a series of short hospital stays."
Hospice care, like palliative care, provides comprehensive comfort care for someone with serious illness, as well as support for the family. As opposed to with palliative care, attempts to cure the person's illness have stopped when a person is receiving hospice care.
Jimmy Carter once exposed himself to a massive dose of radiation to help avert a nuclear disaster. After the former president's recent transition to hospice care at the age of 98, let's remember this remarkable instance of bravery from early in his career.
Jimmy Carter was the 39th president of the United States from 1977 to 1981. He was also awarded the 2002 Nobel Peace Prize for his work "to find peaceful solutions to international conflicts, to advance democracy and human rights, and to promote economic and social development."
Read More
But Carter was many things prior to his presidency: a peanut farmer, a preacher, a professor, a parole officer, and a naval officer. It was during his time in the military that he exposed himself to intense nuclear radiation while working with the Navy's nuclear submarine program.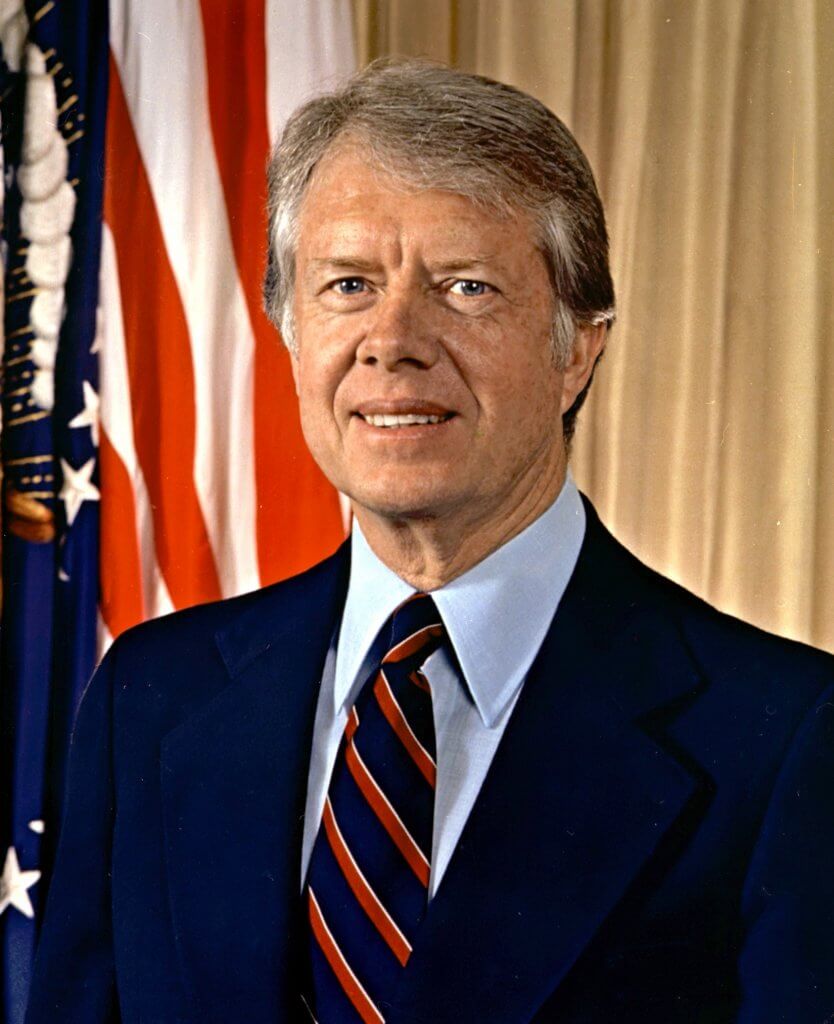 Carter started his naval career aboard diesel electric submarines, but he joined the Naval Reactors Branch of the U.S. Atomic Energy Commission in 1952,
according to Military.com
. He was a part of the Navy's efforts to develop the first nuclear submarine, the USS Nautilus, when Canada's Chalk River nuclear research facility experienced a power surge that damaged its reactor. "Fuel rods at the research reactor experienced a partial meltdown after the power surge,"
Military.com explains
. "It ruptured the reactor and flooded the facility's basement with radioactive water, rendering the reactor core unusable."
Having access to the latest in top-secret nuclear energy technology, Carter and his team were sent by the U.S. to help save the day.
"It was a very exciting time for me when the Chalk River plant melted down," Carter said in a 2008 interview with CNN. "I was one of the few people in the world who had clearance to go into a nuclear power plant," he said.
His 2015 autobiography, "A Full Life: Reflections At Ninety," explains that Carter and his team built an exact replica of the reactor on a nearby tennis court in preparation for repairing the reactor.
"Carter and his 22 other team members were separated into teams of three and lowered into the reactor for 90-second intervals to clean the site," Military.com writes. "It was estimated that a minute-and-a-half was the maximum time humans could be exposed to the levels of radiation present in the area."
"It was still too much, especially by today's standards."
In the interview with CNN, Carter explained that he experienced radiaiton exposure at unprecedented levels.
"We were fairly well instructed then on what nuclear power was, but for about six months after that I had radioactivity in my urine," Carter told CNN in 2008. "They let us get probably a thousand times more radiation than they would now. It was in the early stages and they didn't know."
Jimmy Carter's Health Journey
Jimmy Carter has certainly accomplished a lot throughout his life. And he's also, unfortunately, had many a health scares over the years.
Carter underwent elective surgery at Emory University Hospital "to remove a small mass in his liver" in August 2015. Though the operation was a success, it did reveal that he had cancer that had spread, or metastasized, to other parts of his body. He received care for his metastatic melanoma at Emory's Winship Cancer Institute.
"At the time, Carter thought he might have only weeks to live, but Winship doctors quickly developed a treatment plan for him, beginning with stereotactic radiation to control metastic tumors in his brain, and a new immunotherapy drug that worked systemically," a statement from the Cancer Institute reads.
During a press conference before his first radiation treatment, the former president clarified that his melanoma had spread to his liver and his brain and that he would have four rounds of the immunotherapy drug pembrolizumab(brand name Ketruda) at three-week intervals.
RELATED: Immunotherapy Drug Keytruda Shows Promising Event-Free Survival Results For High-Risk Melanoma Patients When Used Before And After Surgery
Keytruda Is Not for Everyone – Immunotherapy Needs to Be Tailored
Immunotherapy, in general, has been a game changer for advances in cancer treatment. Immunotherapy drugs work by activating immune cells against cancerous cells by using the body's own ability to fight off the cells. Immunotherapy drugs are used for many different types of cancer, including melanoma, bladder cancer, colorectal cancer, lung cancer, blood cancers, pancreatic cancer and breast cancer, among others.
Carter's drug – Keytruda – is a type of immunotherapy called a checkpoint inhibitor, which works by interfering with signaling pathways between T cells and cancer cells and prevents cancer cells from hiding from the body's T cells. More specifically, Keytruda works by essentially taking the brakes off the immune system to allow the body's T-cells to do what they are meant to do – fight off invaders or abnormal cells like cancer cells, among other things.
An Immunotherapy Success Story: Mary Elizabeth Williams Lived Through Metastatic Melanoma
The former president reportedly announced to his church in March 2016 that doctors stopped his treatment after seeing no more signs of tumors. Then, in 2019, Carter had surgery to relieve pressure on his brain caused by bleeding from his multiple falls at home.
Fast forward to this past weekend, and the Carter Center released a statement saying that the former president has "decided to spend his remaining time at home with his family and receive hospice care instead of additional medical intervention" following "a series of short hospital stays."
"He has the full support of his family and his medical team," the statement from Feb. 18, 2023, reads. "The Carter family asks for privacy during this time and is grateful for the concern shown by his many admirers."
Learning about Palliative Care and Hospice Care
Before we talk about hospice care – the kind of care that Jimmy Carter is currently having – let's talk about palliative care, because the two are related.
Palliative care can be used for people with both curable and incurable illnesses. It also does not mean people receiving this type of care have stopped receiving treatment.
Living Better — What Is Palliative Care?
"Palliative care is a team of health care providers who are focused on symptoms management and the comfort of patients," SurvivorNet expert Dr. Elizabeth Comen, a medical oncologist at Memorial Sloan Kettering Cancer Center, told us in a previous conversation. "They can also help facilitate important family conversations, and help illicit from patients needs related to their quality of life."
Dr. Scott Rushing, a gynecologic oncologist and surgeon with Compass Oncology, expands on this by saying that palliative care is meant "to try and optimize a patient's quality of life."
"Quality of life is something that we've always got to keep at front stage and center," he previously told SurvivorNet. "Palliative care is a very important player in helping our patients have many good days."
With Palliative Cancer Care, The Sooner the Better
Dr. Rushing continues by saying the palliative care can transition to hospice care "when we have reached a point where we don't have any therapy that we feel like is going to be effective." Hospice care, like palliative care, provides comprehensive comfort care as well as support for the family. The difference is that attempts to cure the person's illness have stopped when a person is receiving hospice care.
"At that point in time, we bring hospice as part of our team to help the patient as they experienced symptoms associated with their disease," Dr. Rushing said of hospice care.
But that's not to say that all people who have hospice care previously had palliative care. And it's important to remember that stopping treatment aimed at curing an illness does not necessarily mean discontinuing all treatment. If an elderly person with cancer decides to go on hospice care because their chemotherapy has stopped working, for example, that doesn't always mean that all other treatments will cease. And that also doesn't mean their length of life has necessarily shortened without the treatment aimed at curing the person's illness.
"There's actually been some good studies that demonstrate that patients live longer on hospice than receiving chemotherapy that's not working," Dr. Rushing said. "So, this is a delicate conversation to have with a patient and it's a very individualized decision."
Dr. Rushing says his philosophy for palliative and hospice care centers around him being a "navigator" and the patient being "the captain of their boat."
"I try to provide information," he said. "I've been down this path many times with many patients, and I try to give them an idea of what's ahead, but, ultimately, I try to allow the patient to use their autonomy to decide when it is that they want to stop chemotherapy that's not working very well and to transition to focus on their quality of life and symptom control.
"And that's where palliative care and hospice are critical in helping our patients."
Learn more about SurvivorNet's rigorous medical review process.