Telling your kids about a cancer diagnosis is an extremely difficult conversation — and there's no one right way to do it. ABC News journalist and breast cancer survivor Amy Robach says that when it came time to talk to her two young daughters about her diagnosis, she found a special "mom strength" inside herself.
"I had been sobbing all day, and I knew when I walked in later that evening, I couldn't play it off," Amy tells SurvivorNet about the day she got her diagnosis. "There was no way I was going to be able to pretend that everything was fine and I was just going to go home and make dinner."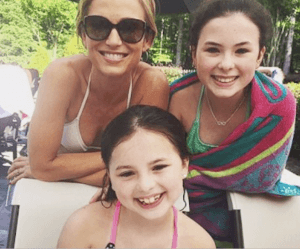 Read More
"I had been out of control and sobbing the whole day, but the moment I saw my daughters I had this strength come over me … this mom strength. And suddenly, when they started to cry, I got strong."
Like so many cancer survivors who are also parents, Amy says it was her children that gave her the strength to take on cancer with bravery. When she had to break down, she did it in her chemo room with just her husband, actor turned entrepreneur Andrew Shue, by her side.
Amy also says that speaking to a counselor really helped with how she should have the extremely tough conversation about cancer with her kids — who were just 7 and 10 at the time she was diagnosed. "I was able to tell them the words that the counselor gave me to use … that I was strong, that I was going to fight, that I had the best doctors in the world, and that I wasn't going anywhere," she says.
Learn more about SurvivorNet's rigorous medical review process.