Kathy Shares A Smile
Kathy Griffin shares a smile with her almost 700,000-followers on Instagram, receiving love and praise from followers.
The comedian just had her vocal cords repaired, and she's making her public return.
Griffin is constantly fulfilling doctors' wishes by staying positive with a cancer diagnosis.
Lung cancer, the second most common type of cancer, is the leading cause of cancer deaths for men and women in the United States.
61-year-old Kathy Griffin spreads her contagious smile to her almost 700,000-followers on Instagram with the caption: "I've always wanted a nice dainty, soft smile, but I get very happy and I love to laugh so this is my real smile. I know. It's a little much."
View this post on Instagram
Read More
Fans and friends fill the post with comments that beg to argue that Griffin is never too much. The comedian is surrounded by praise after returning to the public following a vocal cord repair that came as part of her treatment process.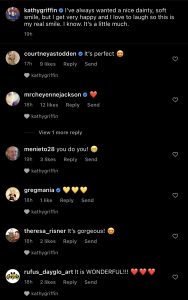 The comedian continues to fill her socials with positive, light-hearted content. Silly edits and happy reminders have been her thing lately.
View this post on Instagram
Griffin's Positivity
Griffin has been an exemplary figure for  SurvivorNet and our doctors who've shared with us that finding positivity and laughter in your life can be everything when undergoing a cancer diagnosis.
But, it hasn't always been all laughs with Griffin. She once said in an interview that losing the ability to make other people laugh made her lose a lot of want to live; the comedian is very open about this dark stage of her life, and she's just as transparent with the details of how to get through it all.
It's clear that Griffin is now surrounded by positivity, laughter, and a sturdy support system. She loves sharing photos and videos online showcasing friendships and relationships.
View this post on Instagram
"A positive attitude is really important," says Dr. Zuri Murrell, a colorectal surgeon at Cedars-Sinai Medical Center in Los Angeles.
Griffin's positivity sets a great example for the sort of attitude doctors want their patients to carry when undergoing treatment.
'Stay Positive, It Matters,' Says Leading Cancer Surgeon
Kathy's focus on hope backs anecdotal evidence from SurvivorNet experts that point to how a positive mindset can impact a cancer prognosis. Dr. Murrell tells SurvivorNet in an earlier interview, "My patients who thrive, even with stage 4 cancer, from the time that they, about a month after they're diagnosed, I kind of am pretty good at seeing who is going to be OK. Now doesn't that mean I'm good at saying that the cancer won't grow," he says.
"But I'm pretty good at telling what kind of patient are going to still have this attitude and probably going to live the longest, even with bad, bad disease. And those are patients who, they have gratitude in life."
Understanding Lung Cancer
Lung cancer, the second most common type of cancer, is the leading cause of cancer deaths for men and women in the United States. Griffin developed lung cancer as a non-smoker, which is a less heard of occurrence. Diagnosis and treatment of the disease can be tricky since symptoms often don't appear until the cancer has spread.
An initial symptom, for example, could be as serious as a seizure if the lung cancer has already spread to the brain. But other symptoms can include increased coughing, chest pain, unexplained weight loss, shortness of breath, wheezing, losing your voice or persistent infections like bronchitis or pneumonia.
The two main types of lung cancer are non-small cell, which makes up 85 percent of cases, and small-cell. These types act differently and, accordingly, require different types of treatment.
Dr. Patrick Forde, a thoracic oncologist at Johns Hopkins Medicine, tells SurvivorNet about how distinguishing between the two types – and their subtypes – can be very beneficial.
What Happens When You've Been Newly Diagnosed With Lung Cancer
"Within that non-small cell category, there's a subtype called non-squamous adenocarcinoma, and that's the group of patients for whom genetic testing is very important on the tumor," he explains. "Genetic testing is looking for mutations in the DNA, in the tumor, which are not present in your normal DNA."
Learn more about SurvivorNet's rigorous medical review process.