Love, Kam
SurvivorNetTV's first original docuseries, Love, Kam, follows the infectious personality that is Kam Schalk. She's a 22-year-old lymphoma survivor whose life is centered around much more than just her cancer journey.
A creative filmmaker overflowing with optimism, Kam documented all of the highs and lows of her cancer journey and made sure to include lots of living life to the fullest in between.
Now, the recent college graduate is cancer-free and on to a new adventure in Los Angeles where she'll undoubtedly continue to impact every soul she meets.
Watch the entire series here: https://www.survivornet.com/love-kam/
Kam Schalk is a 22-year-old videographer, college grad and steadfast optimist. Oh, and she's also a lymphoma survivor. But what defines her cancer journey is not the disease itself, but rather her unrelenting positivity through all the ups and downs – an amazing quality that's been beautifully captured, with the help of Kam herself, for
SurvivorNetTV's first original docuseries: Love, Kam
.
Kam's cancer story began after bloodwork returned with some red flags in 2020. A month later, she had three surgeries and three infusions that left her with three scars.
Read More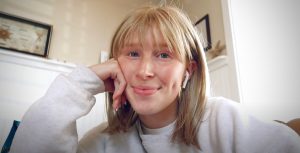 On June 24, 2020, she got a call explaining that she likely had 
lymphoma
– a type of blood cancer. Just a month later, she received her official diagnosis: stage four
nodular sclerosis lymphoma
– a highly curable type of Hodgkin lymphoma that accounts for 70 percent of classical Hodgkin lymphoma cases. Her oncologists decided that putting her on the drug combination
AVD + Brentuximab in a clinical trial
 was the best treatment path for Kam given that the lymphoma had spread into her lung tissue. Thankfully, they were right.
RELATED: Clinical Trials Can be Life-Saving for Some
But through all the moments in between – the important phone calls, her hair falling out, the side effects of treatment, the laughs with friends, the food with family, kisses from her little, black-and-white dog – Kam took her passion for storytelling and used it to help her process all that's been happening to her.
Now, with a cancer-free status she holds dear and a recently earned degree from the University of Washington, Kam is beginning a new adventure with a move to Los Angeles, California. In following her inspiring story, we present to you this 35-episode series centered around a young woman with a zest for life who touches everyone she meets: Love, Kam.
Learn more about SurvivorNet's rigorous medical review process.