As youth vaping numbers continue to skyrocket, the Trump Administration has announced plans to crack down on flavored e-cigarettes.
According to a U.S. Department of Health and Human Services (HHS) statement issued today, the Trump Administration's plans include a new compliance policy from the U.S. Food and Drug Administration (FDA), which would enforce FDA review of non-tobacco-flavored e-cigarettes, including mint and menthol.
Read More
The statement said this would "clear the market of unauthorized, non-tobacco-flavored e-cigarette products." As of now, a lot of the flavored e-cigarettes on the market have not gone through FDA review, which the Administration deems illegal marketing. The FDA's new compliance policy would lay out the repercussions for failing to submit FDA pre-market authorization applications.
"The Trump Administration is making it clear that we intend to clear the market of flavored e-cigarettes to reverse the deeply concerning epidemic of youth e-cigarette use that is impacting children, families, schools, and communities," HHS Secretary Alex Azar said about the new plans. "We will not stand idly by as these products become an on-ramp to combustible cigarettes or nicotine addiction for a generation of youth."
We appreciate @POTUS, @FLOTUS & @SecAzar's ongoing support of our efforts to prevent youth use of e-cigs, including the bold approach we announced today. We must act swiftly against flavored e-cigarette products that are especially attractive to children. https://t.co/nKfqLp7GfY

— Dr. Ned Sharpless (@FDACommissioner) September 11, 2019

The plan comes on the tails of 2018's National Youth Tobacco Survey, which found that more than 3.6 million middle and high school students nationwide had used e-cigarettes within the past 30 days. The number is more than double that of the previous year, 1.5 million students. The HHS statement shared that preliminary numbers from the 2019 data indicate that these numbers are still rising. "The preliminary data show that more than a quarter of high school students were current (past 30 days) e-cigarette users in 2019 and the overwhelming majority youth e-cigarette users cited the use of popular fruit and menthol or mint flavors."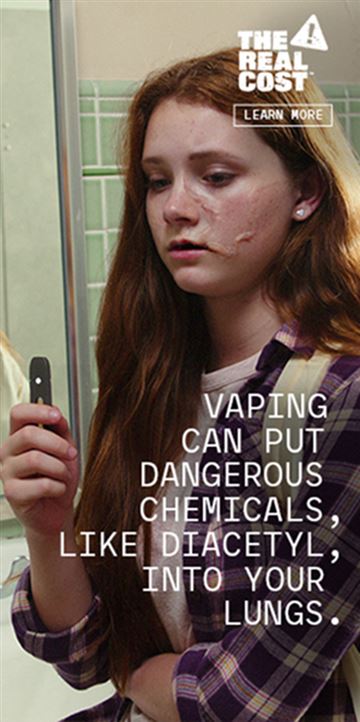 RELATED: RELATED: "Secret Shoppers"– JUUL Tries To Clear its Name By Sending Fake Shoppers To Spy On Sellers
And recently, there has been a jump in the number of vaping-related illnesses reported; hundreds of people nationwide have developed illnesses after vaping, and six of them have died.
The Trump Administration's announcement is especially significant given as, to-date, Michigan is the only state government to ban flavored e-cigarettes state-wide. Several cities, including San Francisco, have banned the products, but this announcement marks a sweeping effort that would apply nationwide.
RELATED: Michigan Bans Flavored E-Cigarettes At Same Time New Study Says E-Cigarettes Damage Lung Function
As E-Cigarette Companies Receive Pushback for Youth-Friendly Marketing, Questions About Safety Remain
The wildly successful companies that produce and sell e-cigarette devices, especially JUUL Labs, which makes the most popular of the bunch, the JUUL, claim that their products are meant only as an alternative to cigarettes for adult smokers.
Dr. Brendon Stiles of Weill Cornell Medicine and NewYork-Presbyterian spoke with SurvivorNet about the question of vaping and cancer risk.
Dr. Brendon Stiles of Weill Cornell Medicine and NewYork-Presbyterian spoke with SurvivorNet about the question of vaping and cancer risk.
But the colorful, teen-friendly marketing and fruity flavors have raised doubt about these claims, and the companies have been under fire from the FDA for intentionally marketing their products to America's youth.
RELATED: The Issue With Vaping — Doctors Don't Know How Dangerous It Is Yet
The companies market the products as "safer" because they do not contain tobacco and several other carcinogens in cigarettes that are known to cause lung cancer. But while e-cigarettes do not contain tobacco, the nicotine liquid they contain is made with a number of other chemicals and metal particles, which could potentially have dangerous long-term health effects, too. The question as to whether these chemicals and particles will ultimately lead to lung cancer remains unknown simply because it is too early to tell. Cancer can take decades to develop, and the research needed to prove a link will not surface until then.
RELATED: Are E-Cigarettes Better for People Who Have Cancer? Many Doctors Think Not
"Vaping is still in its infancy," Dr. Raja Flores, Chairman of the Department of Thoracic Surgery at Mount Sinai Health System, told SurvivorNet in a previous conversation about e-cigarettes. "In order to prove something causes cancer, you need a large number of people and a longer period of time."
Learn more about SurvivorNet's rigorous medical review process.
---