Giordano's Cancer Journey
Olympic-hopeful Dana Giordano qualified for the Olympic Trials after a record-breaking performance in the 5,000 meters event.
Giordano battled ovarian cancer when she was a teen, and treated it with surgery.
Ovarian cancer symptoms can be difficult to spot. They may include fatigue, back pain and constipation.
Runner Dana Giordano beat ovarian cancer when she was just a teenager. Now, Giordano, 27, is focused on making it to the Olympics this July in Tokyo.
Giordano tells The Boston Globe that her scar from ovarian cancer surgery inspires her to keep going. "I've developed a certain level of confidence from knowing that I've come out stronger," she says.
Read More
Last year, Giordano set personal records in the 5,000 meters and 1,500 meters events, finishing fourth, and qualifying for the 2021 Olympic Trials to be held June 18–27, 2021. In order to make it to the Olympics, Giordano will need to earn a spot on the U.S. Olympic Team by being one of the highest-ranking athletes at the Trials with her event time.
She quit her job with Reebok to run professionally several years ago. As a kid, she loved sports, especially soccer and ice hockey, and ran track in middle school.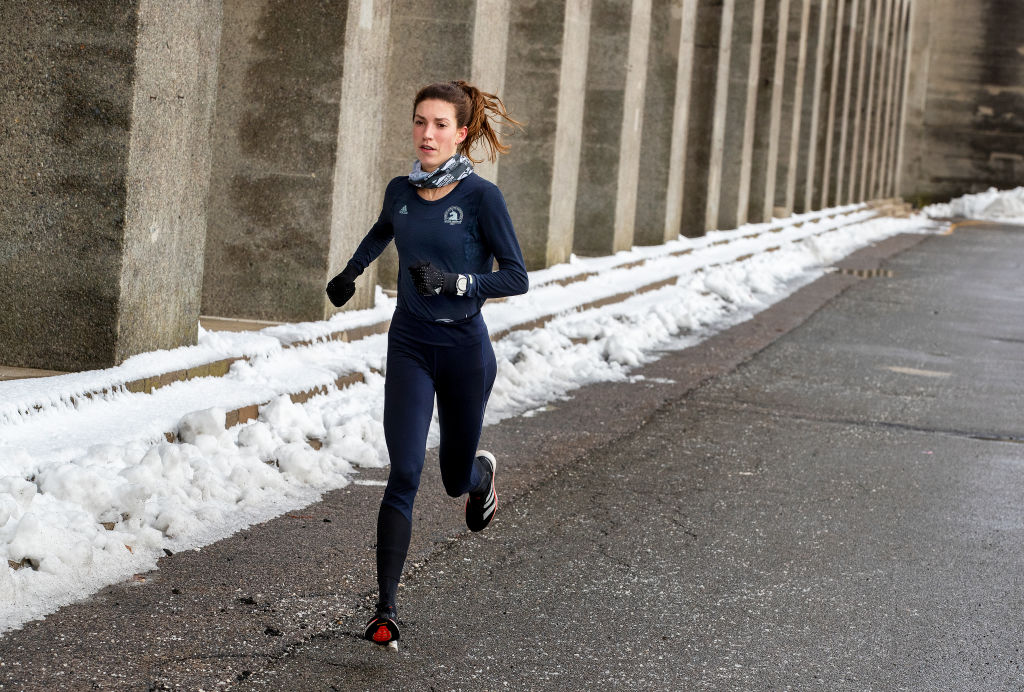 Giordano's Cancer Battle
In 2008, when Giordano was 14, she noticed she couldn't button her shorts, she tells The Boston Globe. "I thought it was because I was finally gaining weight," says Giordano, who at the time was a skinny teen.
Related: Billiards Legend Jeanette 'The Black Widow' Lee Says She'll Fight For Her Daughters — The Options For Ovarian Cancer Treatment
Later on a trip, she had persistent pain in her stomach that led her to seek medical attention. Doctors took X-rays and completed blood tests, and she was rushed to Children's Hospital in Boston. Giordano had a 5.5-pound cancerous tumor. "They told me that I had a large, melon-sized ovarian teratoma — like a little football or something," she says.
Related: Ellen DeGeneres' Epic Surprises for a Kindergarten Teacher Battling Ovarian Cancer, Teaching From Hospital
Giordano's family has a history of ovarian cancer; Giordano lost her grandmother to the disease. After emergency surgery to remove the tumor, Giordano had a long recovery period, but it instilled in her a desire to live life to the fullest. "Every time you get a CAT scan or MRI or ultrasound, you're nervous that you're going to have another reoccurrence of something," she says.
Related: College Freshman, Alexis Kawasaki, Drops Out of College After an Ovarian Cancer Diagnosis, and Takes to TikTok to Share Her Journey and Find Inspiration
Giordano had a second surgery when doctors found a cyst on her remaining ovary in 2009. Despite the setback, she ended up participating in a road race and raised more than $10,000 for cancer research.
Minimally Invasive Surgery for Ovarian Cancer: What to Expect
Symptoms of Ovarian Cancer
Ovarian cancer has been called "the cancer that whispers," because of its hard-to-spot symptoms.  "Patients may have some bloating, or changes with their urinary habits, which they might attribute to something else and not be too concerned," gynecologic oncologist Dr. Heidi Gray said in an earlier interview.
Related: Ovarian Cancer: The Cancer That Whispers
People diagnosed with ovarian cancer may experience bloating or a feeling of being "full." Other symptoms may include:
Fatigue
Back pain or pain during sex
Constipation or upset stomach
Weight loss and swelling around the abdomen
Changes in your menstrual cycle such as heavy or irregular bleeding
If you experience any of the above symptoms in a persistent manner, you should make an appointment to see your doctor, according to Dr. Beth Karlan, a gynecologic oncologist at UCLA Medical Center. "If you do have these symptoms, even if it's only for two weeks — but they're happening every day and seem to be getting worse, you should call your doctor and say, 'I'm having these symptoms. I'm concerned it could be ovarian cancer. Can I have an ultrasound and a CA-125?'" she said.
What Are the Symptoms of Ovarian Cancer?
Learn more about SurvivorNet's rigorous medical review process.