Jada Pinkett Smith's Alopecia
Jada Pinkett Smith arrived at the Oscars glowing with confidence. She rocked her shaved head, silver sparkly earrings, and a textured green full-length gown. She's openly talked about her struggles with hair loss since 2018.
Alopecia is the medical term for hair loss. It can affect just your scalp or your entire body, and it can be temporary or permanent.
Hair loss can be an emotional challenge for people with alopecia, cancer or some other condition. But our experts recommend allowing yourself to grieve the initial shock of hair loss to make it easier to accept and hopefully find some positivity from there.
Jada Pinkett Smith revealed her alopecia diagnosis back in 2018. And ever since, she's been empowering others who struggle with hair loss – including cancer survivors.
If you watched the Oscars on Sunday, you probably saw Pinkett Smith's husband, actor Will Smith, 53, slap comedian Chris Rock, 57, across the face for making a "G.I. Jane" joke in reference to Pinkett Smith's bald head. It's unclear whether Rock knew that Pinkett Smith, 50, has had alopecia for some time now.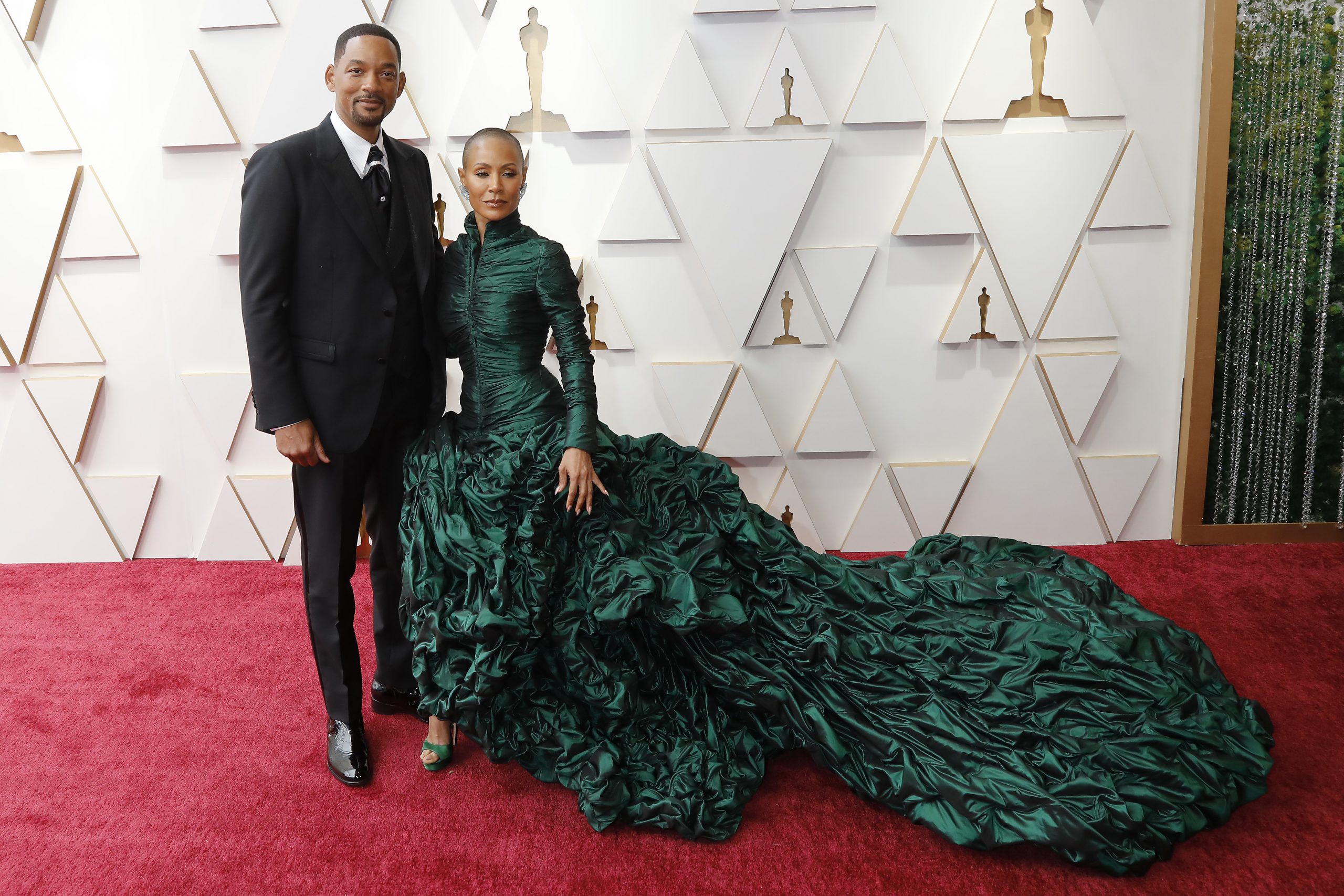 Read More
But, on a positive note, you also probably saw how Pinkett Smith carried herself with grace in a stunning, textured forest-green gown with a high neck and lengthy train. She stepped on to the red carpet at the 94th Academy Awards rocking a shaved head with natural looking makeup and large, sparkly silver earrings – and we're loving the confidence she embodies for others facing hair loss (alopecia).
Jada Pinkett Smith's Alopecia Journey
Pinkett Smith opened up about "having issues with hair loss" in a 2018 episode of her talk show, Red Table Talk, saying "it was terrifying when it first started."
Marathoner Lindsay Walter On Embracing Her Baldness with Bravery After Her Life-Altering Alopecia Diagnosis
"I was in the shower one day, and then just handfuls of hair just in my hands, and I was just like, 'Oh my God, am I going bald?'" she said. "It was one of those times in my life where I was literally shaking with fear."
But even then, she managed to put what was happening to her into perspective.
"Even in my terror and even in my fear and in the moment of just going, 'Oh, my God, like, why are you so terrified that you might lose your hair?' I really had to put it in a spiritual perspective of, like, the higher power takes so much from people," she said. "People are out here who have cancer, people who have sick children. I watch the higher power take things every day… And, by golly, if the higher power wants to take your hair, that's it?… When I looked at it from that perspective, it really did settle me."
At the time, she shared that tests weren't able to confirm why she was losing her hair.
"People said stress. People say, 'Oh, you have, you do have alopecia,'" she said.
She's since confirmed she has alopecia and been open about her hair loss journey. And she fully shaved her head in July 2021 and took to the Red Table Talk in September 2021 to explain how a mixture of a "spiritual calling" and thinking about her receding hairline led to the shaving.
"It's been such a freeing, I mean, so much just lifted off of me," she said. "I had been talking about shaving my head for a while."
She then went on to say that she was ultimately just ready for "that kind of expression and release."
"I'm so glad I did it," she said. "It was such a beautiful experience and such a freedom. I feel more connected to myself and the great divine in a special way."
Then in a video shared on December 28, 2021, she gave another update about how her hair loss journey was going.
View this post on Instagram
"Mama's gonna have to take it down to the scalp so nobody thinks she got brain surgery or something," she wrote in her caption. "Me and this alopecia are going to be friends … period!"
What Is Alopecia?
Alopecia is the medical term for hair loss. It can affect just your scalp or your entire body, and it can be temporary or permanent. Symptoms of alopecia can include the following:
Gradual thinning on top of head. This is the most common type of hair loss, affecting people as they age. In men, hair often begins to recede at the hairline on the forehead. Women typically have a broadening of the part in their hair. An increasingly common hair loss pattern in older women is a receding hairline (frontal fibrosing alopecia).
Circular or patchy bald spots. Some people lose hair in circular or patchy bald spots on the scalp, beard or eyebrows. Your skin may become itchy or painful before the hair falls out.
Sudden loosening of hair. A physical or emotional shock can cause hair to loosen. Handfuls of hair may come out when combing or washing your hair or even after gentle tugging. This type of hair loss usually causes overall hair thinning but is temporary.
Full-body hair loss. Some conditions and medical treatments, such as chemotherapy for cancer, can result in the loss of hair all over your body. The hair usually grows back.
Patches of scaling that spread over the scalp. This is a sign of ringworm. It may be accompanied by broken hair, redness, swelling and, at times, oozing.
If you're experiencing hair loss and it is worrying you, you should talk with a doctor. And if you experience sudden hair loss, you should definitely talk with your doctor because it can signify an underlying medical condition that may require treatment.
Additionally, it's important to note that there are different types of alopecia, and the Mayo Clinic says it is typically related to one or more of the following factors:
Family history (heredity). The most common cause of hair loss is a hereditary condition that happens with aging. This condition is called androgenic alopecia, male-pattern baldness and female-pattern baldness. It usually occurs gradually and in predictable patterns — a receding hairline and bald spots in men and thinning hair along the crown of the scalp in women.
Hormonal changes and medical conditions. A variety of conditions can cause permanent or temporary hair loss, including hormonal changes due to pregnancy, childbirth, menopause and thyroid problems. Medical conditions include alopecia areata, which is immune system related and causes patchy hair loss, scalp infections such as ringworm, and a hair-pulling disorder called trichotillomania.
Medications and supplements. Hair loss can be a side effect of certain drugs, such as those used for cancer, arthritis, depression, heart problems, gout and high blood pressure.
Radiation therapy to the head. The hair may not grow back the same as it was before.
A very stressful event. Many people experience a general thinning of hair several months after a physical or emotional shock. This type of hair loss is temporary.
Hairstyles and treatments. Excessive hairstyling or hairstyles that pull your hair tight, such as pigtails or cornrows, can cause a type of hair loss called traction alopecia. Hot-oil hair treatments and permanents also can cause hair to fall out. If scarring occurs, hair loss could be permanent.
It's unclear exactly what type of alopecia Pinkett Smith has, but regardless, it's wonderful to see her owning her hair loss journey and empowering other people to do the same.
Coping with Hair Loss
For people with alopecia, cancer or some other condition, hair loss can be a very difficult part of their health journey – something Teri Chow knows all too well.
Chow was 44 years old when she was diagnosed with ovarian cancer. The San Jose resident knew she would lose her hair during chemotherapy, and she even tried to prepare her family for the change by cutting her long locks into a short bob. In a previous interview with SurvivorNet, Chow shared how she coped with her hair loss after chemotherapy treatment for ovarian cancer.
How Ovarian Cancer Survivor Teri Chow's Wig (& Humor) Helped Her Cope With Hair Loss
"I think it was shortly after the second round of chemo, so that would've been about four weeks after starting chemo, [my hair] started to fall out," Chow said. "It was coming out in the shower [and] it was coming out just combing [my] hair."
Some people choose to shave their heads right away so they don't have to watch their hair fall out, but Chow decided to start wearing a wig immediately. She even looks back on that time in her life with some humor. She would often laugh because many people didn't even realize she was wearing a wig.
"The other moms at the school didn't realized that I was going through this, and they'd compliment me on the wig and not knowing it was wig," Chow laughs. "I made the mistake to somebody I thought knew. I went, 'Oh, thank you,' And I moved the wig forward and she freaked out [and I was] like, 'Sorry, sorry, I thought you knew!'"
Then when her hair eventually started to grow back, Chow decided to switch things up and ditch the wig. She visited a hair dresser who transformed her short, curly, gray locks into a whole new look with a straightener and some dye.
And while Chow may have handled the hair loss journey with a bit more laughter than some, it's important to know that everyone's experience is individual. Feeling upset over losing your hair is very common and a completely warranted emotion.
Experts tell SurvivorNet that grieving over a cancer diagnosis often represents the end of them being a "healthy person." They encourage patients to feel through those emotions because the grief can be a crucial step to accepting the new normal and being able to push through treatment. After grieving the initial shock of hair loss, it might be easier to accept and find some positivity from there.
"I help patients acknowledge their grief so they can move on. I think the more we try to push [those feelings] away and say, 'Oh, it doesn't matter,' it tends to stick around a little longer," says Laurie Ostacher, a medical social worker at Sutter Bay Medical Foundation in the Bay Area. "If [a woman] seems like she's having trouble moving on, we explore [that too]."
Learn more about SurvivorNet's rigorous medical review process.