Remembering an Icon
Trebek was diagnosed with stage 4 pancreatic cancer in March 2019, and passed away from the disease in November 2020 at the age of 80.
Many people took the time to remember Trebek a year after his death including his wife, Jean; his daughter, Nicky; actress Mayim Bialik and iconic contestants Ken Jennings and Brad Rutter.
Pancreatic cancer is an aggressive disease that is difficult to detect because symptoms – including jaundice and weight loss – typically present at a later stage in the cancer's development.
It's been a year since we lost TV game show icon Alex Trek to a battle with stage 4 pancreatic cancer. Our evenings will never be the same without our beloved
Jeopardy!
host, but the anniversary is a great time to remember the wonderful man that brought education to our homes for many years.
Beloved by Many
There's no shortage of people who miss Trebek, but celebrities, family members and Jeopardy! favorites were some of the people to make a note of Trebek's passing on this day last year.
Read More
His wife, Jean Trebek, shared a video of her "beloved husband" today as a way to remember his legacy and remind people of his work with
The Compassion Project
– a national initiative he cared greatly about which worked to provide compassion education to lower and upper elementary school students across the US.
View this post on Instagram
"One of his final messages was that of the importance of having compassion for each other," she wrote on Instagram. "In honor of Alex's beautiful and powerful life, please take a moment to watch this short video."
Trebek's adopted daughter Nicky also paid tribute to her dad.
View this post on Instagram
"I see you in the subtle I miss you in the moments #dad 🙏🏼🤍✨ 7/22/40 ~ 11/8/20," she wrote on Instagram.
And star Jeopardy! contestant Ken Jennings, although not a part of his biological family, took the time to remember Trebek in a piece with USA TODAY.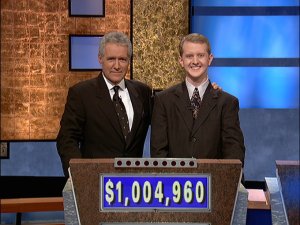 "He just made it look graceful and effortless," he said of Trebek's hosting. "He was such an integral part of the show that it was just impossible to imagine it without him. And we still missed him, of course."
And even though he's aware he can never replace Trebek, Jennings has made a point to try to honor him in the best way he can when he guest hosts the show. In fact, it's a task he takes so seriously that producers didn't want him to know that one of the most recent episodes he hosted would air today.
"Apparently, everyone was aware that we were going to air (my first episode) on the anniversary and nobody told me," Jennings said. "They didn't want to put that in my head. So I was not told until after that it was the Nov. 8 show."
But Jennings did note that he a momento from Trebek to help him through the tough task of hosting the ever-popular show.
"I did wear Alex's cuff links that week, that his wife, Jean, had been kind enough to leave for me," Jennings said. "So I do have a little kind of souvenir."
Brad Rutter, another former Jeopardy! contestant, also took the time to commemorate the legendary host and urge people to donate to Pancreatic Cancer Action Network – a nonprofit dedicated to fighting pancreatic cancer in a comprehensive way and growing a nationwide movement meant to tackle the disease from "all angles."
View this post on Instagram
"I'm missing Alex Trebek a little extra today, on the one year anniversary of his passing to #pancreaticcancer," Rutter wrote on Instagram. "Join me in honoring him with a donation to @PanCAN, who provides free resources and support to patients and their families. 💜 pancan.org."
Actress Mayim Bialik, best known for her role as Amy Farrah Fowler on The Big Bang Theory, has had her turn at hosting the show since Trebek's passing. And despite being a newer member of the Jeopardy! family, she also wanted to remind people of the legend that is Trebek.
View this post on Instagram
"Remembering the passing of the great Alex Trebek a year ago today," wrote on Instagram. "Alex was a legendary entertainer, philanthropist, and lover of life. We miss you, Alex."
Trebek's Cancer Battle
After a year and a half of battling the disease, Trebek passed away at 80 years old on Nov. 8, 2020. And while some celebrities choose to keep their cancer battles private, Trebek openly spoke about his treatment process with the public, and in doing so, educated millions on the disease. While hosting an episode of Jeopardy! in March 2019, Trebek shared with fans that he had been diagnosed with stage 4 pancreatic cancer, and would immediately start pursuing treatment.
Despite the difficult journey, he remained the host of the TV trivia show and would keep viewers up to date on his progress periodically. Currently, the one-year survival rate of pancreatic cancer is just 18%, but in June 2020 he made a special announcement that he's "beating the odds" by surpassing the one-year-survival rate. In addition to sharing good news, Trebek was also extremely open about the side-effects he experienced as a result of chemotherapy, and how it affected his mental state significantly at times. He later turned to an experimental therapy developed by Dr. Patrick Soon-Shiong which attempts to use multiple parts of the immune system to destroy tumors.
RELATED: Alex Trebek's Transparency About Pancreatic Cancer Battle Caused "Tremendous Spike" In Awareness & Helped Many Understand the Disease
Trebek's transparency made a huge impact in educating the public on pancreatic cancer, and made people more vigilant in spotting symptoms early. In fact, one Jeopardy! viewer says Trebek "saved his life" when the TV show host shared symptoms he experienced before his diagnosis, and the viewer realized he was also experiencing these symptoms. As a result of Trebek, the viewer's pancreatic cancer was caught early and treatable.
Challenges to Screening for Pancreatic Cancer
"We saw a tremendous spike in people coming to our website around [Trebek announcing his cancer diagnosis]," Julie Fleshman, president and CEO of Pancreatic Cancer Action Network (PanCAN), told SurvivorNet in a previous interview. "People called into our patient services program which I always think is one of the most important results. People were calling us to get information and resources. We saw a significant impact in numbers across the board."
Pancreatic Cancer Detection
Pancreatic cancer is an aggressive disease that is difficult to detect because symptoms – including jaundice and weight loss – typically present at a later stage in the cancer's development. In a previous interview with SurvivorNet, Dr. Anirban Maitra, the co-leader of the Pancreatic Cancer Moon Shot at MD Anderson Cancer Center, explains what he typically sees when patients develop this disease.
RELATED: If You're A First Degree Relative of Someone With Pancreatic Cancer, Screening and Surveillance Could Save Your Life; Here's Why
"Because the pancreas is inside the abdomen often doesn't have symptoms that would tell you that something is wrong with your pancreas," he says. "By the time individuals walk into the clinic with symptoms like jaundice, weight loss, back pain or diabetes, it's often very late in the stage of the disease."
Detecting Pancreatic Cancer Early Is Crucial
Parents, siblings and children of someone with pancreatic cancer are considered high risk for developing the disease because they are first-degree relatives of the individual. PGVs (pathogenic germline variants) are changes in reproductive cells (sperm or egg) that become part of the DNA in the cells of the offspring. Germline variants are passed from parents to their children, and are associated with increased risks of several cancer types, including pancreatic, ovarian and breast cancers. Germline mutations in ATM, BRCA1, BRCA2, CKDN2A, PALB2, PRSS1, STK11 and TP53 are associated with increased risk of pancreatic cancer.
Jessica Everett, a genetic counselor at NYU Langone's Perlmutter Cancer Center, encourages people in this category to look into possible screening options.
"If you're concerned about pancreatic cancer in your family, start by talking to a genetic counselor to learn more about your risk and what options you have," Everett said.
Contributing: Shelby Black
Learn more about SurvivorNet's rigorous medical review process.
---