Honoring the Trebeks
The late Alex Trebek and his wife Jean, 56, were honored at NBC's Inspiring America special. During the special, Jean spoke to Savannah Guthrie about Alex's impact on the cancer community.
Trebek told "Jeopardy!" viewers in March 2019 that he had been diagnosed with stage four pancreatic cancer; through his openness during his cancer battle, he was able to raise awareness around this disease.
Losing a spouse to cancer is a difficult process; support from family, friends, and therapy can help.
Nearly six months after Alex Trebek's passing from pancreatic cancer, we're still learning the profound impact the
Jeopardy!
host had on the cancer community.
During NBC's Inspiring America special Saturday, Trebek's widow, Jean, shared a story with host Savannah Guthrie about how Alex empowered a former Jeopardy! contestant during his recent cancer fight.
Read More
Jeopardy!
champion Jason Idalski, who won $36,000 over three days in 2013, started to feel ill the day Trebek died. He was soon diagnosed with acute leukemia.
In an interview from his hospital bed prior to a stem cell transplant, Idalski shared the impact of Trebek's brave cancer fight on his own. "Alex inspired me by the way he dealt with his cancer. There were so many times when he must've been so sick but he never let on, never missed a step," Idalski said. "He taught me, you don't like something change it, if you can't change it then change your attitude."
Idalski is currently in remission.
"One of Alex's gifts was that he could be very resolute and know that the truth will not hurt you," Jean said. "He wanted to empower people to move thru whatever challenge they had in life with a sense of inner strength, inner dignity and love."
The Trebeks were honored during the special along with other inspiring people including actor Lin-Manuel Miranda, chef Jose Andres and NBA coach Becky Hammon.
The Trebeks have had a profound impact on the pancreatic cancer community, providing hope, comfort and education. Through his public battle with pancreatic cancer, Trebek created "The Trebek Effect," an increased number of people seeking information about this disease. The Trebeks also recently funded the Hope of the Valley Trebek Center, a 106-bed bridge housing building for people experiencing homelessness.
Related: Alex Trebek's Wife, Jean Trebek, Says It Was a 'Blessing' the Late 'Jeopardy' Host Witnessed the Overwhelming Love & Support He Received During Cancer Fight
During the special,  Jean recalled the moment Alex decided he wanted to live a life helping others. It was during a visit to Ethiopia when a young woman was so desperate she offered Alex her infant in hopes of securing the child a better life.
"That moment, meeting that woman he was like 'wow' and then you're left with 'what more could I do?'" Jean recalls.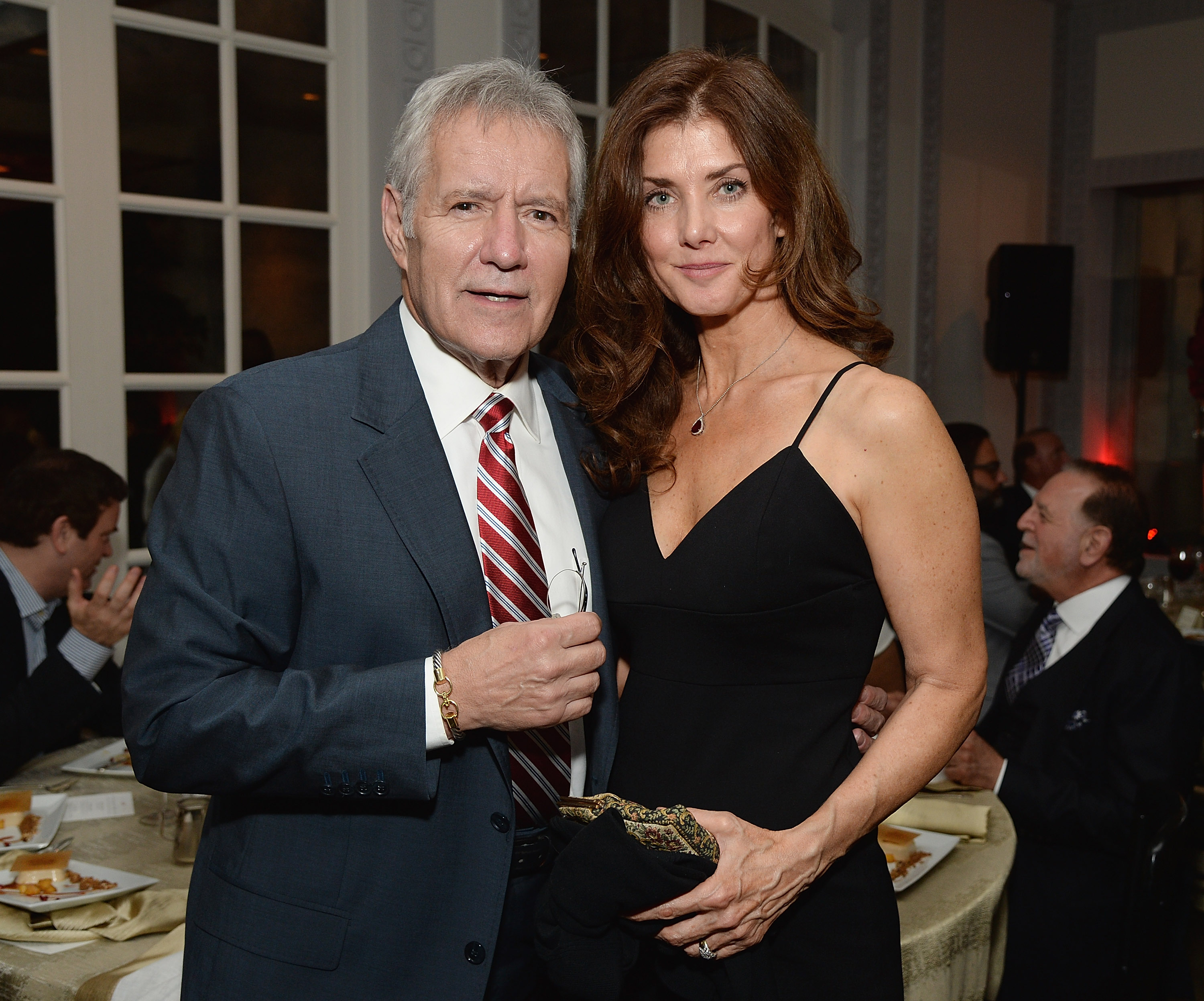 Alex's Pancreatic Cancer Journey
Trebek told viewers in March 2019 that he had been diagnosed with stage four pancreatic cancer. Trebek underwent chemotherapy to treat his disease and he passed away from it in November 2020 at age 80. Pancreatic cancer is typically treated through surgery, chemotherapy and radiation.
Related: Remembering 'Diff'rent Strokes' and 'Facts of Life' Star Charlotte Rae, Who Beat Pancreatic Cancer and Lived to 92
Dr. Anirban Maitra, the co-leader of the Pancreatic Cancer Moon Shot at MD Anderson Cancer Center, explains in an earlier interview how and where this disease begins, and the need for early detection. "So the pancreas is an organ in your belly. And this is where pancreatic cancer arises," says Dr. Maitra. "Because the pancreas is inside the abdomen, it often doesn't have symptoms that would tell you that something is wrong with your pancreas."
Related: Katie Couric Takes Over 'Jeopardy!' to Raise Money for Cancer; Alex Trebek's Daughter Remembers Her Dad on the Anniversary of Pancreatic Cancer Announcement
"By the time individuals walk into the clinic with symptoms like jaundice, weight loss, back pain, or diabetes, it's often very late in the stage of the disease. Each year in the United States, about 53,000 patients get pancreatic cancer," says Dr. Maitra. "And unfortunately, most will die from this disease within a few months to a year or so from the diagnosis. And the reason for that is that most individuals, about 80%, will actually present with what we called advanced disease, which means that the cancer has either spread beyond the pancreas or into other organs like the liver, and so you cannot take it out with surgeries."
Detecting Pancreatic Cancer Early Is Crucial
Coping with the Loss of a Spouse to Cancer
Losing a spouse to cancer, as Jean Trebek has, can be devastating. Guthrie asked Jean how she was doing at the beginning of the interview: "Right now talking with you I'm good," Jean said. "I absolutely have moments of waves of grief that come over me. I miss him a lot." Many people find that leaning on friends and family during this difficult time can help. Others find therapy to be a helpful additional component to coping with grief.
Related: Meghan McCain, 36, Shares Important Message for Those Facing Cancer-Related Grief: 'Let it Hurt, Let it Heal, and then Let it Go'
In an earlier interview, Camila Legaspi shared her experience in therapy after losing her mom to cancer. She says, "Therapy saved my life. I was dealing with some really intense anxiety and depression at that point. It just changed my life, because I was so drained by all the negativity that was going on."
"Going to a therapist helped me realize that there was still so much out there for me, that I still had my family, that I still had my siblings," says Legaspi. "The reality is, is when you lose someone, it's really, really, really hard. And it's totally OK to talk to someone. And I'm so happy that I talked to my therapist. Keep your chin up, and it's going to be OK. No matter what happens, it's going to be OK."
"Therapy Saved My Life": After Losing A Loved One, Don't Be Afraid To Ask For Help 
Learn more about SurvivorNet's rigorous medical review process.