Alex Trebek's Pancreatic Cancer
Alex Trebek, 80, was diagnosed with stage 4 pancreatic cancer in March 2019.
His PSA on the symptoms of pancreatic cancer led to an uptick in awareness around the disease, and people searching for information about it.
Trebek shared his symptoms, such as stomach pain, and has spoken openly about his experience battling the disease.
Iconic
Jeopardy!
host
Alex Trebek
's PSA announcement last year about the symptoms of
pancreatic cancer
 had a huge effect on organizations trying to spread awareness of the disease. There was also an uptick in the number of people searching for information about the disease online.
Related: 7-Year-Old's Alex Trebek Halloween Costume Gets Attention of the 'Jeopardy!' Host Who Says "Thank You for Making Me Smile"
Read More
"We have had such a tremendous response to the PSA that continues to keep going," The
World Pancreatic Cancer Coalition
told
SurvivorNet
. "[Trebek's] decision to become involved in the World Pancreatic Cancer Day global initiative is having a big impact on heightening awareness of the risks and symptoms of this terrible disease."
Trebek's PSA debuted on October 30, 2019, and generated a huge amount of national and local media coverage.
"As a result of Alex's PSA, we have seen significantly increased traffic to www.worldpancreaticcancerday.org," said the Coalition, "where people can learn more about the disease, the symptoms, and risks, how they can take action to raise awareness, as well as find local Coalition members who can provide many services and support for people living with and affected by pancreatic cancer."
The Pancreatic Cancer Action Network (PanCAN), echoed these sentiments. According to PanCAN, as a result of Trebek's openness and honesty about his journey with the disease, PanCAN saw "an immediate and sustained increase in the number of people visiting our website for information and resources, more people donating to the cause, more people registering for PurpleStride events and more."
Related: Patrick Swayze Died 11 Years Ago From Pancreatic Cancer; Today We're Encouraged By Others Battling the Disease Like Alex Trebek & Harry Reid
This isn't the first time we've seen an increase in people looking for information about pancreatic cancer because of Alex Trebek. On March 7, 0219, when Trebek's cancer was first announced, the number of people who viewed his Wikipedia page shot up from the thousands to over 500,000 views. On the same day, page views for pancreatic cancer went from about 2,000 views per day to over 66,000 views.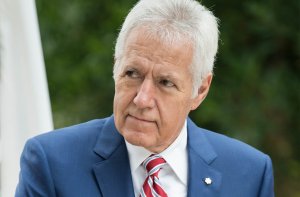 In Trebek's PSA, he talked about the very low survival rate for pancreatic cancer, "In nearly every country, pancreatic cancer is the only major cancer with a five-year survival rate in the single digits."
Related: "Jeopardy" Viewer Says Alex Trebek 'Saved His Life' After He Caught His Pancreatic Cancer Early Thanks to Trebek Talking About Symptoms
Trebek said that the best way to combat the disease is by letting people know it exists and needs attention. "In order to help patients fight and survive this disease," he said, "more attention and awareness are needed. And that's why I've joined forces with the World Pancreatic Cancer Coalition, to help raise global awareness of the risks and symptoms of pancreatic cancer."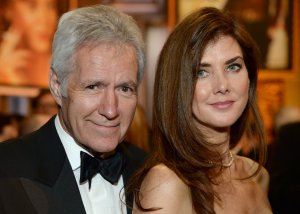 The PSA got  personal when Trebek talked about the information he didn't have before he was diagnosed with his disease, "I wish I had known sooner that the persistent stomach pain I experienced before my diagnosis was a symptom of pancreatic cancer." He also listed the symptoms so that viewers could be better informed, "Other common symptoms can include mid-back pain, unexplained weight loss, new-onset diabetes and the yellowing of the skin or eyes."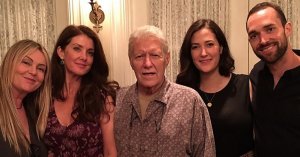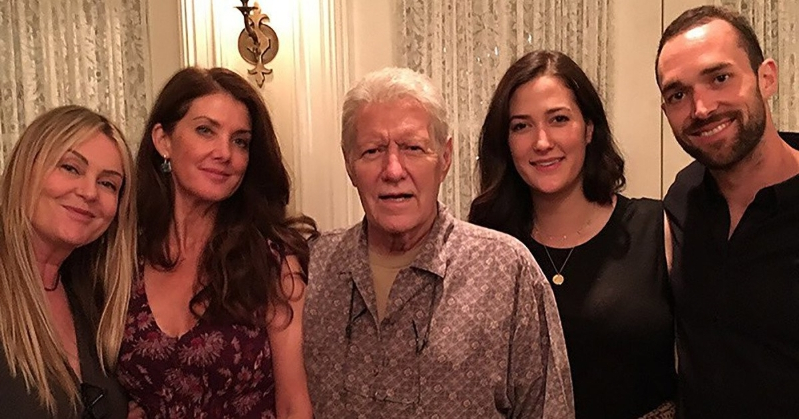 And finally, he asked for help in raising awareness, and fighting the disease, "Won't you join me in this fight? Participate this November by wearing purple, spreading the word of social media, and visiting worldpancreaticcancerday.org to learn more. Together, we can get it done."
The Latest in Alex Trebek's Cancer Journey
Trebek announced in March 2019 that he had been diagnosed with pancreatic cancer — which is an incredibly difficult disease to treat. What's more, the host was diagnosed at stage 4. However, he's kept an optimistic attitude throughout his months-long cancer journey. He was initially treated with chemotherapy and had responded quite well — announcing in May that some of his tumors had shrunk a significant amount, and the results were "mind-boggling." But in September, Trebek announced a reversal of those initial positive results.
Related: Alex Trebek Reminds Us It's OK To Have Fun During Pancreatic Cancer Fight as He Raps Megan Thee Stallion's "Savage" Lyrics In New Jeopardy Episode
In an interview with Good Morning America, Trebek said that he would need another round of chemotherapy after recent tests revealed "sky-high" numbers, and he experienced really rapid weight loss. Trebek responded so well to his first round of chemotherapy that his doctors took him off his regiment, hoping to start immunotherapy shortly thereafter — so Trebek's own immune system could be rallied to begin killing off cancer cells. However, Trebek revealed that immunotherapy didn't do anything for his disease.
And with the recent results, his doctors decided that more chemotherapy was needed. In a recent interview with SurvivorNet, Dr. Diane Simeone, Director of the Pancreatic Cancer Center at NYU Langone's Perlmutter Cancer Center, said that the dramatic change in treatment response Trebek experienced is not uncommon for people with pancreatic cancer.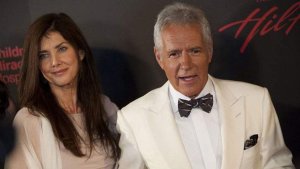 "As a clinician who oversees the care of many individuals like Mr. Trebek, recurrence following what was considered successful treatment is, unfortunately, all too common," Dr. Simeone said. "The more advanced a cancer is — in Mr. Trebek's case, stage 4 — the harder it is to keep it in check."
Related: Alex Trebek Makes Sneaky Cameo in Ryan Reynold's New Movie "Free Guy" & Reactions Are Perfect
As of now, Trebek is continuing with his Jeopardy! duties — as well as giving interviews like the Rogers podcast. But he has said that if his skills should diminish due to treatment — and he's admitted that chemotherapy has caused sores in his mouth, which he feels affect his voice — he will step down from his position as Jeopardy! host, which he's held for 36 years.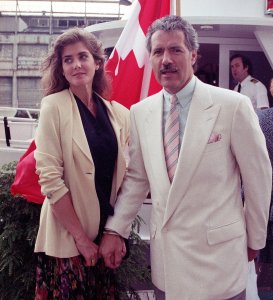 "When I feel that my skills have diminished to the point that I notice and am bothered by it… There will come a point where they [the producers and audience] will not be able to say, 'It's OK,'" Trebek told Canadian network CTV News. But he also said that he will continue to fulfill his role for as long as he can. "There are weaknesses that I feel in my body … but I can always suck it up [when] Johnny says, 'And now, here's the host of Jeopardy.'"
Learn more about SurvivorNet's rigorous medical review process.