Scent Loss & Chemo
Fragrance maven Jo Malone, 57, reveals in a new interview that she lost her ability to smell as a result o the chemotherapy she received in her battle with breast cancer.
As a result, she walked away from the fragrance empire she sold to Estee lauder in a multimillion-dollar deal, losing all rights to her own name.
There are several chemotherapy drugs and targeted therapies used to treat breast cancer that can cause loss of smell and taste, though it will often return as it did with Malone.
Empress of eau Jo Malone reveals in a new interview that she lost her ability to smell while undergoing chemotherapy during her
breast cancer
battle.
The British-born fragrance frondeur, who in 1999 sold her eponymous line of stripped-down scents to beauty giant Estee Lauder in a multimillion-dollar deal, also reveals that this is why she decided to step down from the company she created despite a strict non-compete clause.
Read More
"The lockout was harder than fighting cancer. With cancer, I had a purpose. I had a purpose to survive, for my family, and I had doctors that knew what they were doing all the way along," Malone tells
Forbes
. "I know people will think I'm crazy [to say the lockout was harder], but at that point, I lost my identity. There was no one to help me, there was no one to show me the way, and I couldn't see the end to it."
Related: How NFL Star Devon Still Went From Gridiron Glory to Cancer Crusader After Daughter Leah's Stage IV Neuroblastoma Battle
Malone could not launch her line of fragrances or work with another company for five years, and if she did launch her own company, she no longer had the legal right to use her name.
However, she understands it is all business and credits Evelyn Lauder with saving her life after her 2003 diagnosis.
"I was given nine months to live. I was 38 years old, and it was the biggest shock—I thought older people got breast cancer," says Malone.
She called Lauder before anyone else, who matter-of-factly told Malone: "You're not going to die, Jo. We're going to get you through this."
Malone flew to New York the next day, where Lauder had set up an appointment for her with a doctor at Memorial Sloan Kettering Cancer Center.
"The next day, a doctor gave us devastating news. I had ductal carcinoma in situ — an aggressive cancer — and some of my lymph nodes were 'positive' for signs of cancer," recalls Malone, who scheduled her mastectomy for that same week.
The chemotherapy came next, which required her to report to MSKCC every ten days for five months. If the treatments were successful, she would be home in England just in time for Christmas.
Then, out of nowhere, the woman who built a fragrance empire lost the ability to smell.
"I was supposed to be finessing a collection of basil-scented candles, but as soon as the test candle arrived, I couldn't even open the bag without retching. And there was certainly no more spraying of Grapefruit on linen," recalls Malone. "My nose — the same nose that had created all the Jo Malone fragrances — was now useless. All I could smell and taste was metal, which is a common side-effect of the treatment."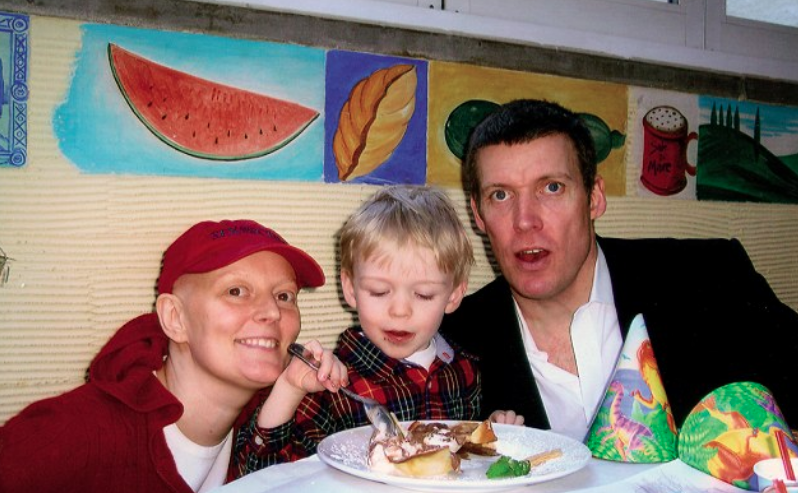 Several chemotherapy drugs and two targeted therapies used to treat breast cancer have side effects, including loss of smell and taste.
The American Cancer Society states that loss of smell and a metallic taste in the mouth is a side effect of chemotherapy and certain cancer medications. This may last for a few weeks in some patients while in others it could at for years or even their lifetime.
Things only got worse for Malone, who, after finishing her treatment two days before Christmas, was informed she would need to return to New York after the holiday for another 16 weeks of chemotherapy.
At that point, she felt weakened and, for the first time, started to think she might not win her battle.
"I'd lost every single hair follicle on my body. I seemed to be fading away — in hair, in weight, in presence. I looked like a wizened, androgynous being," writes Malone in her memoir My Story.
She recalls that next 16 weeks being more taxing than the first time around, and when not at the hospital, she found herself in bed.
"One night in March, as I lay in bed with a high temperature, I found I didn't have the strength to roll over onto my side. I was too scared to sleep because I'd convinced myself that I wouldn't wake again," recalls Malone. "'Is this how death happens?' I asked myself."
She then began to turn things around, only to be struck down with a case of shingles. That meant the chemotherapy would come to an end, with the virus signaling the fact that her body had taken all it could at that point.
Then, another setback. A scan revealed concerning calcium deposits in Malone's other breast.
Malone wasted no time and immediately scheduled a mastectomy to eliminate any cause for concern.
The cancer was now in remission, but Malone had one more surgery left before returning to England.
She and husband Gary sent friends an announcement about Malone's reconstruction surgery ahead of their return, writing: "Gary and Jo will soon be returning home, and they're pleased to announce the birth of two bouncing girls!"
One friend sent the couple a pair of matching baby gowns.
Her smell was still gone, however, and now Malone was ready to pack things up at work, having stayed on in her role overseeing Jo Malone London even after Lauder purchased the company.
"I was too scared to admit it to anyone in the company [that I could not smell]," Malone tells Forbes. "And I didn't feel like I belonged there anymore. I felt it was a job, just a business, and I'd never felt that in my life."
She stepped down in 2006 and says the next five years were almost unbearable until the day her sense of scent returned out of the blue.
 

View this post on Instagram

 
She soon decided to throw her hat back in the trunk and, in 2011, launched Jo Loves, a new line of fragrances that she brought to market in 2013.
There are now 14 fragrances in total, and her London store has a one-of-a-kind tapas bar where customers can enjoy her bath colognes, body crèmes, body lotions, and bath & shower gels as if they were small bites.
"The tapas bar was the next generation of the hand and arm massage, and it cost us pennies in the grand scheme of things," says Malone.
"And it would translate, almost 100% of the time, into a sale."
And now, cancer-free and once again in charge of her destiny, Malone is happier than ever.
"Every minute of every day, I pinch myself," declares Malone.
"Even right now as I'm sitting here, I'm thinking 'I was the girl from the council estate, with not a penny in my pocket!'. I'm so grateful."
Related: 'I Pray For You': The Touching Story of How Comedian Norm MacDonald Comforted a Fellow Comedian Grieving Her Father's Cancer Diagnosis
The Side Effects of Chemotherapy
No two chemotherapy drugs are precisely alike, and like Malone, most people who undergo the treatment in their cancer battle will experience at least one side effect.
"Chemotherapy affects the body by inhibiting cancer cells from dividing.  But of course, it also inhibits normal cells from dividing," explains Dr. Lawrence Piro, an oncology specialist affiliated with Cedars-Sinai Marina del Rey Hospital.
"So, its side effects can be, in some cases, hair loss, in some cases mouth sores from affecting the lining of the mouth, of the stomach.  Nausea, sometimes vomiting."    
However, the most significant side effect is the risk of infection because chemotherapy tends to lower the number of blood cells.
"It lowers your white blood cells, which puts you at risk for infection.  It lowers the red blood cells, which makes you anemic.  And it lowers the small platelets fragments of cells that are important in blood clotting, and that could give you a risk for bleeding," says Dr. Piro.
As a result, infusions can be necessary at times to help patients fight off infection during treatment.
Or, as in Malone's case, an infection might signal that the chemotherapy needs to stop because the body can no longer fight off infection, which is why she got shingles.
Communicating With Your Doctor During Chemotherapy
Managing the Side Effects of Chemotherapy
For Dr. Erin Crane, an oncologist at Levine Cancer Institute Morehead in North Carolina, preparing patients for the likely side effects of their chemotherapy treatment plays a significant part in her approach to cancer care.
"I think the biggest part of our jobs, whether it be from cancer diagnosis to counseling patients, is to reassure them that they'll get through it and they'll be okay," says Dr. Crane.
"So a big part of what I do when I talk to patients about the side effects and explain to them that many of the fears they have about the side effects of chemotherapy are manageable."
That means telling them that medication can treat the nausea and vomiting and assuring them that their fatigue will eventually go away.
"I do counsel patients that fatigue is one of the side effects that tend to get progressively harder to recover from with chemotherapy," says Dr. Crane. "But once chemotherapy is over, within a few months, most patients regain their energy levels back."
There are also steps patients can take, says Dr. Crane, who notes that being active can make a world of difference.
"I think it's important for patients to try and remain as active as possible," she says. "And I know that of course, they don't want to push themselves until they're not feeling well, but trying to incorporate physical activity like going for a walk every day, doing things around the house to remain active really can help combat some of that fatigue and keep patients in better shape so that they're better able to recover from chemotherapy and get back to normal when they're done with treatment."
Treating and Preventing Chemotherapy Side Effects
Learn more about SurvivorNet's rigorous medical review process.