Bailey's Big Day
19-year-old Bailey Jones marries the love of her life just days after a stage 4 brain cancer diagnosis.
Bailey's family exemplifies the medical advice of several doctors in staying supportive and positive around cancer patients.
A newlywed Bailey is undergoing chemotherapy and radiation for the next few weeks, and has big plans for a hopeful honeymoon.
"All You Need is Love" plays over the loudspeaker at Bailey Jones' dream wedding, an event put together in just two weeks by a community-wide support system that's rallying around her after receiving a stage 4 brain cancer diagnosis at the end of May.
Love is all you need. These are the lyrics that fill the venue and, at the same time, reflect in Jones' face as she smirks at a dancing, newlywed Daniel Pinson.
Read More
The 19-year-olds got engaged on June 2. The knot was tied on June 20.
"More than ready," is how Daniel describes his eagerness to settle down with the love of his life. "I get, like, this tingle in my body. Bailey is such a blessing."
The Importance of Positivity Surrounding Illness
Doctors often share notes with SurvivorNet on the importance of mental health, positivity, and support systems in the case of a new diagnosis.
Dr. Zuri Murrell, a colorectal surgeon at Cedars-Sinai Medical Center in Los Angeles, says that "a positive attitude is really important" for patients and their surrounding team following a diagnosis.
Bailey's dad, Ernest Jones, personifies this attitude that doctors can only hope lies within the family members of each of their patients.
"The main thing I want Bailey to know is how proud we are of her, and to stay positive," Ernest tells a source.
Sweet Love United
Bailey's sister explains the magic behind the planning. She says that she just posted in a Facebook group asking for tips on putting together a wedding in two weeks. Immediately, an overwhelming amount of help floods her inbox, assembling a dream team of caterers, florists, beauty teams, photographers, and more.
In her wheelchair, before the ceremony, Bailey taps on her dad's shoulder to let him know she's ready and dressed. Ernest turns around, meets her with a big hug, and tells her through tears how beautiful she is.
"That's my first daughter that I've walked down the aisle. It was special," Ernest says.
A few dozen sets of watery eyes watch the couple exchange vows and seal it with a kiss. A resounding harmony of cheers erupts from the crowd.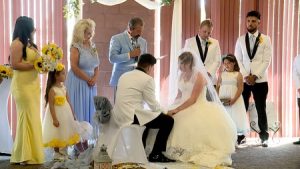 Learning About Brain Cancer
Surrounded by everyone she loves, Bailey sits in a room decorated with her favorite colors of baby blue, yellow, and white. She establishes that trip down the aisle as her favorite part of the day.
Bailey's diagnosis takes away her strength to the point of being unable to walk on her own. It's clear that her support system is there for her in every way, not just emotionally.
Without the help of her wheelchair, but instead the strength and support of her family, Bailey travels by foot to meet her love at the altar, proving there's nothing she can do that can't be done.
Understanding Brain Tumors & Brain Cancer
Naturally, a lot of people think "cancer" when they hear the word tumor. However, most brain tumors aren't actually cancerous. Less than one third (about 32%) of brain tumors are considered malignant (cancerous), according to the American Brain Tumor Association.
If a tumor is made up of normal-looking cells, then the tumor is benign. But these tumors may still require treatment, such as surgery. Because of this, they're often referred to as "non-malignant," since the word benign can be misleading.
The most common type of non-malignant brain tumors are meningiomas, however, there are 120 different types of brain and central nervous system tumors, according to ABTA.
On the flip side, if the tumor is actually brain cancer, these types of tumors generally grow faster, and are more aggressive than non-malignant tumors, according to ABTA. They often spread and damage other areas of the brain and spinal cord. Malignant brain tumors need to be treated as soon as possible to prolong life.
Oftentimes after an MRI, a biopsy will be performed on a brain tumor to determine its type. Sometimes, the results of imaging tests show that a tumor is likely to be non-malignant, and a biopsy is not necessary.
Support Bailey's Journey
Bailey is undergoing chemotherapy and radiation for a series of weeks. After that, she'll make her way to the Bahamas for her honeymoon if she's feeling well enough to do so. You can help Bailey and her family by contributing to their GoFundMe page.
Learn more about SurvivorNet's rigorous medical review process.
---