Kanye West's father Ray West, who was diagnosed with cancer last year, does not often appear in Kanye's music or social media presence. But now, in West's new music video for "Follow God," a breakout song from his new album "God is King," the artist bonds with his dad on camera.
In the video, Kanye and his dad walk toward the camera on a barren snow-covered stretch of land. They  board a large tractor, Kanye in the driver's seat, his dad the passenger's, and they drive around, mountains in the background. The next shot is of Kanye with his hands together in prayer, then it cuts again to father and son, this time in an even larger, bulkier tractor. The two then appear in a medium shot, standing next to each other, subtly dancing and smiling.
Read More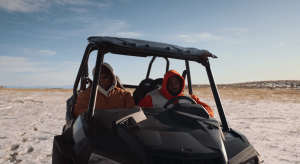 The video ends with a blue title card, which Kanye posted to Twitter alongside a link to the video, reading, "My dad came to visit me at one of our ranches in Cody, Wyoming. He talked about his love for fishing, and how he would come here in the summers. / It took me 42 years to realize my dad was my best friend. / He asked me, 'how many acres is this?' / I told him 4,000. He replied with these three words: / 'A black man?'"
"FOLLOW GOD" https://t.co/e3SRwWExir pic.twitter.com/Pqy7qvc0aB

— ye (@kanyewest) November 8, 2019
The song seems to extend a lyrical olive branch to West's Father in the opening lines: "Father, I stretch / Stretch my hands to You." The refrain praises his father's wisdom: "I was screamin' at my Dad, he told me, "It ain't Christ-like."
West has been performing songs from the new album at his "Sunday Service," amassing large groups of choral and percussive musicians to play his songs and embrace a spiritual sense of community.
Kanye's supporters seem to love the song, one commenting, "Just like the album, the music video was like a healing balm for the soul."
And many were especially taken with the song's emphasis on Kanye's father-son relationship, relating to the experience depicted in the song: "My dad is my best friend too."
Kanye's Dad and Cancer
Kanye famously found an especially unique way to celebrate with his dad when Ray's cancer was finally in remission — eating bugs.
overcome fear

My dad and I are going to eat this plate of bugs to celebrate him beating cancer. No more fear pic.twitter.com/b3ywEX13v2

— ye (@kanyewest) October 2, 2018
"Overcome fear," Kanye tweeted alongside a photo of crustaceans that he and his father ate to show they were overcoming obstacles together. "My dad and I are going to eat this plate of bugs to celebrate him beating cancer. No more fear."
Music as a Way to Help Patients and Caregivers
We can't say for sure that Kanye's bond with his father has anything to do with his cancer, but we do know many deal with the disease through music.
For example, breast cancer survivor and musician Bianca Muniz, who spoke with SurvivorNet in a previous interview, told us music was a huge part of her cancer recovery.
Muniz, who received an ovarian cancer diagnosis at age 11, and breast cancer at age 22 — a year after she started a band — relied on music as an outlet.
Breast cancer survivor Bianca Muniz talks about the impact of music during her cancer recovery
Cancer, she said, affected her art in two different ways: as a muse and as a deterrent. Undergoing a variety of different treatments impacted her voice, she said, but she never let the diagnosis get in the way of what her life is really about: music.
Learn more about SurvivorNet's rigorous medical review process.
---