Olympic gold medalist and cancer survivor Shannon Miller is sharing inspirational words of wisdom with the SurvivorNet community this holiday season — surround yourself with positive people, and keep those good vibes coming!
"I just wanted to wish all of you happy and wonderful holidays coming up," Miller says. "It is just a beautiful time of year and I know that if you or someone you love is going through a cancer diagnosis, they are on the journey, it can be a difficult time especially during the holidays.
Read More
"Keep those good, positive thoughts and people around you. I know it's not easy and it's not going to happen every day, but the more we can be positive and keep those good vibes going, the better."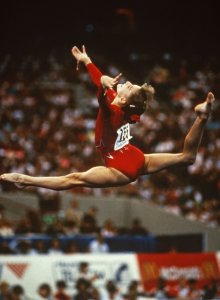 Few know more about positivity than Miller, 42. Diagnosed with "germ cell" ovarian cancer in 2011 at the age of 33, and currently cancer-free, she has persevered even when facing incredible odds, breaking the record for winning the most Olympic medals of any U.S. athlete in any sport during the 1992 Olympics. She was also s a member of the "Magnificent Seven," the 1996 United States Olympic women's gymnastics team that won the first ever gold medal for the United States in the women's team competition at the 1996 Summer Olympics in Atlanta.
Miller was diagnosed with a rare form of ovarian cancer some six months after founding a company devoted to women's healthcare called Shannon Miller's Lifestyle. She had the baseball sized tumor removed successfully and followed up with an aggressive chemotherapy regimen.
Germ cell tumors are more likely to impact a single ovary, rather than both, and when you hear about a teen or young woman being diagnosed with ovarian cancer, it's usually germ cell. About 90% of these cases can not only be cured and fertility can often be preserved.
In her message, she also says that staying positive doesn't mean "you can't have a pity party from time to time."
She wants cancer patients to remember they are loved, "know that you have a tremendous amount of support and good will headed your way. I wish you the best during this holiday season and always."
Is There Screening for Ovarian Cancer?
Despite ovarian cancer's reputation for being a devastating disease, what most people don't realize is that when it's detected early enough, it has a better than 90% cure rate. The problem is, it's not an easy disease to diagnose, especially in its nascent stages, so only 20% of cases are caught early on.
Dr. Beth Karlan, a gynecologic oncologist at UCLA Medical Center, says, "In certain high-risk women, who have either inherited a defect in a gene called BRCA1 or 2 or other associated genes with hereditary ovarian cancer, you should undergo an ultrasound of the pelvis—trans-vaginal ultrasound—and a CA-125 [blood test], because it's the best we have at the current time."
Dr. Beth Karlan, a gynecologic oncologist at UCLA Medical Center on screening for ovarian cancer
But these tests are only routinely available for women with the aforementioned family histories of cancer, inherited genetic conditions like Lynch syndrome (which is a kind of colorectal cancer) and/or women presenting with recurring symptoms of the disease.
In fact, according to the American Cancer Society, low-risk women may be better off skipping screening if they aren't experiencing symptoms. "In studies of women at average risk of ovarian cancer, using TVUS [trans-vaginal ultrasound] and CA-125 [blood test] for screening led to more testing and sometimes more surgeries, but did not lower the number of deaths caused by ovarian cancer." And so for that reason, they don't recommend routine testing.
So while there's no widespread screening method currently available, researchers are working hard to find one. As Dr. Karlan says, "finding an early detection method for ovarian cancer is really like the holy grail."
Learn more about SurvivorNet's rigorous medical review process.
---