For a lot of people who are dealing with cancer, streamlining some financial details is an important task. For "Grease" icon Olivia Newton-John, that may mean selling her treasured Australian farm in New South Wales as well as her home in Santa Ynez, California, after her cancer diagnoses.
Carey Kendall of Village Properties Realtors who holds the listing for the Santa Ynez home told Today that Newton-John and her husband, John Easterling, love the area but are ready for something smaller.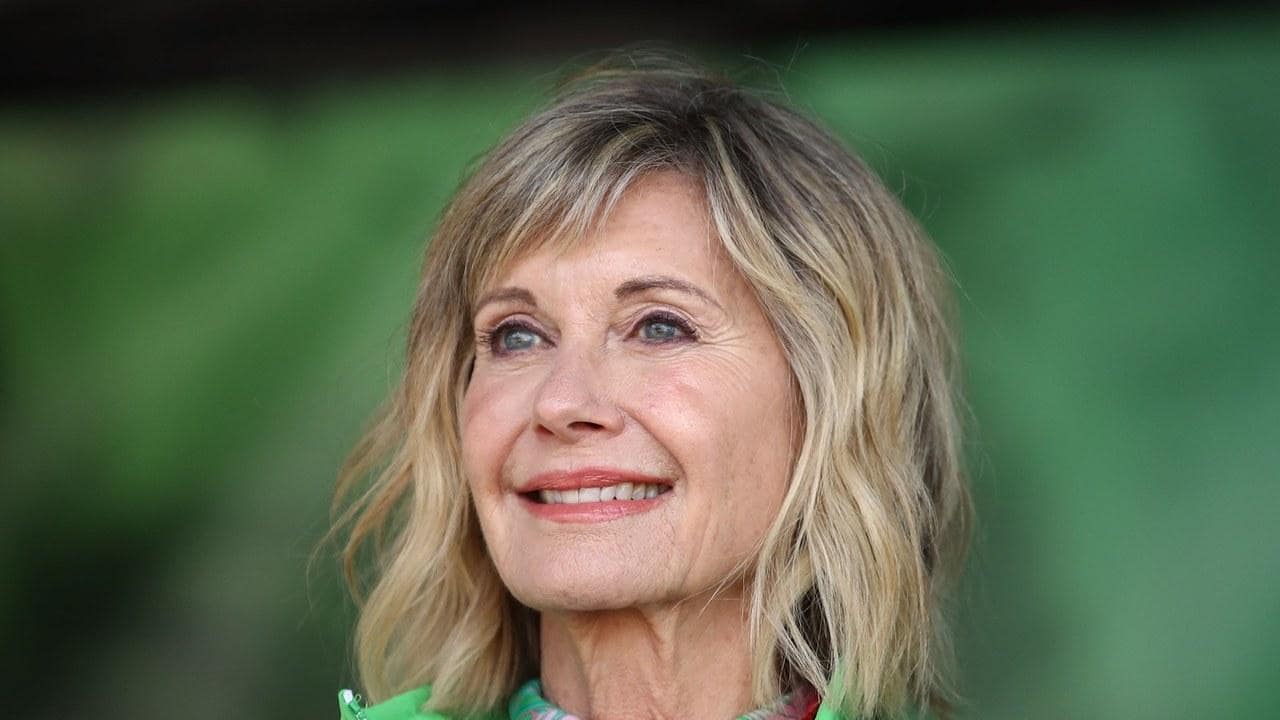 Read More
Olivia Newton-John has had breast cancer three times. First, she was diagnosed with breast cancer in 1992. At that time she underwent nine months of chemotherapy and a double mastectomy. In 2013, the cancer metastasized. In 2017, her doctors found a tumor at the bottom of her spine.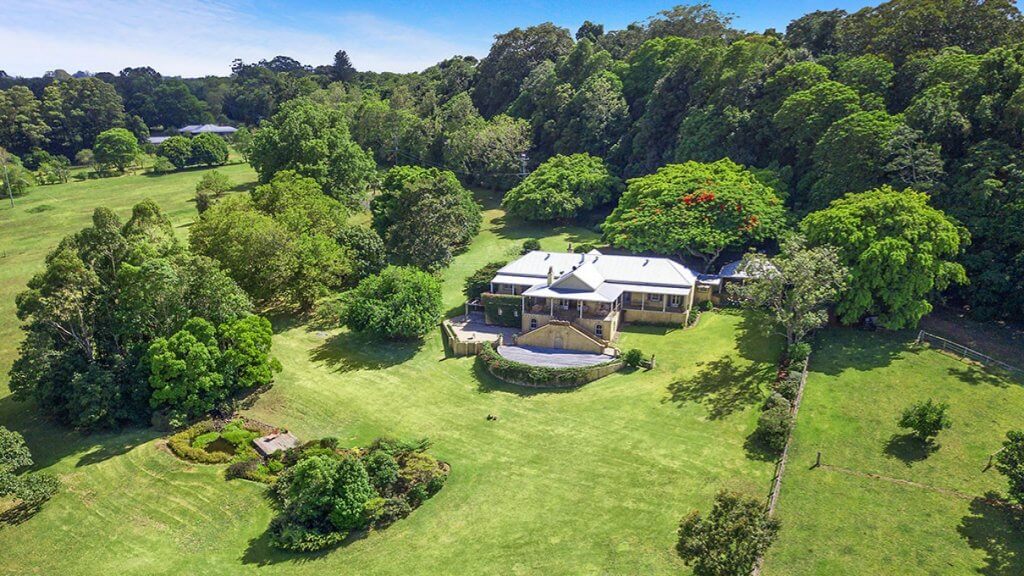 A view from above Olivia Newton-John's Australia home, which is now on the market for $3.9 million (US) or $5.5 million (AUS)
"Olivia and her husband wish to downsize now but have loved their time on the ranch here, and as a testament to the area, they wish to stay in Santa Ynez for their California landing spot," Kendall told TODAY Home.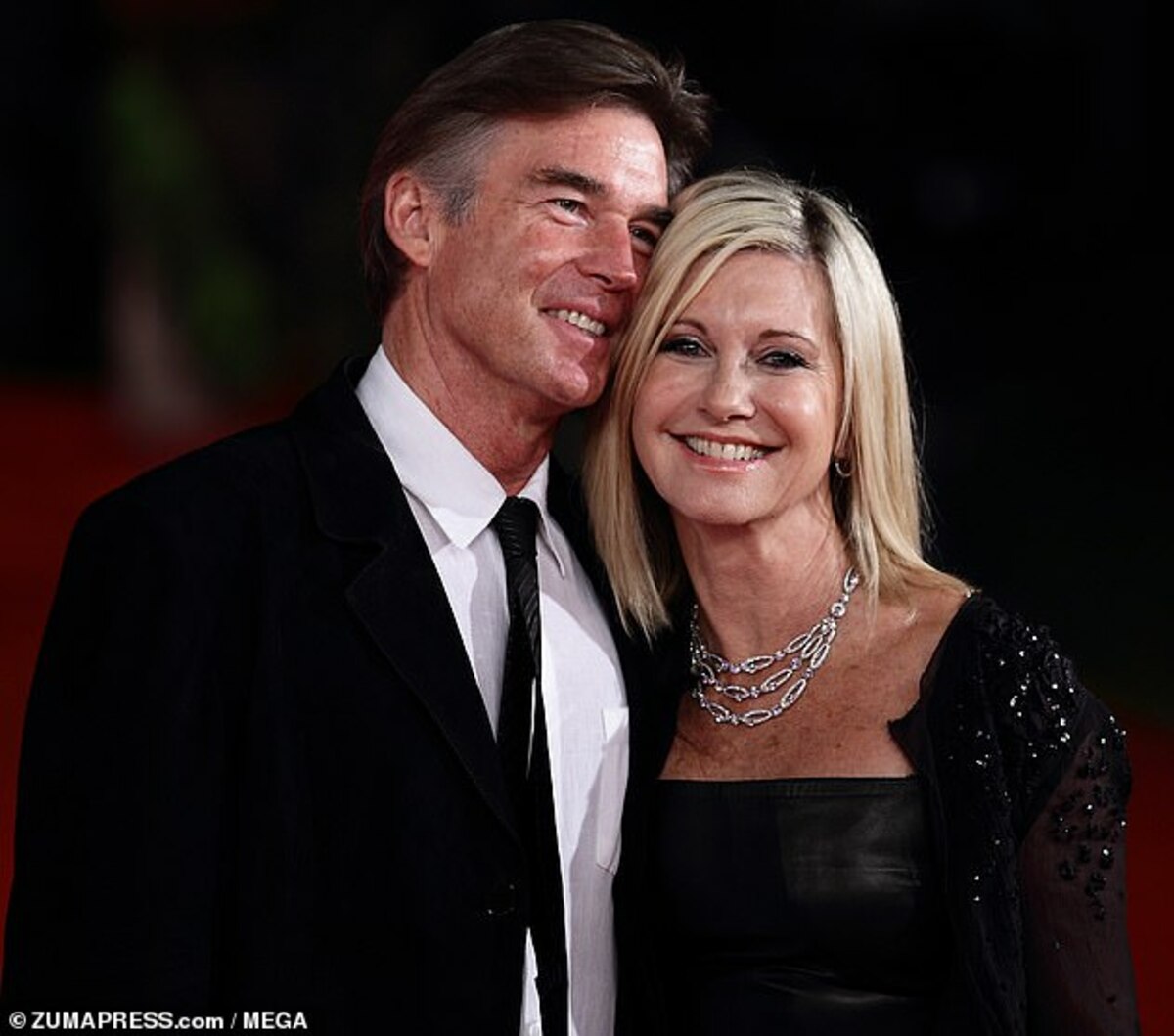 The Australia farm house's listing on the McGrath website boasts a "Remarkable far reaching mountain and valley vistas define this exquisite French inspired country residence. Bordered by parkland whilst enjoying unparalleled privacy serenity and sunsets, this enviable escape is set on 187 acres comprising of seven lots."
Stage four breast cancer means that your cancer has now spread to distant areas of the body. It is no longer regionalized to the breast. And while there is no cure for metastatic breast cancer, doctors have a lot of options to treat this stage of advanced disease. These include hormone therapy, chemotherapy and targeted drugs. Sometimes surgery and/or radiation is considered.
With advanced disease, the goal of treatment is to keep you as stable as possible, slow the tumor growth and improve your quality of life.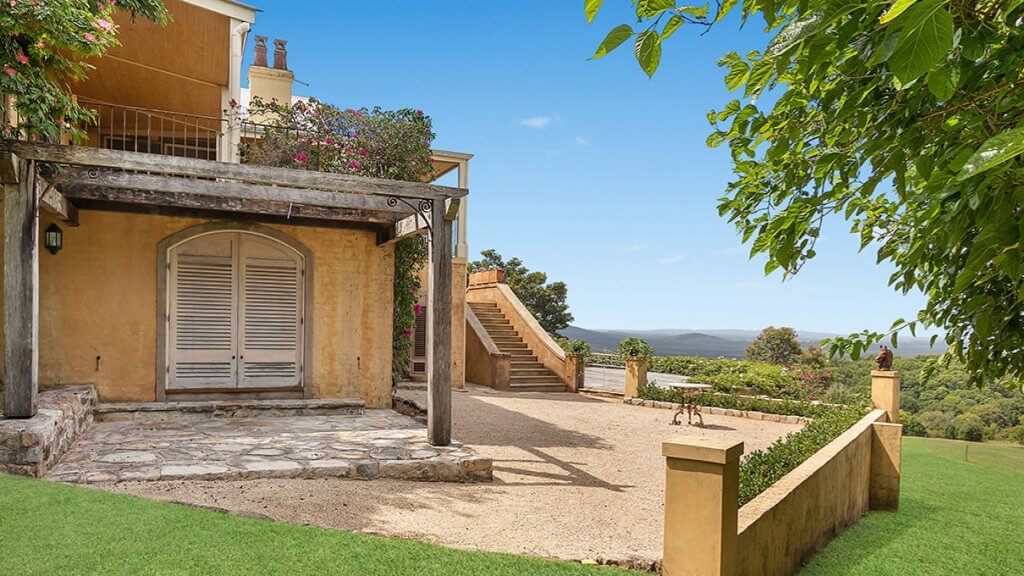 View from outside Olivia Newton-John's Australia farm near Byron Bay
Earlier this year, Newton-John disclosed that she was undergoing radiation to treat her disease. She was pairing that treatment with changes to her diet, and experimenting with cannabis oil, according to ABC News. The actress' husband, John Easterling, grows medical marijuana on the couple's ranch in Santa Barbara. Newton-John told People that the oil helps with pain and sleep. The 70-year-old actress has told multiple outlets that she is determined to beat the disease — despite the fact that it is considered incurable.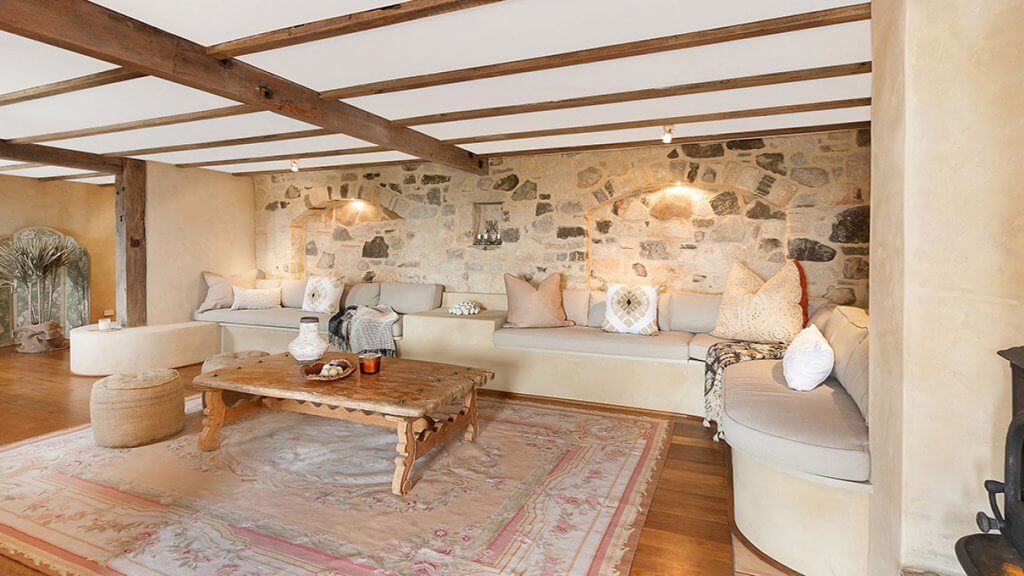 View of one of the living rooms inside Olivia Newton-John's Australia home
Her cancer journey has helped her, she says, to live in the present.
"When you have a cancer diagnosis it changes things. We all know we're going to die one day. We don't like to think about it, but one day we all will," she told the Herald Sun newspaper of Melbourne, Australia where the British-born actress and singer, 70, grew up.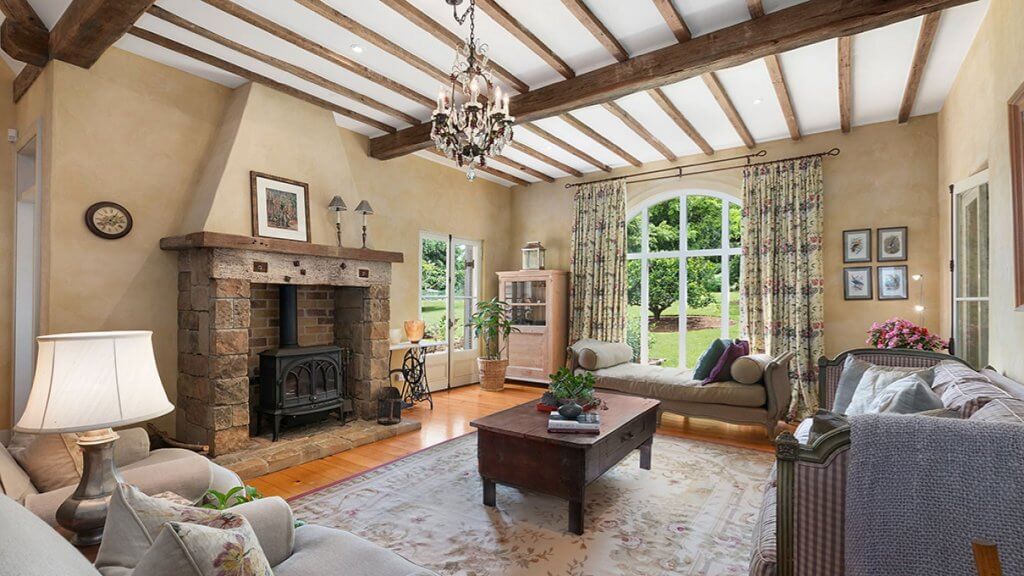 View of living room and fireplace inside Olivia Newtown John's New South Wales home
"When you have a cancer diagnosis it just makes it more obvious that it could happen and it makes you much more aware of the present and that every day is a gift and that's how I live," she said.
She also confirmed that she has no intension of heading back to stage or screen any time soon. Newton-John hasn't worked since last September because of a fractured sacrum (a bone at the base of the spine).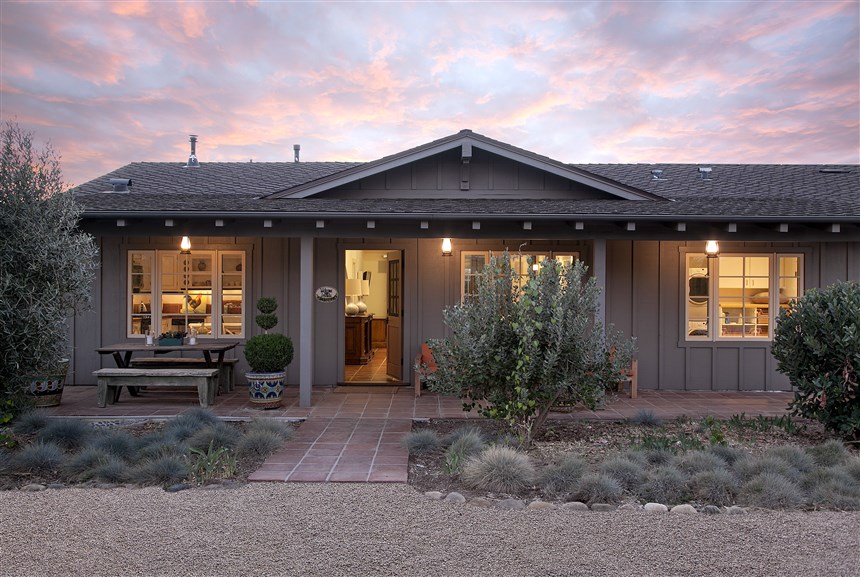 Olivia Newton-John and John Easterling's Home in Santa Ynez California
Her sentiments in the latest interviews echo those she's expressed in the past. In her interview with NBC News, she had already begun discussing the ways that cancer sheds light on life's toughest realities. "I mean everyone does. I mean we're all going to die, that's probably the hardest thing to accept as a human being, is that we know that."
"You can make your own reality," she said at the time, while talking about the effects of cancer on her outlook. "I kinda consider I've had a gift of extra time. I've lost people younger than me. So I'm very grateful. I'm 70 and I've had the most amazing life, and I have extra time. So, whatever that is, I'm grateful for it, and I'll just enjoy every day, and that's all you can do."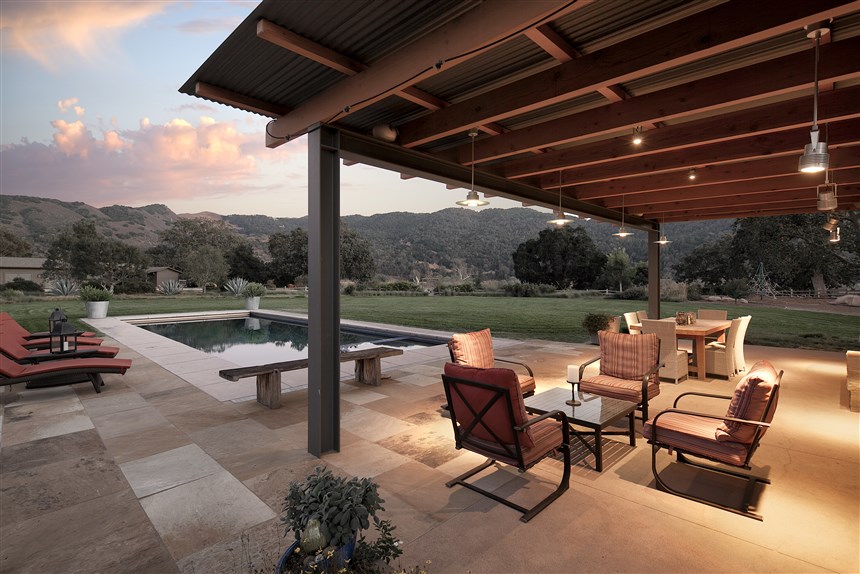 Pool and back patio at Olivia Newton-John's Santa Ynez California
"Jeopardy" icon Alex Trebek made a similar decision to Newton-John when he sold his treasured second home in beautiful Paso Robles, California, after his recent pancreatic cancer diagnosis.
The 2,595 square foot vacation home had a stunning, lakeside view of Lake Nacimiento, about two hours away from Santa Maria, and was listed for 1.4 million dollars, and was to be sold with it's furniture, as well as it's two "Skidoo" mobiles and its "quad" tractors.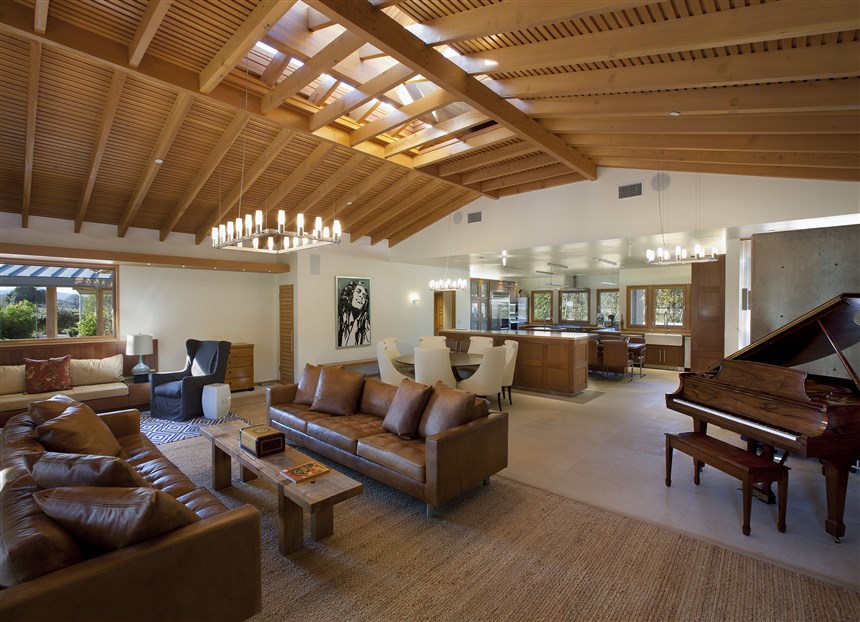 Big open living room in the Snata Ynez home that Olivia newton-John and John Easterling are selling, while looking for something smaller
Similarly, NBC's Tom Brokaw, the former "Nightly News" anchor, put his weekend retreat, a 56 acre estate in New York's exclusive Westchester County, on the market while he underwent treatment for multiple myeloma. Brokaw also listed his Montana ranch where he spent much time during the summer.
Olivia Newton-John's talked openly about getting scared just like everyone does.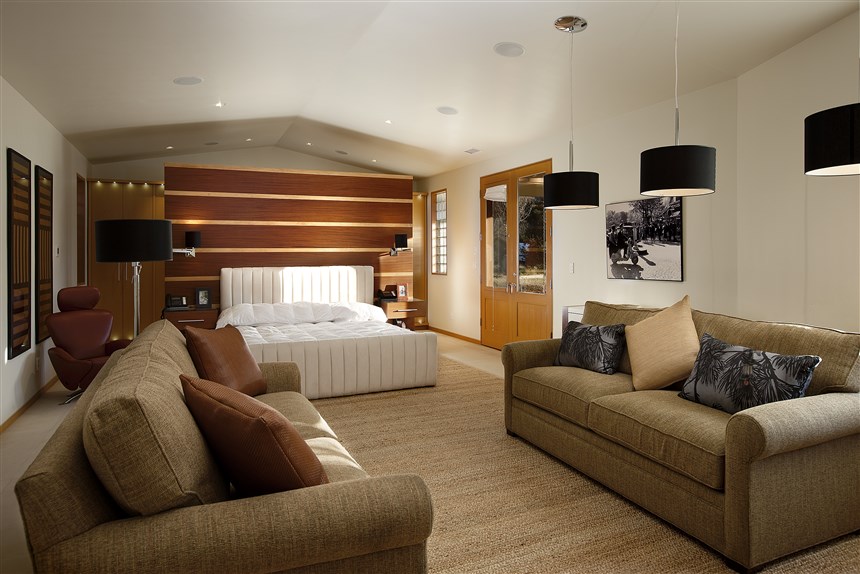 Bedroom inside the Santa Ynez home that Olivia Newton-John is selling in the aftermath of her cancer diagnosis
But she's also talked about the choices you can make when dealing with that fear. "Winning over. I think what you think creates your reality. So that's a decision, you have to make that decision. You know you can be a victim, or you can be a winner and enjoy your life," she said. "It hasn't been easy, of course. I mean I'm human and I go through fear and I go through all the things anyone going through or any other difficult diagnosis [does]. But it's a choice of how you deal with it. So I try to always deal with it in a positive way."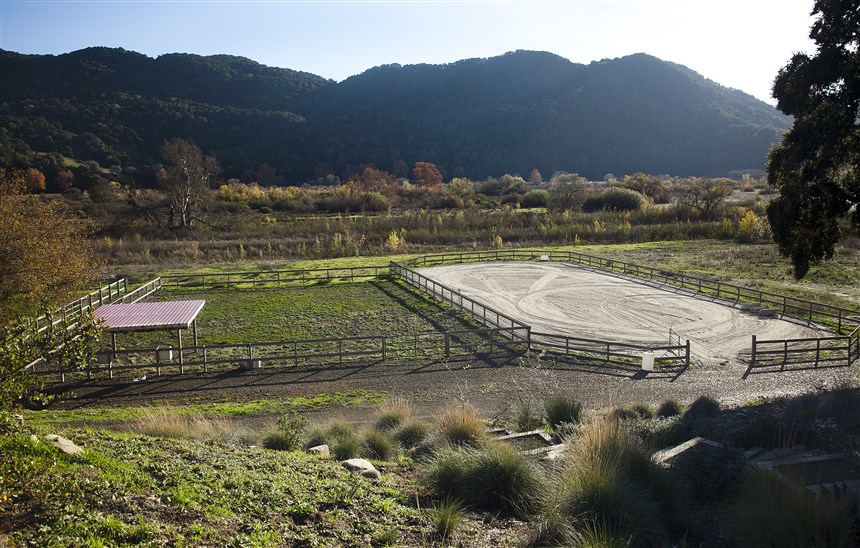 Horse-riding track and mountain view from Olivia Newton-John's Santa Ynez home
Newton-John has also written a memoir that deals with her cancer journey. The book emerged when she learned there was going to be a movie made about her life, she says. "I didn't plan on writing a book, but then when I heard they were planning on making a movie about my life, I thought well I'm just going to write my version so that if they come out with anything that isn't right or true I have my own version," she said. "That was the inspiration. And then when I actually got going with it was quite an interesting and cathartic experience for me."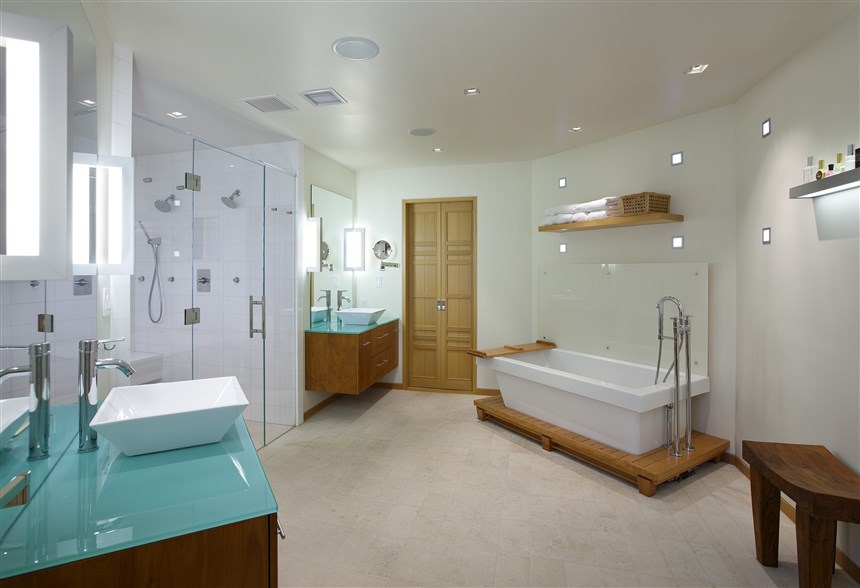 White and wood bathroom in Olivia Newton-John's Santa Ynez Home
When asked why she didn't share her initial diagnosis with the public, Newton-John says it was simply a personal decision. "Because of the speculation, which happened the third time. So I just decided I wanted to go through it myself. I don't know, it was just a decision that I'd keep it to myself that time."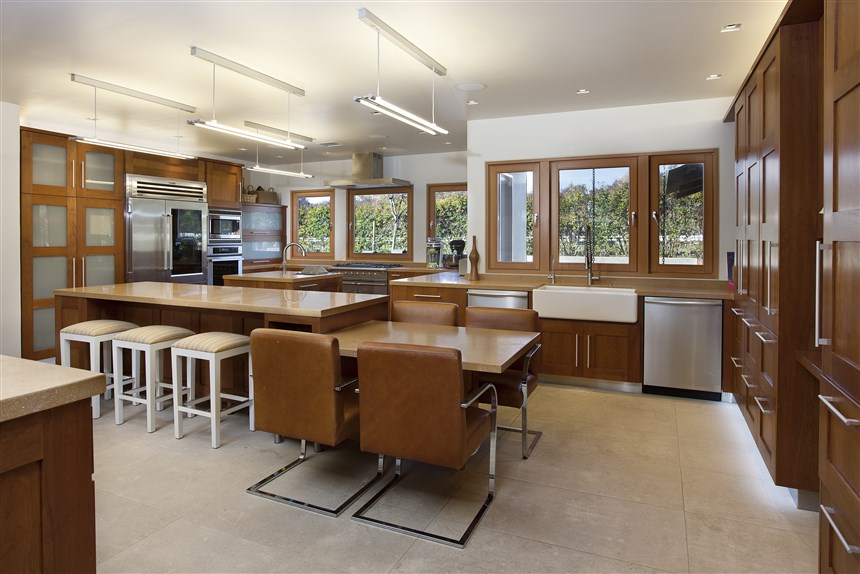 Kitchen dining area in Olivia Newton John's Santa Ynez home for sale
Learn more about SurvivorNet's rigorous medical review process.