Devin Lima, who was one of three members of the late 90s boy band LFO, passed away on Wednesday after a year-long battle with adrenal cancer. He was 41 years old. Lima was diagnosed with stage 4 adrenal cancer last year after undergoing surgery to remove a large tumor from his abdomen in October 2017.
LFO was probably best know for their 1999 hit "Summer Girls" – though the group had several other hits including "Every Other Time" and "Girl on TV." After Lima's 2017 surgery, his bandmate Brad Fischetti broke the news to fans in an emotional video posted to social media. "It's devastating news," Fischetti said in the video. "But at the same time, there's nobody I know stronger than Devin Lima."
Read More
Lima and Fischetti were actually planning a tour for the summer of 2018, but the shows were cancelled indefinitely after Lima's diagnosis. The third member of LFO, Rich Cronin, also lost his life to cancer. Cronin died of leukemia in 2010 – when he was just 36.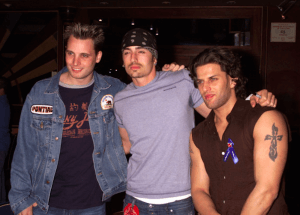 The rockers posted a video to YouTube before Lima underwent surgery to remove his tumor. At the time, they believed that even though the tumor was large, it wasn't cancerous and Lima wouldn't have to undergo any additional treatments. That video was lighthearted – Lima played a guitar, and Fischetti told fans that even though the tour dates would have to be postponed, they were not cancelled.
A video posted two weeks later, featuring Fischetti alone, broke the news of the cancer. "The pathology report came back, and unfortunately it confirmed cancer … primary adrenal cancer, which means it started in the adrenal gland, which is really rare … they consider it stage 4 because it invaded another organ – his kidney, which they removed."
Primary adrenal cancer is quite rare – most cancers found in the adrenal gland didn't start there and are not actually adrenal cancers, according to the American Cancer Society. Usually, if cancer is found in the adrenal gland it's because cancer started in other organs or tissues and then spread through the bloodstream to the adrenal gland. In the video detailing his bandmate's diagnosis, Fischetti explained that adrenal cancer is not only rare, but aggressive, and treatment would have to be aggressive as well.
"What's the treatment plan? As of now it looks like chemo and radiation, and some sort of medication that he would take long term  … adrenal cancer is very aggressive, and they're concerned that there may be cancer cells present within his body," Fischetti said.
That was the last update either LFO member gave about Lima's battle with the disease.
Learn more about SurvivorNet's rigorous medical review process.
---