Pop star Michael Bublé's wife, Argentinian actress Luisana Lopilato, 32, has rearranged her priorities and focused herself on what really matters in the aftermath of their son Noah's liver cancer diagnosis.
"We learnt to identify and establish priorities in my life and they changed completely. I don't worry now about silly things, about malicious comments or conflicts," Lopilato told the Argentinean magazine Gente.
Read More
RELATED: Michael Buble Announces Major New Tour and Thanks Fans for Support During Young Son's Cancer Journey
Bublé, 44, whose hit song "Haven't Met You Yet" became popular in 2009, and his wife learned their son had hepatoblastoma, a rare form of liver cancer, when he was just three years old in October 2016.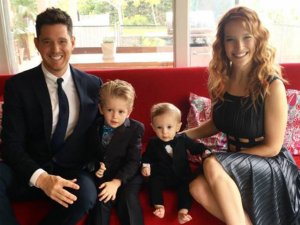 Michael and Luisana began dating in 2008. They got engaged the following year, and married in 2011 in an intimate ceremony in Buenos Aires. The couple have three children together including sons, six-year-old Noah and three-year-old Elias, and their one-year-old daughter Vida Amber.
RELATED: Michael Bublé After His Son's Cancer: "I'm Different Now"
When Noah was diagnosed, the couple both put their careers on hold to focus on their son's treatment — Noah went through an operation to remove the tumor as well as chemotherapy. The most important part of his treatment, Bublé told the Evening Standard at the time, was to remove the tumor with clean margins, meaning no cancer cells remaining on the edges of the tumor sight.
Information about Childhood Hepatoblastoma
Hepatoblastoma is a rare tumor that originates in cells in the liver, but it is the most common type of liver cancer that occur in children, according to the Children's Hospital of Philadelphia. It primarily affects children from infancy to about 5 years old. Hepatoblastoma more commonly effects white children more frequently than black children, and is more common in boys than girls up to about age 5. It occurs more frequently in children who were born very prematurely (early) with very low birth weights.
The symptoms of hepatoblastoma in children include large masses in the abdomen,
swollen abdomen, weight loss, decreased appetite, vomiting, jaundice (yellowing of eyes and skin), itchy skin, anemia, and back pain.
Treatment for hepatoblastoma is aimed at removing (resecting) as much of the tumor as possible. Liver tissue can regenerate after a portion is removed. Treatment often requires chemotherapy to shrink the tumor before surgery, and chemotherapy may be administered after surgery to minimize the risk or recurrence as well.
Michael Bublé and his wife on the impact of cancer on their lives
For Lopilato, the primary effect of the diagnosis has been to show her what's important and what isn't when it comes to petty arguments. "When I talk to my family I always tell them, 'Don't get bogged down with fights or stress. Don't forget what we've got.' Nothing is that important."
And she has a whole new attitude when it comes to the importance of family. "I'm not saying that nothing bothers me, just that there's an enormous sign in my head that says 'family.'"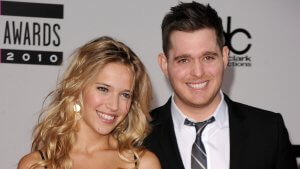 Through her experience, she also learned a lot about how to be herself, and figure out what makes her comfortable and what doesn't. "I understood that I shouldn't put up with something that makes me uncomfortable or suffer or I dislike. I ask myself, 'Does this make me happy?' and if it doesn't I then push it aside."
She also said that her relationship with Buble used to be difficult, and she used to get angry with him more easily. "When I was younger and got annoyed about something, I could go two or three days without speaking to him or answering the phone.He would go to bed beside me and I'd be like a freezer. I'm mellowing with age."
But now, she's more able to find her way through, and move on no matter the trial. "Today I find it easier to get over any problem and now I don't turn in for the night still in a bad mood."
Noah is now in remission following his cancer diagnosis, and Luisana has expressed her gratitude that he made it through.
In an interview with Australia's the Today Show, Buble said that his son's diagnosis was the most difficult thing to face as a parent. "It sucked and it still sucks, because what we went through was the worst possible thing that you could hear as a parent and maybe as a human being."
He also said he wished he'd received the diagnosis himself in place of his son. "I'd much rather it'd have been me," he said. "I wished that many times, I wished that it happened to me."
Learn more about SurvivorNet's rigorous medical review process.