For many families living with cancer, resuming normal activities long placed on hold is a happy step on the cancer journey. And this applies to major celebrities in the same way it applies to everyday working families.
In the case of Michael Buble, the acclaimed singer-songwriter, the busy dad is getting back to work after focusing for years on his now five year old son's battle with cancer. And Michael's many fans are cheering him on.
Read More
Michael has just announced he will be touring Down Under in Australia next year–beginning in February in Brisbane — and thanked his many Australian fans for supporting him and his family during his son Noah's cancer treatments.
In a moving video distributed by Australia's Herald Sun newspaper, Michael spoke directly to Australians.
'Hey Australia," he said. "I wanted to take this opportunity to tell you how much I love you, and how much it meant to me through all my family has been through … The love, the outpouring, the prayers, you have no clue – no idea – how you got us through every day.'
Michael added that his fans have been a 'great blessing' to his family and he can't wait to show his 'gratitude' by performing on stage
His eldest son Noah was diagnosed with hepatoblastoma, a form of liver cancer, when he was just three years old. It is very rare for a child to have cancer, and far more rare for a child to have cancer of the liver.
Michael and his wife, Argentinian actress Luisana Lopilato, who are also parents to son Elias, three, and daughter Vida, 10 months, had put their careers on hold to focus on their son's treatment.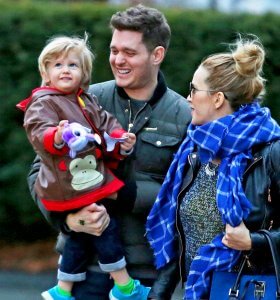 Noah went through an operation to remove the tumor as well as chemotherapy. The most important part of his treatment, Bublé told the Evening Standard at the time, was to remove the tumor with clean margins, meaning no cancer cells remaining on the edges of the tumor sight.
Bublé and his wife struggled with how to cope with their son's illness, he told the Australian Today Show last year. "I much rather would have it have been me," he said. "Many times I wish that it had been."
After much stress and strain, Noah was given the all-clear in 2017, something joyously announced by Michael. 
Michael Bublé told People in 2018 that his family is doing well but that his outlook in life has permanently changed. "You don't go through big things in your life, dramatic things like I've gone through or my wife has gone through without it having an effect on you."
Now, he says, he is trying to appreciate his loved ones for the support they provided while his son battled his cancer and move forward now that his family is healthy again. "We all go through things. You just hope you learn something about yourself and you learn something about the people with you," he told People.
Liver cancer in children is extremely rare—according to the Children's Hospital of Pittsburgh, the most common type of pediatric liver cancer is call Hepatoblastoma, but only 2 or 3 people out of every 1,000,000 will be diagnosed with the disease. Hepatoblastoma is almost always found in children younger than five years old, and most often in those younger than 18 months. As Dana-Farber explains, the second most common type of liver cancer in children is called Hepatocellular carcinoma, and it usually affects older kids and teens.
Michaels' experience with Noah's cancer has led him to speak only as an advocate for children with cancer. Recent research has shown that as many as half of childhood cancers in the world go undiagnosed and are not treated.
Michael's tour will begin in Brisbane, before heading to Sydney, Adelaide and Perth.
The Canadian, who has had many No. 1 albums worldwide, will in Australia perform hits including Home, Just Haven't Met You Yet and Feeling Good with a 36-piece orchestra.
Learn more about SurvivorNet's rigorous medical review process.