Lindy's Adorable Selfie
FOX anchor Lindy Thackston recently shared another hospital selfie from her recent stay in the hospital during which she had surgery to remove a cancerous lesion in her lung.
Thackston was diagnosed with stage 3 colorectal cancer in May 2020, and she recently found out it spread to her left lung.
Doctors had to remove half of Thackston's left lung, but she's recovering well from surgery and staying upbeat.
We adore FOX's Lindy Thackston for her candor and upbeat spirit through her cancer journey, which has included colorectal cancer as well as cancer on her lung, for which she recently had surgery – and she's now sharing more updates from that procedure.
In a playful post on her Instagram story, Lindy shared a picture of her in her hospital bed, writing, "Finding all my hospital selfies on my pain meds."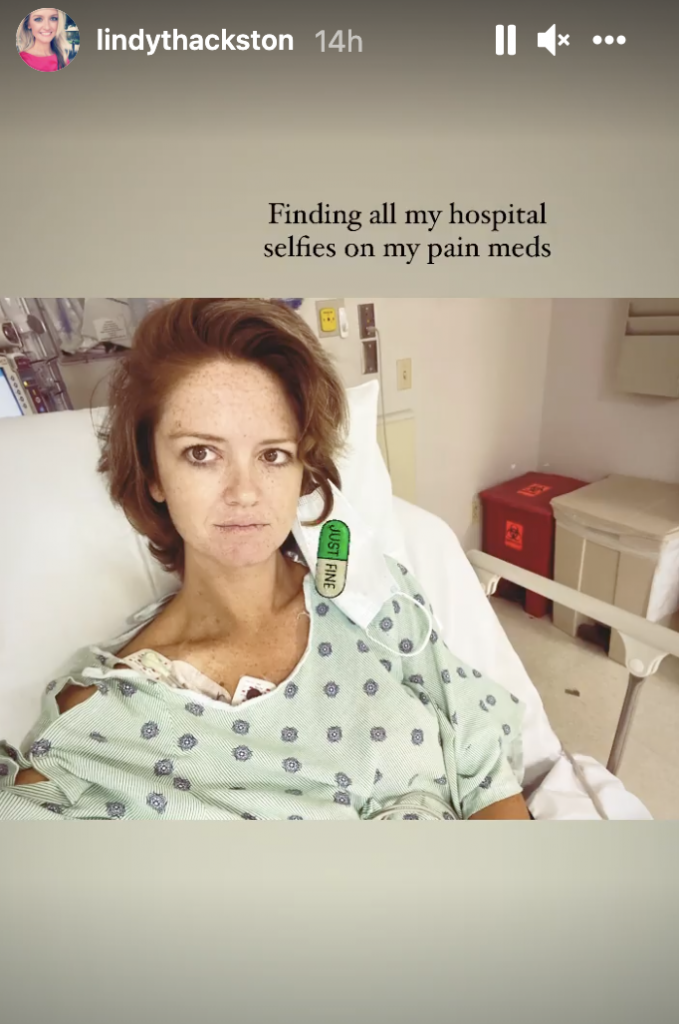 Read More
Accompanying the image was a little sticker of a pill that read "just fine." And by all of her accounts, Lindy is doing just fine, and
recovering nicely
, as she recently shared with fans and followers in an earlier post.
But it's not only hospital selfies Lindy is sharing; she's clearly living her best, most full life – in spite of her recent surgery and cancer experiences. Also in her stories, she's pictured with a friend ("the very best reunion" she says of the meeting), going to join her husband on a lunch date, getting a bit muddy outside on a Razor, and showcasing her young son.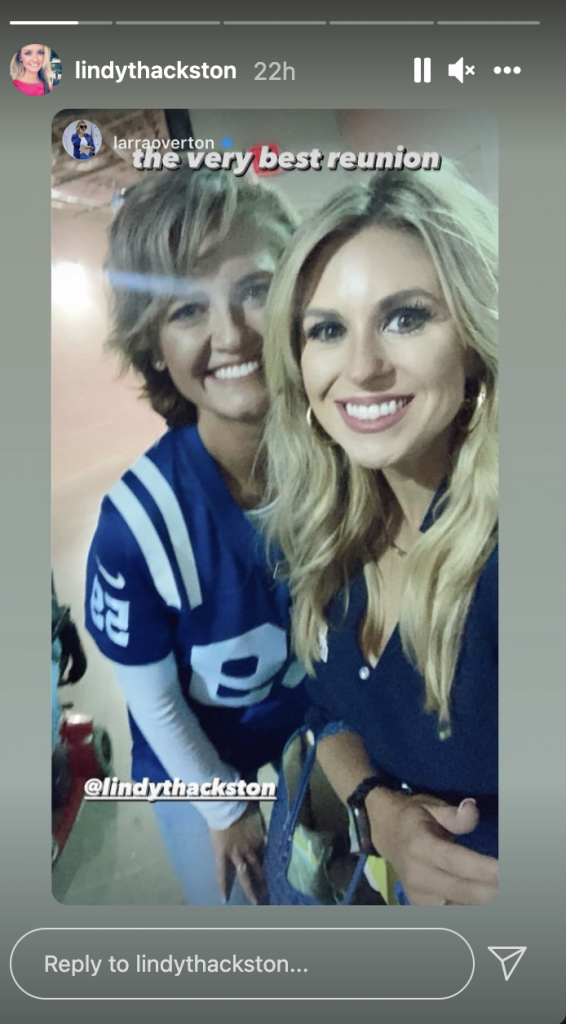 Lindy is a great example of living life to the max, even while coping with a cancer diagnosis. She's clearly bouncing back to life following her surgery, and we're here for it.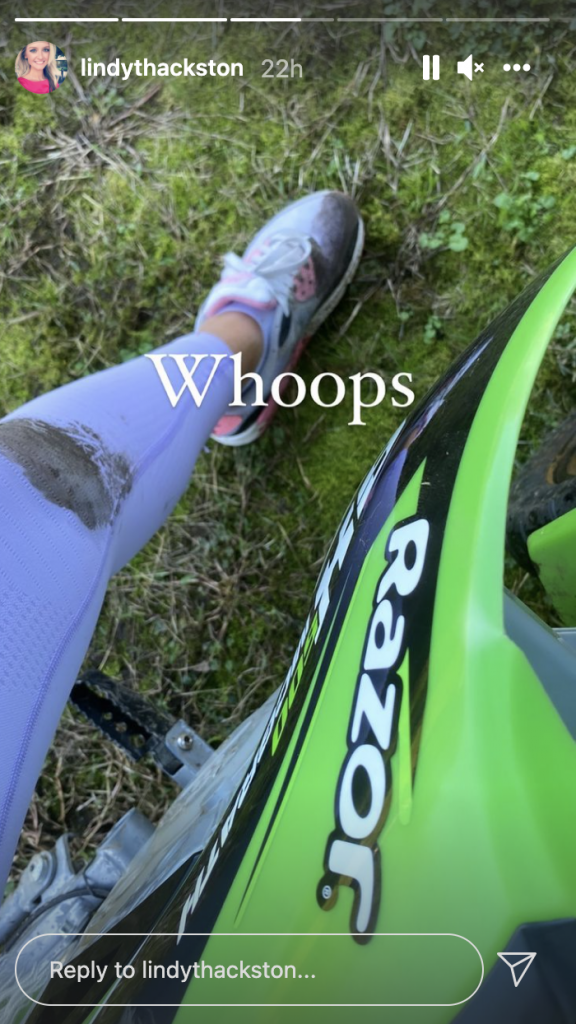 Everyone's "max" is different, though, during the cancer journey. Don't feel like you need to push yourself to go harder than your energy allows.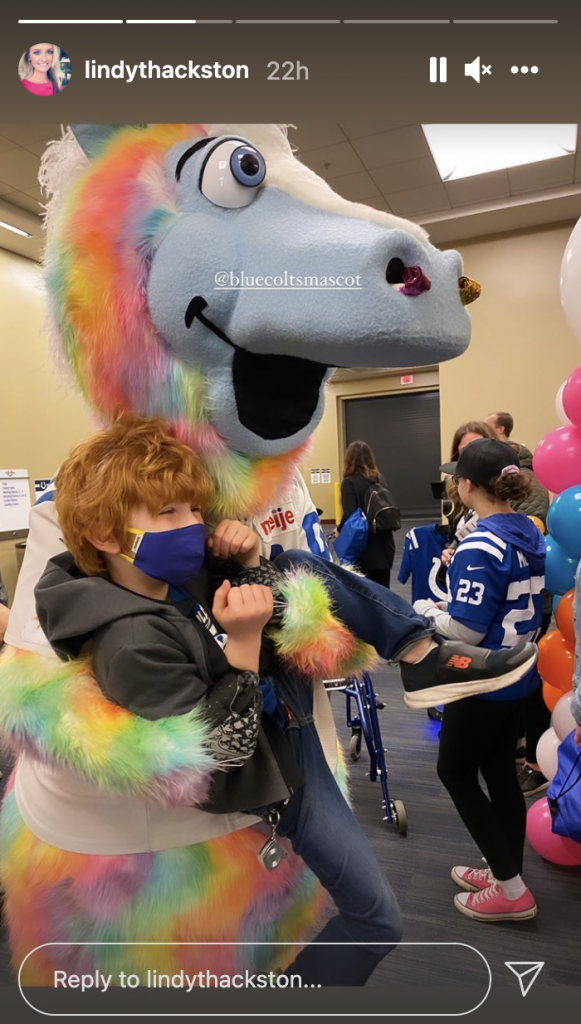 Lindy's Cancer Journey
Lindy Thackston was diagnosed with stage 3 colorectal cancer in May 2020. She went public with her diagnosis, as well as her treatment plan. Thackston finished her chemotherapy treatment – she had 10 rounds of chemo – in spring 2021.
Related: 'Anchored then Did a PET Scan,' Says FOX's Lindy Thackston as She Continues Working while Fighting Stage 4 Cancer In Preparation for Lung Surgery
Due to her treatment, Thackston lost her hair while going through her cancer battle.  She boldly shared pictures of her changing look on Instagram, highlighting colorectal cancer and creating more awareness around this disease and its treatment.
Related: 'It Was One Year Ago Today That I Got My Tumor Taken Out,' Says FOX Anchor Lindy Thackston Who Battled Colorectal Cancer
In September of this year, Thackston shared with her fans on Instagram that her cancer had spread to her lung.
View this post on Instagram
She writes, "Well, here we go again. Unfortunately my biopsy came back with the news the colorectal cancer has metastasized to my left lung…"
Screening for Colon Cancer
How to Screen for Colorectal Cancer
Colorectal cancer is typically detected visa colonoscopy, which looks for polyps – small white growths – on the colon. 95% of polyps are precancerous, which means they could turn into cancer.
Related: Colon Cancer Screening is Extremely Important; Guidelines Now Say to Start at Age 45 if There Is No Family History
When a polyp is detected, it's sent off to the lab to be examined, at which point the lab technician can determine if it's a precancerous polyp. If there's a danger of the polyp turning into cancer, your doctor will speak with you about what options are available to prevent this occurrence.
While experts don't currently know exactly what causes colon cancer, they do point to certain risk factors. Risk factors for this disease may include one's diet, smoking tobacco, and drinking alcohol. Having a family history of colorectal cancer can also increase the risk.
People with an average risk of developing colon cancer – meaning, no history of colon cancer in the family and no history of Lynch syndrome (an inherited syndrome that increases your colon cancer risk) – should begin getting colonoscopies at age 45. People with a family history of colon cancer should begin screening before 45.
Looking for Polyps During Colonoscopy
Learn more about SurvivorNet's rigorous medical review process.