Thackston Soldiers On
FOX's Lindy Thackston battled colorectal cancer earlier this year, and doctors recently found a spot on her lung – showing that her colorectal cancer had spread; she was diagnosed with stage 4 cancer. She's back at work and prepping for lung cancer surgery, which she shared with fans in a recent Instagram story.
Thackston was diagnosed with stage 3 colorectal cancer in May 2020 and finished her chemotherapy treatment in the spring.
Working through cancer can help by taking your mind off of focusing on your body and your health; for some, it's a welcome distraction to be in the office while being treated for cancer.
Some people are just built with an innate toughness and FOX anchor Lindy Thackston certainly was; she's currently battling stage 4 cancer after her colorectal cancer spread to her lung.
Related: FOX Anchor Lindy Thackston, 40, Says Her Colorectal Cancer Has Spread to Her Left Lung, Will Undergo Surgery, Possibly More ChemoI
Read More
In an Instagram story, Thackston notes how she's juggling her career with cancer. She writes, "Anchored then did a PET scan then a pulmonary function test to make sure my lungs could handle surgery."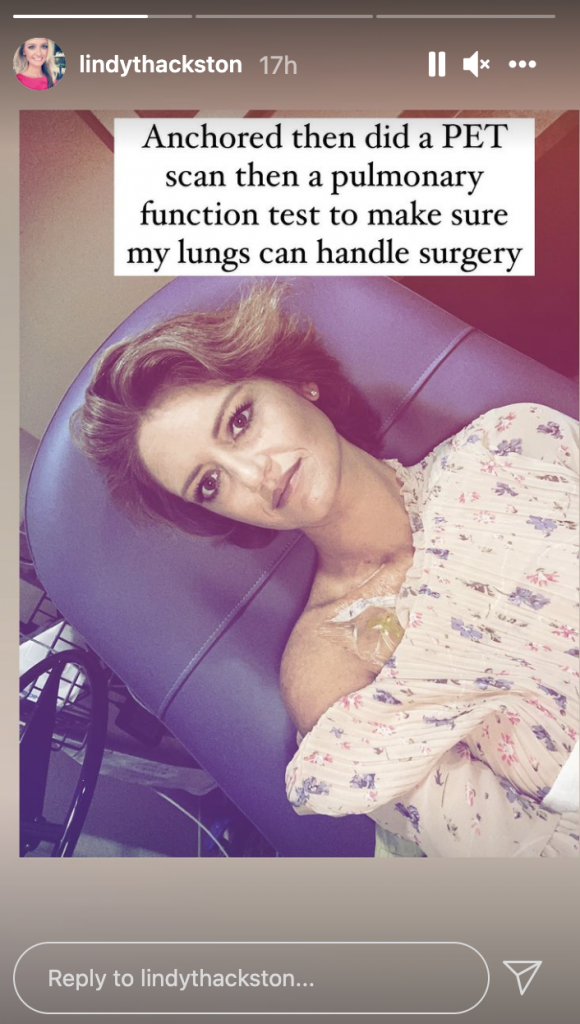 At the end of the Instagram story, she shares her newest, hidden medical accessory with fans, writing, "News Anchor Cancer Life."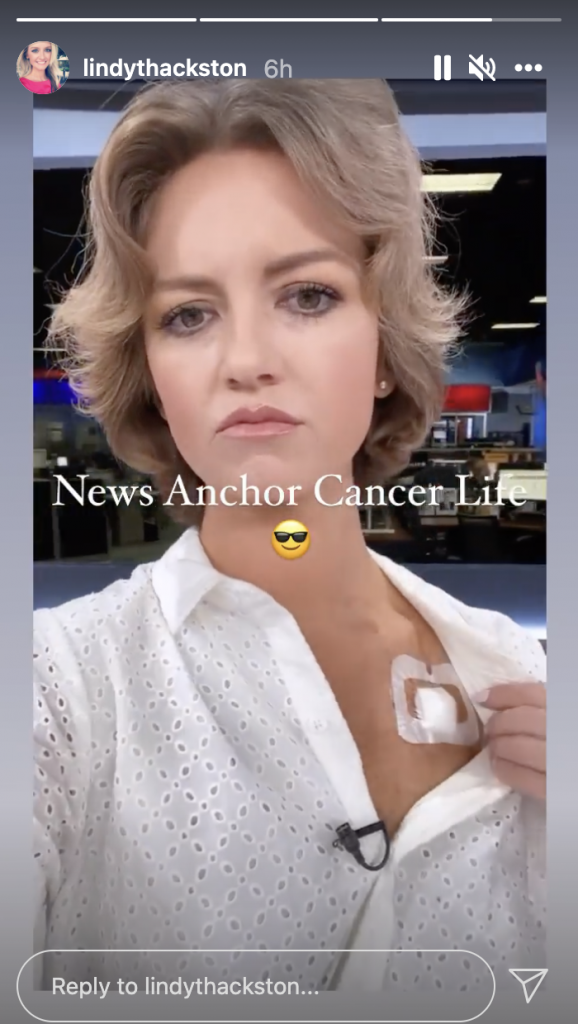 Earlier this month, Thackston shared that doctors found a spot on her lung and it's stage 4 cancer. However, it's not terminal. "You hear stage 4 and it's really scary," says Thackson, "but my doctors say this one is curable as well."
Lindy's Cancer Journey
Thackston was diagnosed with stage 3 colorectal cancer in May 2020 and finished her chemotherapy treatment in spring 2021. She had 10 rounds of chemotherapy to fight her cancer.
Related: Lindy Thackston Reflects on the One-Year Anniversary of Her Colorectal Cancer Diagnosis
Due to treatment, Thackston lost her hair. She shared pictures of her changing look on Instagram, highlighting colorectal cancer and creating more awareness around this disease and its treatment. Thanks to new technology like cooling caps, some side effects of chemotherapy, such as hair loss, can be mitigated. Other side effects of chemo can include pain, fatigue, and nausea.
View this post on Instagram
And four days ago, Lindy wrote to her fans on Instagram: "Well, here we go again. Unfortunately my biopsy came back with the news the colorectal cancer has metastasized to my left lung…"
She continues to say, "Next week I'll be doing several scans and tests in preparation for lung surgery in October. After that I'll most likely have to go through 3-6 months of chemo."
Preparing for Lung Cancer Surgery
Working Through Cancer
People like Thackston demonstrate how it's possible to productively and effectively work through cancer while going through treatment. Of course, it's often a privileged position to be in to have the opportunity to leave work for an extensive period of time while coping with an illness, depending upon the type of work you do.
Related: Stay Positive, It Matters
For those fortunate enough to have the option to work or take time off while coping with a disease, continuing to work – if you're physically able – is, for some, a helpful way to take your mind off of the reality of cancer. Thackston shows that it's possible to keep working through cancer, and that doing so can make you feel empowered.
Related: Actor Ryan Reynolds Describes Working With Late & Great Alex Trebek On New Movie 'Free Guy' Before Passing From Pancreatic Cancer
Ultimately though, at the end of the day, you should do what feels most right and healthy for you. Especially when undergoing something as life-altering as a cancer diagnosis.
Prioritizing Mental Health & Acceptance After a Cancer Diagnosis
Learn more about SurvivorNet's rigorous medical review process.