An Important Message
Love Island star Demi Jones, 21, shared with fans that a lump on her neck might be thyroid cancer, and she will go through surgery to have it removed as a preventative measure.
Initially Jones was told everything was fine, but she pushed for more tests to be done. Once receiving the news that the lump may be cancer, she encouraged everyone to always push for more answers and advocate for themselves during checkups.
Thyroid cancer is a cancer of the thyroid gland, which is located at the base of the neck. The most common sign of the disease is a lump that appears on the neck.
Bubbly 
Love Island 
season 6 star
Demi Jones
, 21, shared an emotional and powerful message about prioritizing your health when she revealed that a
lump on her neck
may be cancerous. The reality star took to social media amid tears in order to encourage everyone to always visit their doctor if they feel something is wrong with their health.
In an emotional video, Jones shared on her Instagram story that she had visited her doctors in order to get a lump on her neck examined. Initially, her scan was scheduled to take place six months ago, but was delayed due to the COVID-19 pandemic. Once she was actually able to visit her doctor, she was initially was told the lump wasn't anything to worry about and she was "in the clear." However, Jones pushed for more tests since she inherently felt something was wrong with the lump. After more scans she was told the lump might be thyroid cancer, but it has yet to be confirmed.
Read More
Related: 'Love Island's' Molly-Mae, 21, Insisted Mole Be Removed Despite Doctor's Dismissal; It Turned Out to Be Cancer & a Good Reminder to Trust Our Instincts
In the video, Jones broke down in tears about her experience hearing the news and her shock that the lump might be cancer. As a preventative measure, Jones says she'll be having surgery to have the lump removed. "It was just a shock," Jones said in tears. "You never think. I was just [sitting] there in this waiting room and it was just full of old people and I was the only young one there."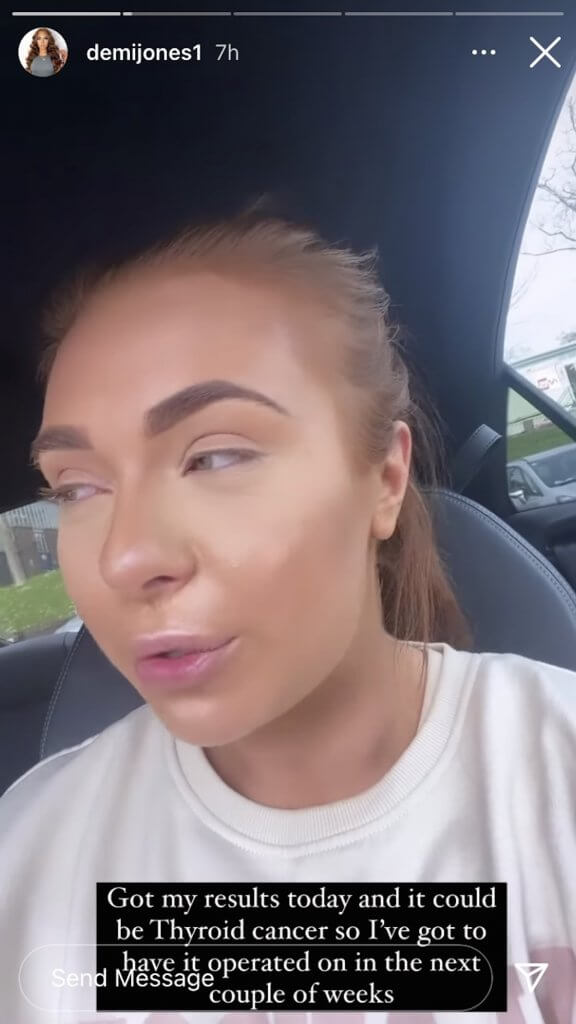 Following the video, Jones shared a message to fans encouraging them to always get lumps and any other abnormalities checked out, especially if they feel like something is wrong. When it comes to prioritizing your health, it's so important to be your own advocate and push for answers from your doctor. Even if you're told that everything is fine, you ultimately know your body better than anyone, so never be afraid to push.
Related: Their Doctors Told Them They Had "Nothing To Worry About" — But These Three Women Pushed Back, And They Were Right
"At my scan they said 'everything looks fine' and went to send me on my way," Jones wrote. "I challenged it and asked if they could do more, in which they said 'oh well we can test the fluid if you want us to?' Thank god I asked as it was the fluid that [came] back potentially cancerous. Always push!"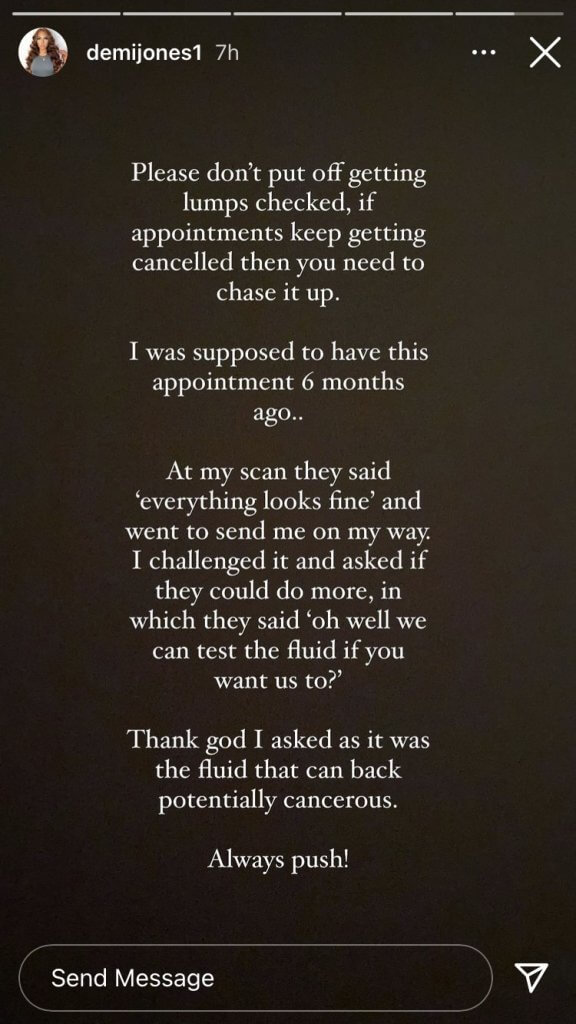 What is Thyroid Cancer?
Thyroid cancer is cancer of the thyroid, the butterfly-shaped gland at the base of the neck. It's still unclear what causes the disease, but the most common sign of thyroid cancer is a lump at the base of the neck. However, other symptoms of the disease can be mistaken for a common cold such as a hoarse voice, other changes in the voice that do not resolve themselves, difficulty swallowing or difficulty breathing. Even though these symptoms are similar to a cold, it's important to notice if they are present even in the absence of a cold. That can be an extremely telling sign.
"Most people have no discrete symptoms — the majority of cases now are found incidentally," Dr. Allen Ho, a head and neck surgeon at Cedars-Sinai Hospital, told SurvivorNet in a previous interview. "However, a sizeable number of people may first discover their cancer when they feel a bump on their neck."
Related: 7 Common Signs of Thyroid Cancer & How to Spot Them
People can get thyroid cancer at any age, but about two in three cases occur in people between the ages of 20 and 55; three out of four of these cases are in women. Anaplastic thyroid cancer is typically diagnosed in people over 60. When it comes to risk factors, family history can play a role.
Breast cancer survivor April Knowles was brushed off by her doctor when he noticed a lump on her breast, but she became her own advocate
Learn more about SurvivorNet's rigorous medical review process.