New Dad After Extensive Chemo
British man Jonathan Jones recently welcomed a baby boy, who was conceived naturally, despite Jones having 170 rounds of chemotherapy to treat his brain tumor.
After suffering horrible headaches, Jones was diagnosed with having a brain tumor – only after his mother demanded a brain scan; insisting on extensive testing saves lives.
For people with cancer who get chemotherapy and would like to have biological children one day, speak with your doctor about freezing your sperm or eggs.
Englishman Jonathan Jones would likely not be here today if it weren't for his mother who demanded that doctors give her son a brain scan due to his severe headaches as a teen; after a brain tumor diagnosis and 170 rounds of chemotherapy, Jones is now a parent, too.
Related: Doctors Tell Mom, 47, Her Brain Fog, Aches, And Blurred Vision Are Signs Of Menopause; Private Scan Reveals Brain Tumor
Read More
His new and first-born son, JJ, was born in May of this year.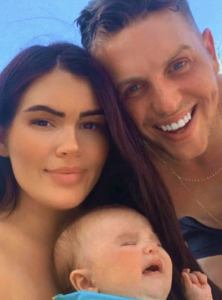 When Jones was a teen, he had difficulty concentrating, and he would have debilitating headaches. In 2007, at age 18, he was diagnosed with a malignant brain tumor, and has been battling brain cancer for the past 14 years, reports New York Post. 
Jones's Treatment for His Brain Tumor
Jones endured 170 rounds of chemotherapy as a result of his brain tumor. His first treatment approach was surgery to remove the tumor, which was the size of an orange.
Related: Best New Artist Grammy Winner Megan Thee Stallion, 26, Thanks Mother Who Died of Brain Tumor: 'Thank You, Momma, For Pushing Me'
He was told that there was a 30% chance he could die on the operating table during the procedure to remove the tumor. Following its successful removal, Jones got chemotherapy, because there was still a part of the tumor remaining – but the majority of it was gone.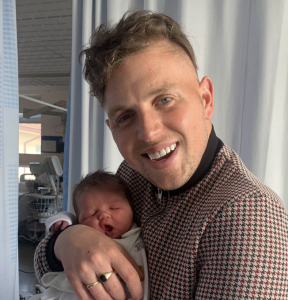 98% of the tumor was removed, however, Jones will need chemotherapy for the rest of his life, in order to stop the growth and spread of the cancer in his body.
Related: 'Surprise': Kate Walsh Will Return to 'Grey's Anatomy' After Real-Life Brain Tumor Battle; What Is a Meningioma?
He currently has chemotherapy every four weeks; as he ages, it will extend to every six weeks for treatment.
There Is New Hope for Those Fighting the Same Cancer That Took John McCain & Ted Kennedy; Using Polio & Immunotherapy to Fight Brain Tumors
Chemotherapy & Fertility
Women get most of the focus when it comes to issues with fertility, but men can also suffer from infertility for many reasons, including chemotherapy as treatment for cancer.
Related: 'I Am Not Keeping it a Secret Anymore!' Says Sports Reporter & Cervical Cancer Survivor Erin Andrews in Powerful Essay about Fertility Difficulties
If you, like Jones, want a family one day and you've been diagnosed with cancer, you should speak with your doctors about freezing your sperm or your eggs. Miraculously, Jones and his partner were able to conceive naturally, despite Jones's extensive chemotherapy treatments. However, he and his partner did discuss undergoing IVF if it was needed.
In a previous interview, Dr. Jaime Knopman, a reproductive endocrinologist at CCRM NY, says that time is of the essence when it comes to fertility conversations with your doctor. She says, "The sooner we start, the sooner that patient can then go on and do their treatment. A lot of the success comes down to how old you are at the time you froze and the quality of the lab in which your eggs or embryos are frozen in."
"Oftentimes, we just do what we call a 'fast start,'" says Dr. Knopman. "We start them no matter where they are in their menstrual cycle. Because of that, it can sometimes take a bit longer than it would for traditional IVF stimulation. But all in, you're never really talking about more than two weeks."
Fertility Preservation After a Cancer Diagnosis
Learn more about SurvivorNet's rigorous medical review process.