Lung Cancer Symptoms: Be Aware
A man thought his bad cough was just a cold symptom, but it turns out he had multiple masses in his lungs "highly suspicious" for cancer.
The man's case is a good reminder to know the symptoms of lung cancer and to go to a doctor if they persist.
Once a lung cancer diagnosis is confirmed, it is important to see if it has spread. Your doctor will ask questions about breathing changes, shortness of breath, coughing, pain and/or unexplained weight loss to get a better picture of what is happening inside your body.
Lung cancer symptoms can present as coughing and shortness of breath. The absence of symptoms is admittedly a terrifying aspect of lung cancer because lung cancer often produces no symptoms until it has started to spread outside of the lungs.
A man, identified as Jason, went to the emergency room after six weeks of a bad cough, fevers, and chills which he thought were just all signs of a cold. He would soon be given the awful news that he had masses in his lungs that were "highly suspicious" of cancer.
Often times we share diagnosis stories from the patients perspective, but it's also important to hear from the medical professionals. Dr. Erika Kube, an emergency physician at Mid-Ohio Emergency Services, wrote in The Columbus Dispatch about the patient Jason and the symptoms he presented.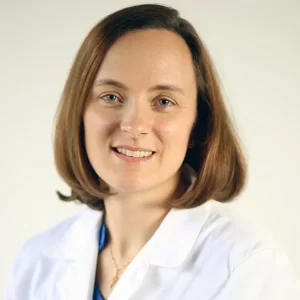 Read More
This is a good reminder for the SurvivorNet community what the symptoms and signs of lung cancer might be and when to go to a doctor to get them checked out.
Jason's Diagnosis
Jason told the doctor he got a cold every fall as the seasons changed, so when he and several family members also came down with cold-like symptoms, he thought nothing of it. But as they slowly got better and he didn't his concern grew.
RELATED: Mom, 49, Was Told Her Persistent Cough, Shortness Of Breath Were 'Chest Infections' After MULTIPLE Doctor Trips: It Was Cancer
"Fatigued, he was taking naps multiple days each week — which was very unlike him — but he was still able to keep working. He began eating better and taking vitamins. After feeling like he was finally kicking it, he would feel lousy again a few days later," said Dr. Kube.
She listened to his heart and lungs with a stethoscope and says she should smell the cigarette smoke on his clothes "even while wearing my face mask." Dr. Kube then ordered a chest X-ray and lab work and a COVID swab, which would ultimately come back negative.
"I looked at his chest X-ray when it popped up in the computer and was immediately concerned. A short time later, the radiologist confirmed that Jason had a large mass in his right lung and several smaller masses in both lungs," said Dr. Kube.
Dr. Kube describes how difficult it was to deliver this news to Jason and says she actually felt relief she was wearing a mask so she couldn't show her emotions. She says she tried to be positive when she walked in, but Jason could sense something was very wrong.
"I sat down, pulled the chair next to his bed and logged into the computer so I could show him his X-ray. I carefully and slowly explained what the abnormalities were and what the radiologist's concerns were about these findings," she said. "I told Jason that while we were highly suspicious, we could not definitely diagnose him with cancer as he would need further testing like a biopsy."
A Lung Cancer Diagnosis
An initial symptom of lung cancer, for example, could be as serious as a seizure if the lung cancer has already spread to the brain. But other symptoms can include increased coughing, chest pain, unexplained weight loss, shortness of breath, wheezing, losing your voice or persistent infections like bronchitis or pneumonia.
The two main types of lung cancer are non-small cell, which makes up 85 percent of cases, and small-cell. These types act differently and, accordingly, require different types of treatment.
Dr. Patrick Forde, a thoracic oncologist at Johns Hopkins Medicine, tells SurvivorNet about how distinguishing between the two types – and their subtypes – can be very beneficial.
What Happens When You've Been Newly Diagnosed With Lung Cancer
"Within that non-small cell category, there's a subtype called non-squamous adenocarcinoma, and that's the group of patients for whom genetic testing is very important on the tumor," he explains. "Genetic testing is looking for mutations in the DNA, in the tumor, which are not present in your normal DNA."
Steps to Take After Lung Cancer Diagnosis
Dr. Kube says when she told the news to Jason she gave him a few minutes to process his diagnosis.
"He was silent for a minute or two. I let him process what we talked about and sat with him. He took a deep breath and let out a large sigh," she said. He said he knew something was wrong several weeks prior when he didn't bounce back like he typically did when he was sick."
While Dr. Kube didn't confirm Jason had cancer just yet, any bad medical news is hard to process.
Dr. Raja Flores, Chairman of the Department of Thoracic Surgery for the Mount Sinai Health System explains to us there is no right or wrong feeling when you have been given the news that you have been diagnosed with lung cancer.
"While the steps of grief depend on your willpower, the news can make you completely blindsided and overwhelmed. You may even decide to avoid thinking about how you feel," said Dr. Flores.
Dr. Geoffrey Oxnard, a thoracic oncologist at Boston Medical Center specializing in the treatment of patients with lung cancer, explains the lung cancer staging process. 
The first step is to accept your diagnosis and then try to understand what stage your cancer is at or how far it has progressed.
"Having a clear understanding of cancer staging provides information to not only doctors but patients as well. The stage determines the likely outcome of the treatment and provides an educated estimate of the patient's life expectancy and cure rate," said Dr. Flores.
"Put simply, when you are first diagnosed with lung cancer, the news is either worrisome or somewhat reassuring. However, staging is a crucial part of understanding the disease and your individualized situation."
Smoking And Lung Cancer
Jason broke down and admitted to Dr. Kube that his father had died of lung cancer.
"He started crying and said he was scared about what would happen to him after seeing what his father went through," said Dr. Kube. Jason said he struggled to quit smoking and tried to cut back, but could never give it up entirely.
If you want a persuasive reason to stop smoking listen to Dr. Joseph Friedberg, Thoracic Surgeon-in-Chief at Temple University Health System. He spends every day looking inside people's lungs that have been destroyed by tobacco.
Dr. Friedberg says smoking is the leading cause of lung cancer in the United States. The tobacco in cigarettes is a carcinogen that causes mutations in lung cells and enables the growth of cancer. In fact, about 80% of lung cancer deaths are caused by smoking, according to the American Cancer Society. And several thousand other lung cancer deaths are caused by exposure to secondhand smoke. The good news is that if you quit smoking, your risk for lung cancer decreases.
"If you're smoking, don't smoke," says Dr. Friedberg. "You never return down all the way to the [level of] the person who never smoked as far as your risk of lung cancer goes, but it goes down with time."
Finding Your Support System
Dr. Kube said she discussed the next steps for Jason and talked with him about being admitted to the hospital to undergo further tests to make a definitive diagnosis and develop his treatment plan.
While Jason waited for several hours for a bed his brother and best friend came to see him. If you are lucky enough to have a loved one or a friend be by your side during this difficult time.
"I went back in to check on Jason and he told me he was doing better and reassured me that he was OK. He said having the support of his family and friends was just what he needed. His brother held his hand and promised that he would be with him through every step of his journey."
The story of Ed Yakacki is one of inspiration and hope. And a reminder that you are not alone. Ed had been diagnosed with cancer three times, including a stage four colorectal cancer diagnosis.
"There is Light at the End of the Tunnel": Three-time Cancer Survivor Ed Yakacki's Story
Like so many survivors, Ed fell into a dark place after learning of his disease and was finally able to come to terms with his cancer when he got into advocacy, and learned that he wasn't alone.
"How I came out of this dark place was becoming an advocate, that was a real big turning point in my … coming to terms with my first diagnosis,"  said Ed.
With assistance from Abigail Seaberg
Learn more about SurvivorNet's rigorous medical review process.
---