Alabama Couple Marries in Hospital
Eric Turner, 22, married the love of his life from the comfort of his hospital bed last week.
In 2018, Turner was diagnosed with synovial sarcoma.
A synovial sarcoma is a rare type of cancer that can come from different types of soft tissue, such as muscle or ligaments. This type of sarcoma accounts for 5% to 10% of soft-tissue tumors.
Eric Turner's prognosis isn't looking good. That's why the 22-year-old, who has synovial sarcoma, married the love of his life from the comfort of his hospital bed last week.
In January 2018, he was diagnosed with synovial sarcoma. His right arm was amputated because of it, and a portion of his lungs had to be removed after undergoing chemotherapy treatments for the cancer. It's unclear what stage Turner's cancer is.
Read More
"We never thought cancer would hit our door at such a young age," Sophia Evans, Turner's aunt,
tells WKRG News 5 in Mobile, Ala
.
Everyone in Turner's life wants the same thing: clear scans and to hear those magic words — "no evidence of disease." But over the last two weeks, his doctors began speaking to his family about the need for hospice care. His deteriorating condition prompted the hospital staff to stage a wedding for Turner and his new bride, Shadoris Johnson Turner, from the comfort of his hospital bed at Evergreen Medical Center in Evergreen, Ala.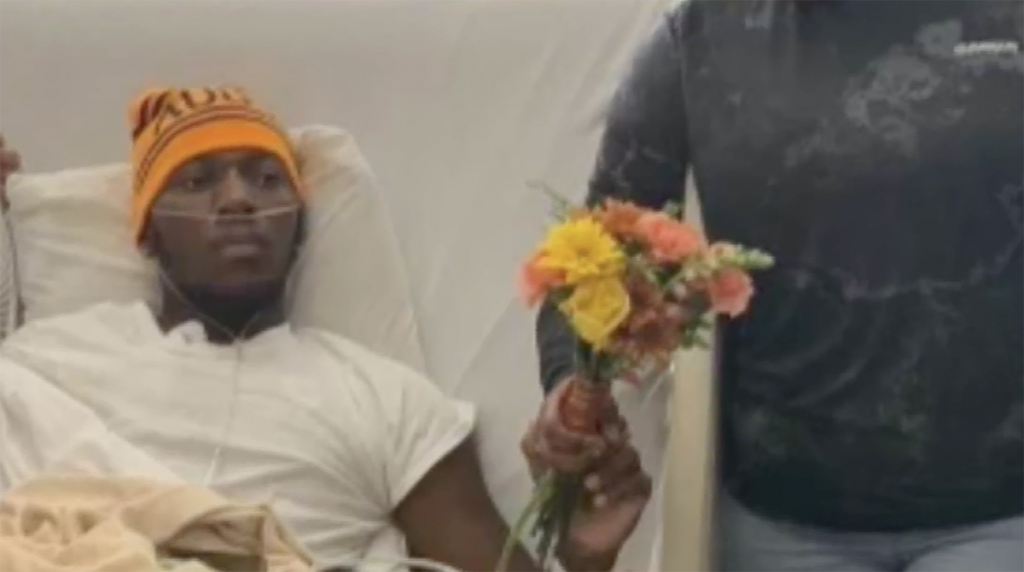 "They actually got married in the hospital, which was a very sweet moment. Touching, but very sweet," Stephanie Fair, Turner's mother, tells the television station.
The couple kept the wedding a secret from their loved ones and surprised them with a small bedside ceremony last week. Shadoris, now Mrs. Turner says, "I get emotional now because Eric is my heart. This has been a very emotional journey for us."
"It came together," Fair says of the wedding and the staff's effort to make it happen. "It was short and sweet. No effort from us whatsoever. All Eric had to do was say yes, and all Shadoris had to do was say yes. They made it happen."
Related: High School Senior Who Married With Months to Live Puts Spotlight on Sarcoma — 'Forgotten Cancer'
What Kind of Cancer is Sarcoma?
Sarcomas are cancers that arise from the cells that hold the body together. They can occur in muscles, nerves, bones, fat, tendons, cartilage or other forms of connective tissues.
"There are hundreds of different kinds of sarcomas, which come from different kinds of cells," Dr. George Demetri, director of the Sarcoma and Bone Oncology Center at Dana-Farber Cancer Institute and Harvard Medical School, tells SurvivorNet.
A synovial sarcoma — the sarcoma cancer Turner has — is a rare cancer that can come from different types of soft tissue, such as muscle or ligaments, according to the National Cancer Institute. This type of sarcoma accounts for 5% to 10% of soft-tissue tumors. (For every one million people, one to two are diagnosed with synovial sarcoma every year in the United States.) It's often found in the arm, leg or foot, and near joints such as the wrist or ankle. It can also form in soft tissues in the lung or abdomen. (Synovial sarcoma may also be called malignant synovioma.)
The main symptom of synovial sarcoma is a slow-growing, painless mass, which is why it's so difficult for many to detect. It's not clear what symptoms Turner exhibited that led to his diagnosis three years ago.
Related: Sarcoma survivor Kara Ladd finds solace in reiki, meditation and energy healing during her cancer treatment.
"Unfortunately, most sarcomas don't cause many of the symptoms that may be associated with other cancers," Dr. Dale Shepard, director of the Cleveland Clinic Taussig Cancer Institute Phase I and Sarcoma Programs, tells SurvivorNet. Shepard also explains that this often leads to large tumors at the time of diagnosis.
"Soft tissue sarcomas are typically painless," he says. "Bone sarcomas may be mistaken for orthopedic injuries. A mass the size of a golf ball or larger and growing should be evaluated as a potential sarcoma. It's important that patients who do have symptoms are not dismissive of them."
Related: What Are Sarcomas? Know the Types and Symptoms of These Rare Cancers
Types of Sarcomas
The word sarcoma refers to a large array of bone and soft tissue cancers. Those are then further broken down into more specific forms of the disease, including:
Ewing's sarcoma — Cancer that typically occurs in and around the bones, often in the arms or legs, or the bones of the pelvis. It most commonly occurs in children and young adults.
Kaposi sarcoma — Rare type of cancer that causes lesions on the skin, in lymph nodes, organs and the mucous membranes of the mouth, nose,and throat. It typically affects people with compromised immune systems, such as those with HIV.
Epithelioid sarcoma — Soft tissue cancer that grows slowly. It's likely to begin under the skin of areas like the finger, hand, forearm, lower part of the leg or foot.
Synovial sarcoma — Known also as a malignant synovioma, this is a cancer that can form soft tissues such as muscle or ligaments, commonly close to joints or in areas like the arm, leg or foot.
Osteogenic sarcoma — Known also as osteosarcoma, this cancer forms in the bone and is most common in young children.
Spindle cell sarcoma — Rare form of the disease that accounts for less than 2% of all primary bone cancer cases. It's most common in adults over age 40 and often forms in the bones of the arms, legs and pelvis.
Angiosarcoma — This cancer appears in the lining of the blood vessels.
Liposarcoma — This cancer develops from fat cells and often occurs in the torso, limbs or deep within the abdominal lining.
Chondrosarcoma — This cancer occurs in the cells of the cartilage, mostly in adults over the age of 40.
Related: One Tough Cookie: Resilient 8-Year-Old Who Overcame Ewing Sarcoma Sells More Than 32,000 Boxes of Girl Scout Cookies To Break Record
Contributing: Constance Costas and Chris Spargo
Learn more about SurvivorNet's rigorous medical review process.