A Memorable Trip
Mandy Patinkin recalls his first trip to New York at 13-years-old, courtesy of his father.
Patinkin's father passed away from pancreatic cancer nearly 50 years ago.
In March 2004, Patinkin was diagnosed with prostate cancer and had prostate cancer surgery.
Actor and prostate cancer survivor, Mandy Patinkin, 67, has a lot to thank his late father for when it comes to his career. The 
Princess Bride 
star is taking a trip down memory lane and recalling his first visit to New York City, courtesy of his dad.
In a New Yorker profile, Patinkin described he and his father, Lester, traveling from their hometown Chicago to New York City for the first time when Patinkin was just 13-years-old. The pair embraced New York tourism to the fullest by visiting the Statue of Liberty, taking in a Broadway show, and traveling to Ellis Island. Just a few years later when Patinkin was 18, Lester passed away due to pancreatic cancer.
Read More
Related: Prostate Cancer Survivor Mandy Patinkin, 67, Keeps Quarantine Silly & Fun With His Family
"I had my bar mitzvah, and my dad, who I don't think I'd ever been on a trip with in my life alone, decides to take me to New York," Patinkin tells Rachel Syme. "I'm not sure why. He died when I was eighteen, of pancreatic cancer, so I never got to ask him why. I'd love to know now."
Clearly, this trip made a lasting impression on Patinkin. Not only did he attend The Juilliard School in New York, but he's starred in Broadway productions including "Hamlet," "The Shadow Box," and even a number of one-man projects. However, a few decades later, Patinkin would have another connection with his father other than their love of the big city.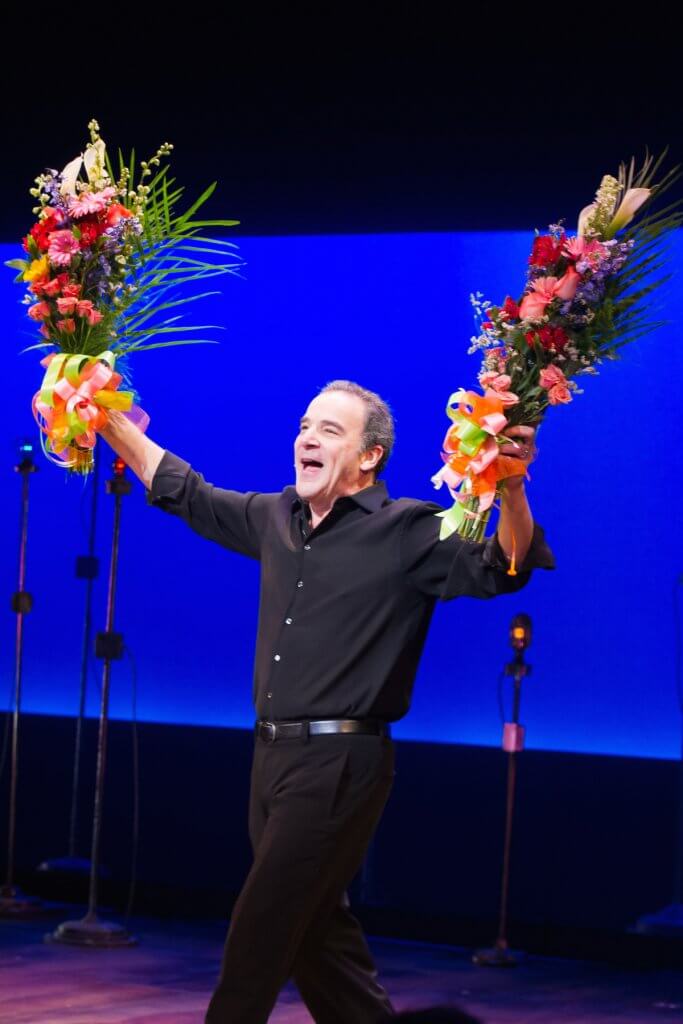 Mandy Patinkin's Cancer Journey
Patinkin was diagnosed with prostate cancer in March 2004 at the age of 51 — close to the same age as his father passed away. For treatment, the actor underwent prostate cancer surgery (also known as a prostatectomy). Once receiving the diagnosis, Patinkin understandably was overcome with emotions such as anxiety, fear, and sadness. However, now in remission, the star considers his battle with prostate cancer a gift — as it let him slow down and enjoy quality time with his family.
Related: Cancer Slowed Me Down — Dana Donofree on How Cancer Taught Her to Focus
"Ever since I got cancer and went through the surgery and recovered," Mandy told Coping. "I've realized that aside from my wife and children, cancer was the greatest gift I was ever given. I always appreciated my life, my wife, my kids, my music, the fact that I get to do what I love. But I took my life for granted. I would say I didn't, but I did. I was kidding myself. And after cancer, every day, including this second while I am talking to you, is precious to me – every sunrise and sunset, every walk in the park, every visit with my children, every time I hold my wife, every time I get to perform."
One side-effect of prostate cancer surgery which can frighten men is possible sexual dysfunction. However, over the years science has become more precise and experts work hard to make sure the two nerves right along the prostate that control erectile function will not be compromised.
Dr. Stephen Freedland explains how long side-effects of prostate cancer surgery usually last
Appreciating Life After Cancer
Just like so many cancer survivors, Patinkin learned to appreciate life a little more after battling cancer. When Cynthia Besteman found out she had breast cancer, she was at a complete loss since she had no family history of the disease and led a really healthy lifestyle. However, after the news, she took a moment and realized life had gained a whole new perspective. "Suddenly, it's like the buildings look different and the sky looked different and my body felt different," Cynthia tells SurvivorNet. "It was like this alternate universe."
Cynthia initially felt betrayed by her body, and very disconnected from herself. But that all changed after going through treatment and being declared "cancer-free." Since, she's appreciated her family even more since they stood by her side throughout her journey.
Related: Olivia Newton-John Says Her Stage 4 Breast Cancer Is a "Gift" & Explains Why Perfectly
"I knew I had a great family, but I didn't know how great until I got diagnosed," Cynthia says. "You go a little crazy and you get angry and you go through all these different stages, and they support you through all of them. Sometimes, through the worst possible, darkest time of your life, a beautiful gift can be revealed. Look for that, be open for that."
Breast cancer survivor Cynthia Besteman appreciates life even more after her diagnosis
Learn more about SurvivorNet's rigorous medical review process.