Dealing with a Rare Disease
Mandy Bardisbanian, from Long Beach, California, has opened up about living with the Marcus Gunn phenomenon which affects the way her face appears when she moves her jaw.
Handling a rare disease can be very overwhelming, but SurvivorNet's experts have guidance on how to seek out specialized treatment providers.
More common diseases might not require the same degree of specialized attention, but finding doctors with specific expertise may be necessary for rare ones. In that case, the most effective place to find a specialist is often at academic centers and comprehensive care centers.
The SurvivorNet Clinical Trial Finder and websites called Clinicaltrials.gov and PubMed are great resources to use if you're considering experimental treatment for your rare disease. These databases can also help you find doctors who specialize in your disease.
Other options you may pursue include researching companies that are in the process of developing drugs to treat your specific disease and investigating the possibility of "compassionate use," which makes drugs available to some patients before the drugs are officially approved.
Mandy Bardisbanian, from Long Beach, California, has opened up about a rare condition she struggles with in hopes to inspire others to remain confident despite being different.
The 33-year-old VP at a merchandise licensing company and costume designer has taken to social media to share videos on how the Marcus Gunn phenomenon affects the way her face appears when she moves her jaw.
Read More
"I have something called Marcus Gunn Jaw Wink Syndrome. It's where a nerve from your eyelid, that's supposed to go to your ear, went to my jaw instead," Bardisbanian says in a TikTok video revealing her condition. "So whatever my jaw does, my eyelid does." Whenever Baridbanian opens up her mouth wide or chews food, one of her eyelids moves, making her eye appear bigger as her eyelid gets lifted.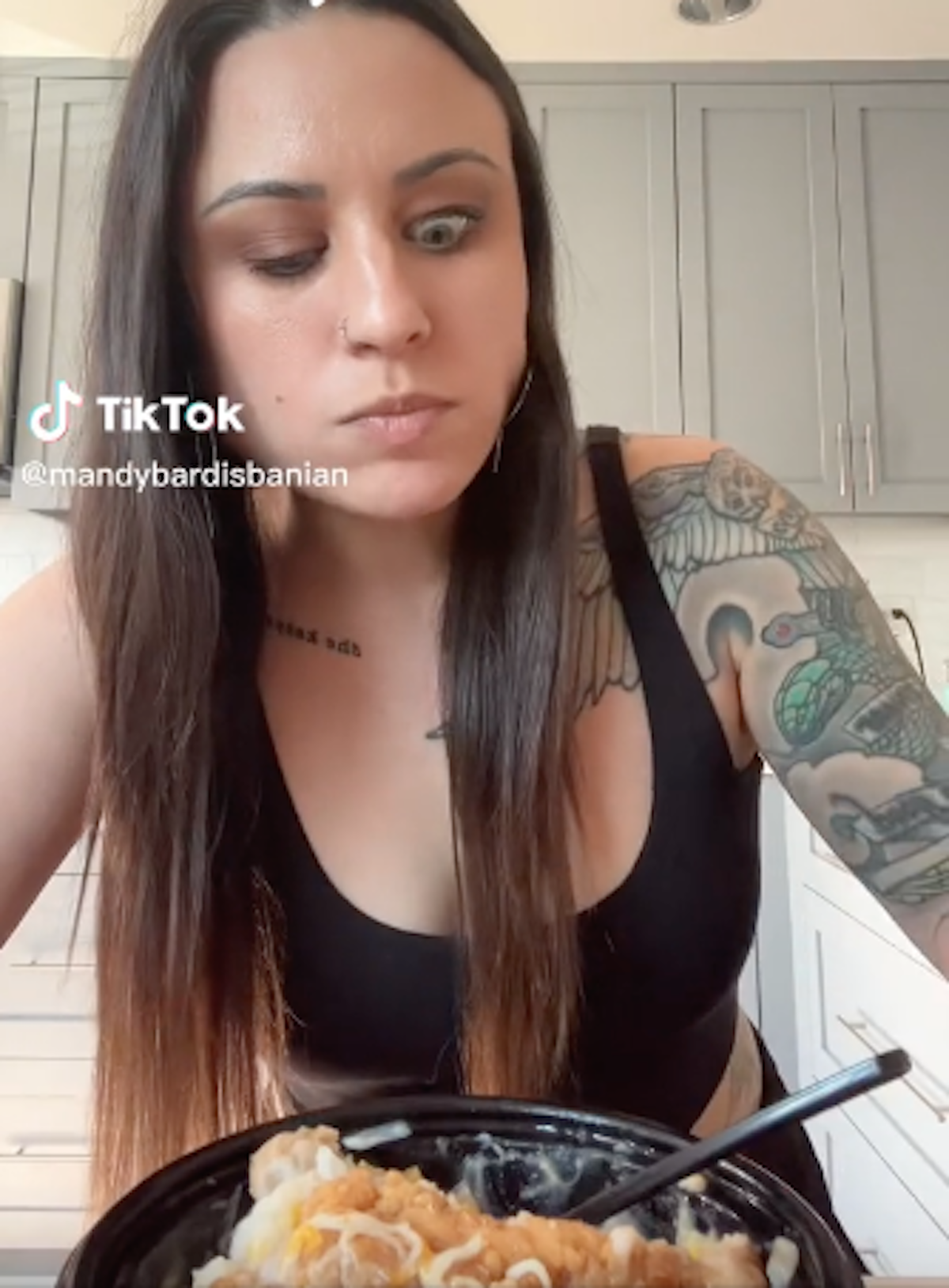 "It is such a rare condition that most doctors will probably never see it in their entire careers and most of us will probably go our entire lives without meeting anybody like us," she continues. "If you have Marcus Gum Jaw Wink Syndrome please know that you are absolutely beautiful and you are not alone."
Barbisbanian, who notes she also has ptosis (drooping of the upper eyelid) urges others to "think" before pointing out another person's differences because "you never know what they are insecure about."
In a recent interview, she admitted to being bullied in the past for her condition and how she coped.
"I think I became emo just so I would be able to cover my eye with my hair. I was an extremely bullied child, whatever you think of when you picture the lowest, dorkiest kid, that was me," she said, according to Wales Online.
"It was incredibly hard for me because kids were mean. I self-harmed as a kid, it was incredibly hard to grow up with a thing like that. Even though it's not the worst thing you can have, it sucked. It's OK for it to suck."
One of her recent TikTok videos went viral as she pointed out a false claim about Marcus Gunn Phenomenon being caused by syphilis.
"I wasn't going to sit there and stand people posting misinformation. To the detriment of my mental health, it went viral," said Bardisbanian, who has since created a Facebook group for others with the same condition.
She said, "It's also a way for me to reclaim my power, now I want to start an anti-bullying charity. There have been people reaching out to me and saying that they have this and they hate it, but that my videos give them hope.
"There was even a girl from my high school who reached out to me and apologized for how mean she was to me in school," Bardisbanian added. "The hardest part is always hitting post, because I'm exposing something about myself that I've tried to hide for my whole life.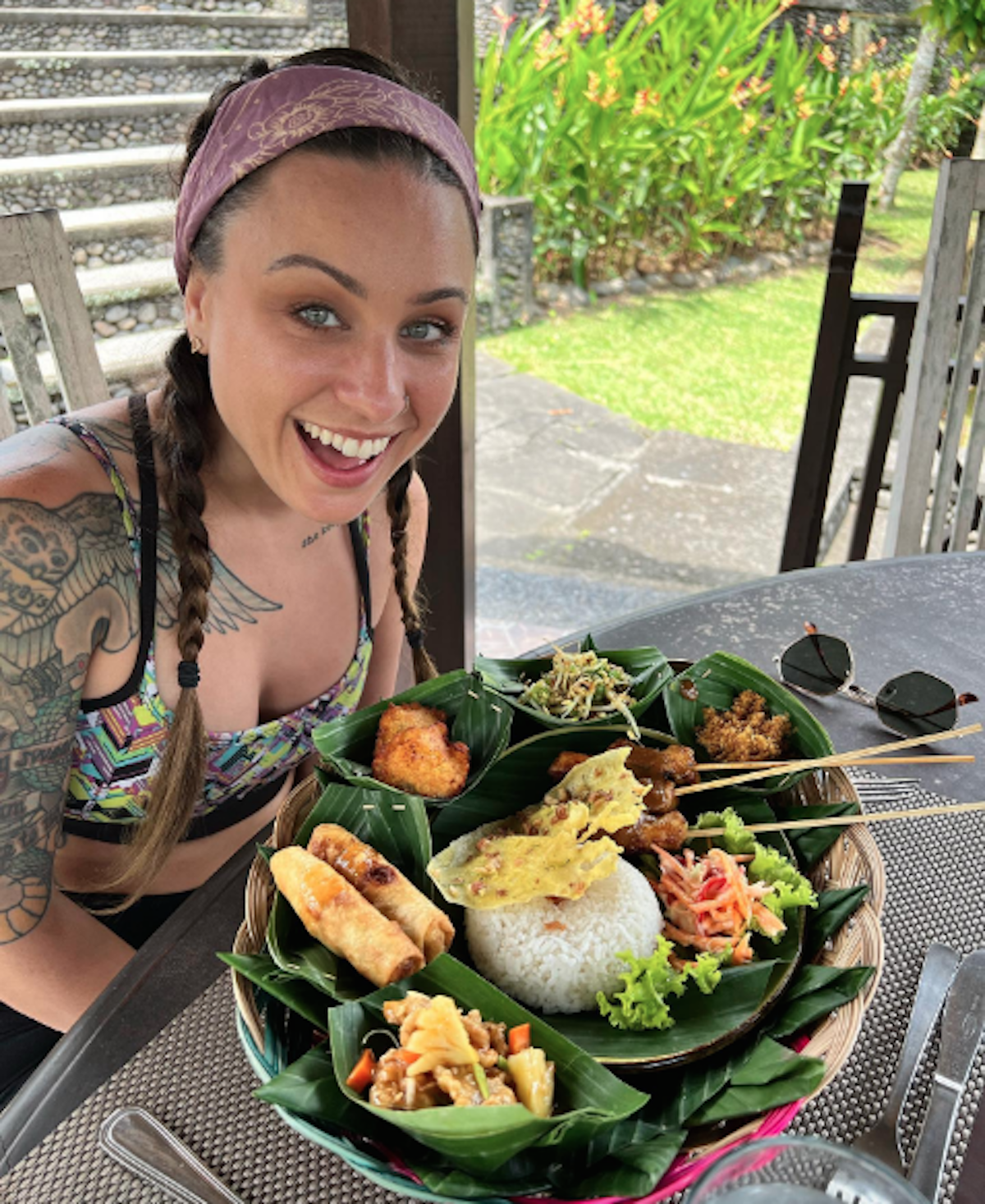 What is Marcus Gunn Phenomenon?
According to the National Organization for Rare Disorders(NORD), the Marcus Gunn phenomenon is described as "a rare genetic disorder that is usually present at birth."
"It is characterized by the movement of one upper eyelid in a rapid rising motion each time the jaw moves,"  NORD explains. "Other eye abnormalities and vision difficulties may also occur. The exact cause of this phenomenon is not known."
Known as Marcus Gunn (Jaw-Winking) Syndrome, Marcus Gunn Ptosis (with jaw-winking), or Maxillopalpebral Synkinesis, the disorder, which can affect both males and females equally, has only been reported in 300 cases across the globe in medical literature.
Signs & Symptoms
Most patients with the disorder will see the upper eyelid of one eye (unilateral) droops (blepharoptosis).
"The major symptom of this disorder is the rapid and involuntary upward movement of the affected eyelid after almost any movement of the lower jaw. As a result, that eye appears to open even wider," NORD This first becomes apparent soon after birth, especially during feeding and sucking. These activities cause the eyelid to move up and down. A few cases have been seen in adults."
Individuals with Marcus Gunn phenomenon may experience visual impairment, such as crossing of the eyes (strabismus), slight impairment of vision in one eye as compared to the other (a difference in the refractive powers of the eyes [anisometropia], and other problems (e.g., superior rectus muscle palsy or double elevator palsy)."
Some people with the disorder may experience symptoms when moving their lips, smiling, clenching their teeth, whistling, chewing, puffing out their cheeks, or swallowing.
Resources for People Facing Rare Diseases
With a rare diagnosis can come all sorts of feelings of anxiety, fear and loneliness. But it's important to know you're not alone. Below are some helpful resources for the many people affected by lesser-known or less-researched diseases.
Academic Centers and Comprehensive Care Centers
For some rare disease warriors, community centers provide great treatment options. But for people with rare conditions – cancer or otherwise – more specialized care may be required. In that case, the most effective place to find a specialist is often at academic centers and comprehensive care centers.
In a previous conversation with SurvivorNet, Dr. Kenneth Miller, director of outpatient oncology at the University of Maryland's comprehensive cancer center, explained what differentiates a "comprehensive cancer center" from other treatment providers.
Seeking Care at a Comprehensive Cancer Center
"Pretty much automatically, there's going to be a team approach [to your care]," Dr. Miller said. "Surgical oncology, medical oncology, radiation oncology, and all the support services—and also wonderful pathology and radiology."
Dr. Miller added that at a comprehensive cancer center, all of these different specialists work together as a team to help you find the best course of treatment for your specific kind of cancer.
"We call it a tumor board—a group to go through all the details of your case… so you get a group of very smart people coming up with a plan together that is hopefully optimal and gives you the best chance of doing well."
Clinicaltrials.gov and the SurvivorNet Clinical Trial Finder
Another place to turn to when you've been diagnosed with a rare disease and you're considering experimental treatment or trying to find specialists is clinicaltrials.gov – a database maintained by the U.S. government that compiles privately and publicly funded clinical trials conducted around the world. Clinical trials themselves are research studies that compare the most effective known treatment for a specific type or stage of a disease with a new approach.
RELATED: If You're Diagnosed with a Rare Cancer like Louis Vuitton Designer Virgil Abloh, How Do You Find Help?
Clinical Trials Can be Life-Saving for Some
Clinicaltrials.gov can help you explore possible treatment options by looking at trials that are actively recruiting. The site also provides the information of some of the most specialized doctors in a specific field since they often end up leading clinical trials that advance our understanding of diseases.
By searching your disease on Clinicaltrials.gov, you will usually come across a list of many studies. The lead researcher will be listed under the heading, "Investigators." Lead researchers in studies on rare diseases are typically doctors who have specialized in the study of that condition.
And if you'd prefer to search for clinical trials on a more user-friendly site, try SurvivorNet's new A.I. driven tool built on top of clinicaltrials.gov: the SurvivorNet Clinical Trial Finder. This tool is updated daily and gives users access to more than 100,000+ individual clinical trials to help them find treatment options.
To use the SurvivorNet Clinical Trial Finder, simply answer some basic questions using our custom-designed chat feature and we'll send customized clinical trial options within your region right to your email. In simplifying the search, we hope to offer multiple opportunities for clinical trial sponsors and clinical research organizations to engage with patients.
"Clinical trials are critical to the development of new therapies, and as we live through this extraordinary revolution in genomics, immunotherapy and targeted therapy, it's clear that one of the most pressing needs for patients, clinical trials sponsors, and researchers is simply a better way to find patients," SurvivorNet CEO Steve Alperin said. "Even one percent more people successfully enrolled in clinical trials can change the world."
Dr. Beth Karlan, a gynecologic oncologist with UCLA Health, previously told SurvivorNet that clinical trials can be play an important role for some patients' treatment, but they also serve a larger purpose.
"Clinical trials hopefully can benefit you, but is also providing very, very vital information to the whole scientific community about the effectiveness of these treatments," Dr. Karlan said. "We need everyone to be partners with us if we're ever going to truly cure cancer or prevent people from having to die from cancer."
That being said, it's important to remember that clinical trials aren't for everybody. And going into a study does not necessarily mean you'll receive better care than the standard treatment. You should always talk with your doctor(s) before getting involved in one. Some risks to consider are:
The risk of harm and/or side effects due to experimental treatments
Researchers may be unaware of some potential side effects for experimental treatments
The treatment may not work for you, even if it has worked for others
PubMed
Similar to clinicaltrials.gov, PubMed is another place to turn if you're looking to research your rare disease. This website includes more than 33 million citations for biomedical literature from MEDLINE, life science journals and online books.
If you type in your disease, you'll see a list of studies and articles about the condition. You can even add a filter to only look at clinical trial information. By looking at the doctors associated with the published clinical trial results and other articles, you may be able to find doctors that specialize in research for your disease.
Newly-Developed Drugs
For those who've been recently diagnosed with a rare disease, we also want to highlight reasons for hope since there is something of a revolution going on in the development of drugs for rare diseases. The sequencing of the human genome has enabled doctors to take new approaches to treating some of these uncommon conditions. One step you may take after being diagnosed with a rare disease is looking into the drug companies developing drugs to treat your condition.
Compassionate Use and Off-Label Use
Drug companies may be able to help patients enroll in clinical trials, and in some rare cases, they may even be able to offer "compassionate use." Compassionate drug use makes a new drug that has not been fully approved available to a patient facing a serious illness. This only typically happens when a patient has exhausted all other treatment options, but it is an important option to understand.
The "Right to Try" Controversy: When Should People be Given Experimental Drugs?
Similarly, researching drug companies may be a path to "off-label" drug use. Off-label drug use involves taking a drug that has been approved for treating one condition in the hopes that it may treat another condition that it has not yet been approved for.
Contributing: SurvivorNet Staff
Learn more about SurvivorNet's rigorous medical review process.
---