MJB's Breast Cancer Loss
Mary J. Blige performed at the Super Bowl halftime show to great acclaim.
Blige lost her aunt to breast cancer and thinks of her when she gets her annual mammograms.
Women aged 45 to 54 with an average risk of breast cancer should get mammograms annually. If there is a family history of the disease, as there is for Blige, it's important to begin screening earlier than 45.
Super Bowl fans knew it was going to be an exciting halftime show when Dr. Dre and Snoop Dogg appeared on the artfully constructed set in the middle of SoFi Stadium in Los Angeles, but the performance was taken up ten notches when Mary J. Blige
graced the stadium
with her presence. Blige has been an outspoken advocate of the importance of mammograms and screening for breast cancer; she lost her aunt to the disease.
Related: The Queen of Hip Hop & Soul, Mary J. Blige, Opens Up About Losing Aunt to Breast Cancer & the Need for Black Women to Talk About Cancer
Read More
The Queen of Hip Hop and Soul, 51, has nine Grammy awards and thirty-one Grammy nominations. She's been a mainstay of the hip hop and soul genre for decades, and yesterday's performance of
No More Drama
and
Family Affair
during the Super Bowl made fans fall even more in love with her. She rocked the stage in a glitzy white outfit and stylish boots while belting out her hits.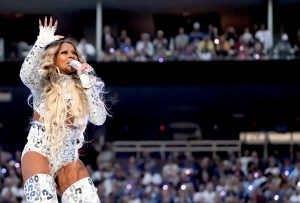 Screening for Breast Cancer
In an interview with CBS This Morning, Blige once said, "I lost my aunt to breast cancer. And that's what crosses my mind when I go in for my annual appointments." Blige is smart to prioritize her health by getting annual breast cancer screening appointments.
She told CBS This Morning host Gayle King, "I was a little nervous. [And was wondering] is [the mammogram] gonna hurt? But once I did it, it was all about wanting more information about my body. If I can see it, I can change it. It's all about knowledge – knowledge is power. A mammogram can save your life, and that's why I'm here," said Blige.
Breast cancer is typically detected via mammogram, which looks for lumps in the breast tissue and signs of cancer. Women with an average risk of breast cancer, who have no family history of the disease and no incidence of the BRCA1 or BRCA2 gene mutation, should get annual mammograms between the ages of 45 to 54. Women with a higher risk of the disease should begin screening earlier.
Related: Sheryl Crow Almost Skipped The Mammogram That Caught Her Early Breast Cancer at 44: 'I Wasn't Worried About It'
In a previous interview, Dr. Connie Lehman, chief of the Breast Imaging Division at Massachusetts General Hospital, emphasizes the importance of screening. She says, "If you haven't gone through menopause yet, I think it's very important that you have a mammogram every year. We know that cancers grow more rapidly in our younger patients, and having that annual mammogram can be lifesaving."
"After menopause, it may be perfectly acceptable to reduce that frequency to every two years," says Dr. Lehman. "But what I'm most concerned about is the women who haven't been in for a mammogram for two, three, or four years, those women that have never had a mammogram. We all agree regular screening mammography saves lives."
When Should I Get a Mammogram?
Breast Self-Exams at Home
In addition to mammograms, you can also check yourself regularly at home to look for lumps. Doing this self-exam in the shower or standing in front of a mirror is a good way to try and find anything unusual on your breasts which may be a sign of cancer.
In an earlier interview, a breast cancer expert tells us, "It doesn't have to be exactly every month, but not right before the period, because their breasts may be more swollen and tender after their period," she says.
"And a lot of women say that [doing self-exams] in the shower it's easier because of the water, and it's just easier to do in that setting. There are no specific hotspots, but there are areas that women might not be as aware have also breast tissue. So if a woman feels a lump in her axilla, or her armpit, that's also important to tell their doctor about it. That could be a lymph node that has breast cancer in it."
Our expert says that a lump could also be unrelated to cancer, so don't be alarmed if you find one, just be sure to get it checked out with your doctor.
Getting to Know Your Breasts with Self-Exams
Learn more about SurvivorNet's rigorous medical review process.