"What's the 411" on Mammograms
Queen MJB shares her experience of getting mammograms for Breast Cancer Awareness.
The singer highlights the gross disparity among breast cancer treatment for Black women and their white counterparts.
Getting mammograms is key for knowing your body, and screening for breast cancer.
Recently, Mary J. Blige shared the impact losing her aunt to breast cancer had on her; it left a lasting impression. She's been a chart-topping success for decades, and any fan of hip hop and R&B likely knows her songs by heart. The nine-time Grammy award winner is now speaking out about
breast cancer
awareness, and doing so in her signature style: vulnerable, direct, and – above all – real.
The "Real Love" singer shared with CBS This Morning, "I lost my aunt to breast cancer," she said solemnly. "And that's what crosses my mind when I go in for my annual appointments."
Read More
Related: In the Midst of Stage 4 Breast Cancer Battle, Shannen Doherty Shares Information Every Woman Should Know About the Disease
Blige went on to say, "However, I haven't let that stop me from being sure about my health, and that shouldn't stop you, either. Black women are often very private – we don't want people knowing our business. But the more we open up, the more it allows us to share information that can be life-saving."
Blige tells CBS This Morning host, Gayle King, "I was a little nervous. [And was wondering] is [the mammogram] gonna hurt? But once I did it, it was all about wanting more information about my body. If I can see it, I can change it. It's all about knowledge – knowledge is power. A mammogram can save your life, and that's why I'm here."
As Blige atests, the more you know about your body, the more empowered you are. And you'll be even more empowered to take the next steps, should you receive a diagnosis of breast cancer after your mammogram.
The Importance of Mammograms
King shares that Blige had her first mammogram in her 40s, and that she didn't know what to expect. "I know that moment," says King. "You walk into that room, you look at that machine, and you say, 'You're gonna squeeze what with what?'" King explains how daunting the mammogram process can be.
When Should I Get a Mammogram?
Getting your annual mammograms is key for early detection and early treatment. Blige urged her followers on Instagram to follow her lead and get their mammograms. "I'm proud…to encourage all Black women to get annual mammograms beginning at age 40, and to provide women in underserved communities with access to superior breast cancer screening technology."
Racial Disparities in Breast Cancer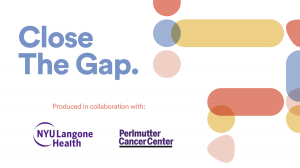 SurvivorNet and NYU Langone Health's Perlmutter Cancer Center are collaborating to help close the racial gap in cancer prevention, cancer care, and survival rates.
Blige also shared on her Instagram some stark facts of life in America for Black women. The legendary singer wrote: "Did you know that Black women are almost 40 percent more likely to die from breast cancer than White women?"
Related: Close the Gap: Racial Disparities in Cancer Care Are Devastating– Let's Change Things
There are significant disparites that exist in the U.S. when it comes to cancer care and treatment for Black people. These disparities are the result of racism, economic suppression, as well as, sometimes, genetic and biological differences, which may lead to higher breast cancer death rates among Black women.
And it's not just breast cancer, either. Cancer mortality rates are higher among Black people for many cancers. Black men are over 50% more likely to die of prostate cancer than their counterparts.
Related: Minorities Are Missing Out On Life-Saving Cancer Care & Clinical Trials: 4 Changes Needed to Help Fix This Problem
For Black women and breast cancer, highlighting this disparity is key to changing it, as is access to good care.
As Blige and King and many others continue to speak out on this issue, it's on all of us to do our part to join the fight for total healthcare equality.
Breast Cancer Surgeon Explicitly Lays Out Ways We Can Close the Gap in Racial Disparity: "Access to Care is Key!"
Learn more about SurvivorNet's rigorous medical review process.