Overcoming Addiction & Cancer
Megadeth's Dave Mustaine says getting sober from drug addiction helped him prepare for cancer treatment
Mustaine was diagnosed with throat cancer in 2019, and declared "cancer free" this February
The rock star reached out to fellow musician Bruce Dickinson, who battled throat cancer in 2015, for advice
Megadeth's Dave Mustaine is opening up about past substance abuse, his career after throat cancer, and how a fellow rock star gave him some helpful advice. Mustaine is a true cancer warrior, and he's screaming it from the rooftops.
Mustaine, 58, has overcome a lot of personal challenges throughout his career, such as injuries during performances and battling substance abuse. However, it turns out that Mustaine believes overcoming drug addiction prepared him for his 2019 throat cancer diagnosis.
Read More
Related: Rockstar And Amazing Throat Cancer Survivor, Dave Mustaine, Plans 2021 Tour– New Radiotherapy Helping Patients With Difficulty Swallowing After Disease
"I already had a life or death battle once before back in 1992 [substance abuse], and with my arm shutting down [injury] back in 2001. I've had a lot of these challenges, but this, by far, was one of the gnarliest ones," Mustaine tells Forbes. "Not to try and be glib about what was going on, because it certainly was serious stuff, but I stayed focused. I listened to the doctors, prayed a lot, took care of myself and had a great support group."
His determination clearly paid off, because Mustaine's treatment was successful, and he was declared "cancer-free" in February.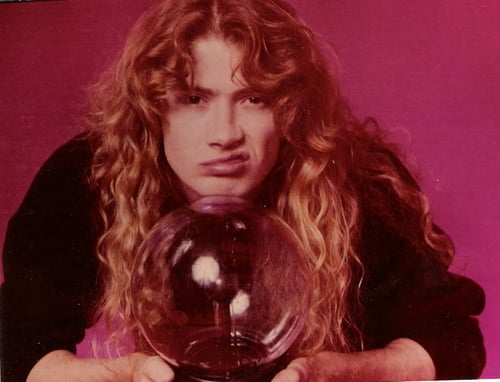 Mustaine is known for his hard-hitting vocals, but during treatment, he wasn't sure whether his career was in jeopardy. He admits that walking into the studio to start recording was an intimidating experience, but he was able to get advice from a fellow rock star who knew what he was going through — Iron Maiden's Bruce Dickinson.
Related: 'I Got This Power from You Guys' — Megadeth's Dave Mustaine's Emotional Announcement that He's Free of Throat Cancer
"After I was diagnosed with it, I thought, 'I want to call Bruce,' it's not like I have a whole Rolodex of rock friends that sing heavy metal music that have throat cancer, so my choices were limited," Mustaine says. "I was pretty proud of Bruce after speaking with him. Although we're not super close, I consider him to be someone I look up to. He basically told me: surround yourself with good, upbeat, positive people, places and things and try not to cause any unnecessary stress on yourself."
Overcoming Addiction & Cancer
Overcoming addiction is already an achievement, but maintaining your sobriety during yet another difficult experience like cancer isn't always easy for many. While Mustaine used his sobriety as a way to help him fight through treatment, others struggled.
Jaclyn Kaczynski was in recovery for drug and alcohol addiction when she was diagnosed with breast cancer, and once hearing the diagnosis her self-esteem and confidence took a huge hit. She started undergoing chemotherapy treatments at the request of her family, but during that time she started drinking heavily again.
Related: Binge-Drinking Rates for Some Women Double, Study Finds — Which Leaves Them at Risk for Cancer
"When I was diagnosed I was sober, I was in recovery and trying to hold on to my recovery from drugs and alcohol," Jaclyn says. "However, about four weeks after my diagnosis, I did relapse. I thought it was just like … this is it. This is the end for me. I've survived enough, I don't know how much more of this I can do. I got a real big case of the f*** its … and I started drinking again."
Breast cancer survivor Jaclyn Kaczynski talks to SurvivorNet about struggling with sobriety during treatment
Despite her relapse, Jaclyn knew she needed to get sober and continue with treatment to save her life. She tells SurvivorNet that she woke up one day and realized she couldn't continue the way she was, which led her to getting back into recovery and finding a new sponsor.
Related: Prostate Cancer Survivor Elton John Celebrates 30 Years Sober; Cutting Booze Can Help Prevent Cancer Risk
"My gratitude and my spirituality is at such a level now that sobriety, honest to God, saved my life," Jaclyn says. "If I did not get sober, I would not be sitting here doing this right now. To be completely honest, I definitely would not."
Learn more about SurvivorNet's rigorous medical review process.