Funnyman Mel Brooks Battles Grief
In a new interview, comedian Mel Brooks reminisces about his late friend, actor Carl Reiner, who died last year; Brooks shares that he's missing his best friend.
Coping with grief after the loss of a loved one takes time; grief typically comes in stages and waves.
Brooks' longtime love, The Graduate actress Anne Bancroft, passed from uterine cancer in 2005.
Mel Brooks, 95, and the late Carl Reiner were two peas in a humor pod up until the time of Reiner's death in June 2020; Brooks told
The Guardian
he misses his best friend "so much" and called Reiner a "
sweetheart of a guy.
" Brooks lost his wife, actress Anne Bancroft, to cancer in 2005. In his new memoir,
All About Me!: My Remarkable Life in Show Business
, Brooks expounds on his losses in love and in friendship.
Brooks, who's the mastermind behind comedy films such as Blazing Saddles, Young Frankenstein, Space Balls, and The Producers, enjoyed a beautiful friendship with actor Reiner, known for his work in The Jerk, The Dick Van Dyke Show, Ocean's 12, and many more.
Read More
Related: It's Been One Year Since We Lost 'Jeopardy!' Star Alex Trebek to Pancreatic Cancer; He Educated So Many About The Disease & Advocating For Yourself
The pair would watch Jeopardy! each evening and enjoy meals together. Last year, in a joint interview, the pair told CBS Sunday Morning how they were even able to maintain their friendship rituals through the Covid-19 pandemic. Reiner said, "Yeah, we turn on Jeopardy! at the same time, and we turn on Wheel of Fortune at the same time, and we try to guess the answers and, you know, we have fun on the phone."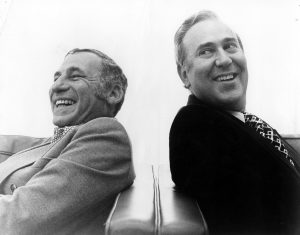 Speaking of the pandemic in that interview, Brooks said, "We can get through this stuff; this is a breeze. We just have to grin and bear it." Both men were widowers and found comfort in each other's company after their spouses were gone. Reiner passed on June 29, 2020, at age 98 from natural causes.
Coping with Grief
Grief is known to "come in waves," and never fully leave you, after a loved one has died. To grieve is to have fully loved someone, and that's a beautiful thing – but the process of grief, as Brooks' experience shows, can be fulling of missing, longing, and sadness.
Related: 'This Book Helped Me Get Through My Own Journey in Grief' Says Meghan McCain of New Lifetime Movie She's Producing
Coping with grief after the loss of a loved one, or after a diagnosis of a disease like cancer, can be helped by seeing a psychiatrist, counselor, or oncological social worker. You don't have to suffer through your grief alone. Seek outside support when you've lost someone close to you.
Dealing With Grief After a Cancer Diagnosis
Brooks' Earlier Cancer Loss; Wife Anne Bancroft Dies of Uterine Cancer in 2005
Brooks' longtime love, The Graduate actress Anne Bancroft, passed from uterine cancer in 2005.
Related: 'Nanny' Star Fran Drescher Continues to Thrive 21 Years after Uterine Cancer Fight, Is Running for Screen Actors Guild President
Uterine cancer occurs when cancer cells develop in the lining of a person's uterus. This year, approximately 66,570 people will be diagnosed with this type of cancer, according to the American Cancer Society (ACS).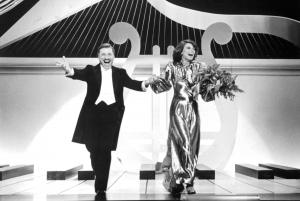 In an earlier interview, Stanford Gynecologic Oncologist Dr. Diana English explains there are several conditions that may predispose someone to getting uterine cancer. "These patients might not be thinking about this, their primary care providers may not be speaking to them about this," says Dr. English. Those conditions are:
Hypertension
Diabetes
Polycystic Ovarian Syndrome (which is marked by the absence of regular periods)
Obesity
Hyperandrogenism (elevated male sex hormones)
Lynch Syndrome
Understanding the Risks and Symptoms of Uterine Cancer
Learn more about SurvivorNet's rigorous medical review process.