Bublé's Evolution after Son's Cancer
Singer Michael Bublé tells People magazine this week how having a child with cancer completely altered his perspective on life.
Bublé's son Noah was diagnosed with liver cancer in 2016 when he was 3 years old; today, he's cancer-free.
Being a parent to a child with cancer is an emotional undertaking; make sure you're checking in with yourself throughout, and taking care of your own mental health, too.
Michael Bublé's son Noah is cancer-free today after being diagnosed with liver cancer at age 3 in 2016, and the singer says Noah's cancer profoundly impacted his life. Noah has been in remission since 2017.
Speaking with People magazine, Bublé, 46, says, "I live a much deeper life now."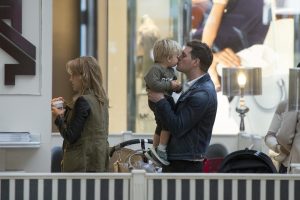 Read More
The Canadian singer understands that the way he came to this new outlook on life was a hard road, saying, "I don't wish that kind of pain upon any human being, but I do feel that when you've truly suffered, when you've truly felt fear and loss,
it allows you to live a deeper life
," Bublé says.
Related: MTV's 'The Challenge' Star Ashley Cain Shares Heartbreaking Announcement That His Baby Daughter with Leukemia Has Only 'Days to Live'
Bublé and his wife Luisana Lopilato have three children together: Noah, 8, Elias, 5, and Vida, 3.  He says that the pain his family felt made room for greater joy and positive emotions. "Once you've felt those things, you are able, in context, to truly feel joy, gratitude and happiness," he explains.
Related: Michael Buble Announces Major New Tour and Thanks Fans for Support During Young Son's Cancer Journey
Bublé also says that he came to trust the universe more after Noah's cancer. "Going through what I went through with my son," he says, "I really opened myself up to the universe and I never said no. I just kept saying yes."
Understanding Liver Cancer
Liver cancer affects approximately 42,000 Americans per year, according to the American Cancer Society (ACS). For adults, the causes of this disease may include excessive alcohol consumption or a family history of liver cancer.
Related: Michael Bublé Celebrates Son Noah, a Childhood Cancer Survivor, on His Birthday: 'My Hero Turns 8!'
Several different types of liver cancer exist, and the most common is hepatocellular carcinoma. Symptoms of this disease may include abdominal pain, unexplained weight loss, decrease or loss of appetite, fatigue, nausea, and jaundice.
Related: 'We Still Have the Scans and the Scanxiety': Singer Michael Bublé Opens Up about the Very Real Fears His Family Still Faces with His 8-Year-Old-Cancer-Surviving Son
Pediatric liver cancer, like Noah's, is very rare. The most common type of pediatric liver cancer is hepatoblastoma, according to Children's Hospital of Pittsburgh. Approximately 2-3 children out of 1 million will be diagnosed with the disease.
What To Do When Colon Cancer Spreads to the Liver
Coping With A Child's Cancer
When your child is diagnosed with cancer it may seem that the dreams you had for your family are falling apart. It's important to – to the best of your ability – try to keep a level head after you've fully felt all of your emotions around the diagnosis.
Related: How NFL Star Devon Still Went From Gridiron Glory to Cancer Crusader After Daughter Leah's Stage IV Neuroblastoma Battle
You're not alone in this journey – your child's oncologist and care team are there to guide you and provide information and answers. Oncological social workers are a fantastic resource to help you sort out the financial aspects of cancer treatment, as well as other cancer-related issues. Skilled psychologists and counselors can be accessed to help you maintain good mental health through your child's cancer journey, to the best of your ability.
Related: "Therapy Saved My Life": After Losing A Loved One, Don't Be Afraid To Ask For Help
And, don't be afraid to reach out to your support system – friends, relatives, etc. – for help through this process. No one expects you to handle everything on your own.
Bublé tells People how having the support of others during Noah's cancer battle made all the difference. "People will never understand how much it changed our lives when we were going through our darkest times; how much the prayers, how much the good will, how much the love we could feel coming [helped]," he says.
"We feel indebted to those people," he reflects. "And I only hope I can bring people a tenth of the joy they brought me."
The Value of Using a Social Worker During Treatment
Learn more about SurvivorNet's rigorous medical review process.