Moving Forward after Loss
Olivia Newton-John's daughter recently talked about her final moments before her mother's passing. She also said the support she's received from Newton-John's fans has helped her cope with grief.
After losing a loved one to cancer, sadness is not always a negative thing. It can be used as a motivator or even a source of inspiration.
Newton-John was first diagnosed with breast cancer in 1992, then in 2013, then in 2017. By the time of her last diagnosis, the cancer had spread to other parts of her body including her sacrum – the bone at the bottom of the spine.
Metastatic breast cancer – also called "stage four" breast cancer – means that the cancer has spread, or metastasized, beyond the breasts to other parts of the body. There is technically no cure, but advancements in treatments can dramatically improve outcomes, and that is something to be hopeful for.
When Olivia Newton-John died of breast cancer last year, the world lost a beloved actress and singer. But Chloe Lattanzi, 37, also lost a mother.
In a recent interview with TODAY, Olivia Newton-John's only child opened up about some of her last interactions with the Grease star.
Read More
"The last words she could say to me was, 'My sunshine," Lattanzi said. "And right before she lost her ability to speak, she was making jokes."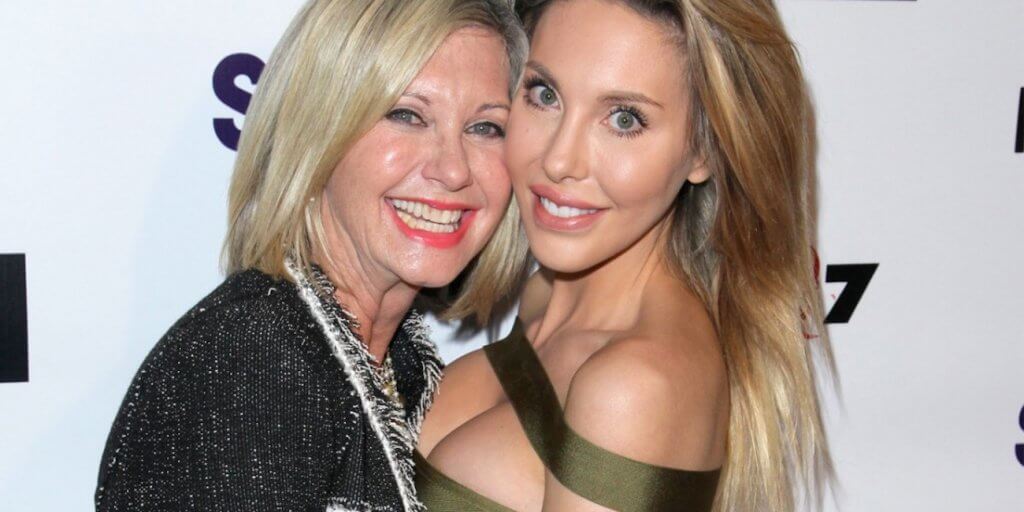 Elaborating on the grief she's felt since her mom's passing, Lattanzi couldn't help but choke up. "I love my mom more than anything," she said. "She's my mama, you know? She's not Olivia Newton-John to me, but I'm so glad that she was Newton-John for so many people."
RELATED: Olivia Newton-John Was Magic– Husband Remembers The 'Courageous' Icon Who Battled Metastatic Breast Cancer
And the fact that Newton-John had an impact on so many people worldwide has actually helped Lattanzi move forward.
"It actually has been a life raft. It has felt like a big hug from the universe," she said of the support she's gotten from her mother's fans. "And I'm very grateful for all of the people who reached out to us and extended their heart and their connection."
Olivia Newton-John's Cancer Journey
Olivia Newton-John died of stage four, or metastatic, breast cancer on August 8, 2022. She was first diagnosed with breast cancer in 1992 and underwent chemotherapy and a partial mastectomy – the surgical removal of cancerous breast tissue – for treatment.
How Does Trodelvy Work For HER2-Negative, HR-Positive Metastatic Breast Cancer?
Unfortunately, the cancer returned in 2013, and again in 2017 when it spread to other parts of her body including her sacrum – the bone at the bottom of the spine.
Metastatic breast cancer means that the cancer has spread, or metastasized, beyond the breasts to other parts of the body. It most commonly spreads to the bones, liver and lungs, but it may also spread to the brain or other organs.
Olivia Newton John Shares Her Cancer Journey with SurvivorNet
Cancer metastasis can lead to the weakening and breaking of bones. This happened to be the case for Newton-John whose sacrum broke as a result of her spreading cancer. She then underwent radiation therapy but eventually turned to medical cannabis to help relieve the pain of her broken sacrum.
Understanding How Medical Marijuana Alleviates Pain
"I weaned myself off [prescription pain med] with cannabis, which I think is incredible," Newton-John previously told SurvivorNet. "People should know that, because you're not going to die from cannabis… That was really powerful for me to find out as well. I've continued on a regimen with cannabis ever since."
While there is technically no cure for metastatic breast cancer, there are a wide variety of treatment options used to battle the disease including hormone therapy, chemotherapy, targeted drugs, immunotherapy and a combination of various treatments.
An Immunotherapy Breakthrough: The Judy Perkins Story
And with ongoing advancements in treatments and newer options that can dramatically reduce symptoms, there are many reasons to be hopeful.
One major advancement that's made recent headlines is the reclassification of some advanced breast cancers as HER2 "low." During an interview on ABC's "Good Morning America," SurvivorNet advisor Dr. Elizabeth Comen, an oncologist with Memorial Sloan Kettering Cancer Center, highlighted an exciting treatment for this new classification of metastatic breast cancer patients.
The Major Change That Every Metastatic Breast Cancer Patient Should Get Tested For– SurvivorNet Adviser Dr. Elizabeth Comen On 'GMA'
"One of the most challenging types of cancer to treat is metastatic breast cancer," Dr. Comen said. "And a new treatment, an FDA approved treatment, called Enhertu or T-DXd is being used to improve the survival of patients with a new classification of metastatic breast cancer called HER2-low metastatic breast cancer," said Dr. Comen. "So, for anybody watching if they or their loved one has metastatic breast cancer, it's critical that they ask their doctor, 'Do I have HER2-low breast cancer and might this be an appropriate treatment for me?"
Moving Forward after Losing a Parent to Cancer
Grief is a complex emotion. It can come in waves and there's right or wrong way to process the event of losing a parent to cancer. Particularly when the loss comes at a younger age, the sadness can feel really linger. But that doesn't have to always be a bad thing.
In a previous interview with SurvivorNet, Camila Legaspi explains how she lost her mother to breast cancer when she was in high school. She struggled for a long time but eventually was able to turn that immense sense of loss into inspiration.
Sadness Is Not Always A Bad Thing — Coping After Losing A Parent To Cancer
"I actually took this sadness and let it motivate me," Camila told SurvivorNet. "I learned that it's OK to be sad sometimes. It's OK to carry sadness with you… it's not always a bad thing. It makes you who you are and it gives you a story to tell and it helps you teach other people to cope with their sadness."
Like her mother, Camila is a very creative person. She turned to writing as an outlet for her emotions and used her mother's creativity as a motivator. When she went to Princeton, she got involved with the school's magazine and explored her feelings of loss as inpiration for poetry, fiction or whatever else she was inclined to write.
"I've learned to have it impact me in a positive way and have it not just be a sad story… instead, I'm using it for a better purpose," Camila said.
Learn more about SurvivorNet's rigorous medical review process.