Olivia Newton-John's Cancer Journey
Olivia Newton-John talks to SurvivorNet about battling metastatic breast cancer, and shares new updates about her journey.
She uses medical cannabis and acupuncture to help with the pain she experiences in her feet and back.
She's launched the Olivia Newton-John Foundation in an effort to spread awareness about cancer and help those who are facing a diagnosis.
In an interview with
SurvivorNet, 
Olivia Newton-John
, 72, says she's doing very well amid her battle with metastatic breast cancer, and shares new details about the pain it's caused in her feet and how medical cannabis has helped her cope. It's clear she doesn't allow the breast cancer she's been battling for decades control her. She's the one in charge.
The Grease superstar and Let's Get Physical singer talks about struggling with the devastating side-effects of her metastatic breast cancer, finding ways to cope during treatment, and how her new foundation will help others like her.
Read More
Related: Olivia Newton-John Says Her Stage 4 Breast Cancer Is a "Gift" & Explains Why Perfectly
Newton-John embodies the phrase "cancer thriver," a term she uses to refer to herself. She's battled through three separate brushes with breast cancer — in 1992, 2013, and 2017 — and continues to fight. When her breast cancer returned in 2017, she was told it had progressed to metastatic, meaning the cancer has spread to other parts of the body, including her bones. While there may be no cure for metastatic breast cancer at the moment, Newton-John, always the optimist, says it's important to live "as well as you can with it."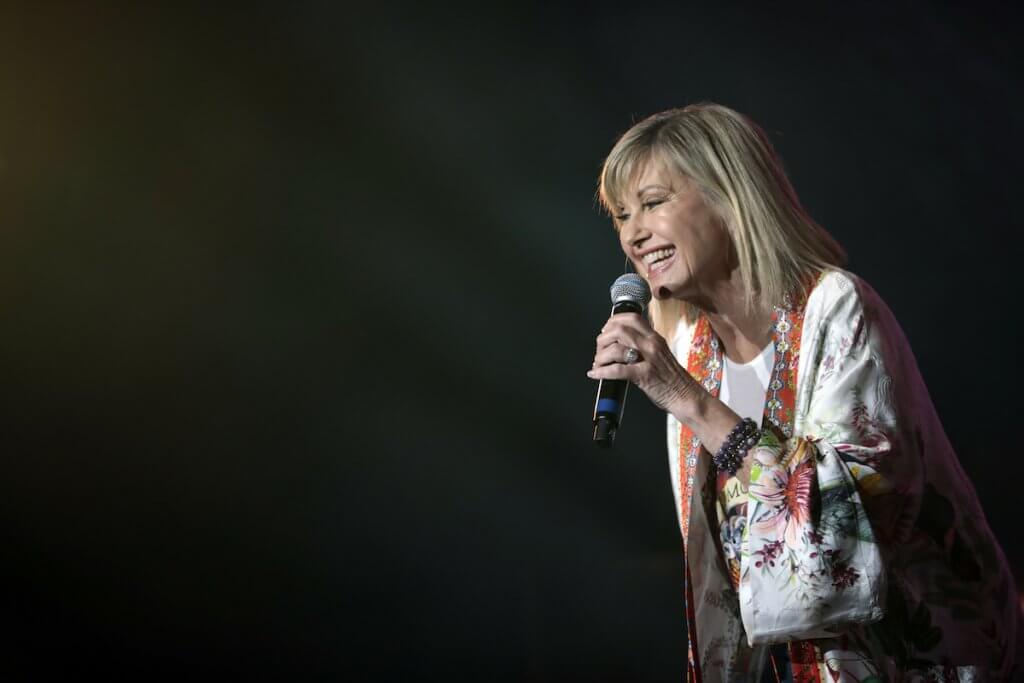 Upon discovering her cancer had recurred and progressed, doctors found a tumor in her sacrum (the bone at the bottom of the spine). Cancer metastasis can weaken bone significantly, which may cause them to break. This was the case for Newton-John, whose sacrum broke as a result of the cancer spreading. While going through treatment, she says she still deals with pain in parts of her body.
"I have some neuropathy in my feet, which is probably my biggest problem because I love to walk"
"I have some neuropathy in my feet, which is probably my biggest problem because I love to walk," Newton-John tells SurvivorNet. "I love to hike. I love to play tennis and all those things. I can't do anything about the trade-off; it's okay. My feet have been my biggest issue and I get some back pain."
Dr. Elizabeth Comen breaks down treatment options for when breast cancer spreads to the bone
Coping With Side-Effects
During her cancer journey, Newton-John has found alternative ways to cope with the pain associated with metastatic breast cancer. Initially, she was on high-doses of prescribed pain meds due to her sacrum breaking, but was determined to find more natural therapies. Her solution? Medical cannabis. Since incorporating the product into her treatment process, Newton-John encourages more people to try it as an option to cope with pain.
"I weaned myself off [prescription pain med] with cannabis, which I think is incredible"
"I weaned myself off [prescription pain med] with cannabis, which I think is incredible," Newton-John says. "People should know that, because you're not going to die from cannabis." That was really powerful for me to find out as well. I've continued on a regime with cannabis ever since."
Related: Olivia Newton-John Opens Up to SurvivorNet About Her Holistic Breast Cancer Treatment Regimen
Newton-John also uses acupuncture to relieve pain she experiences. As a breast cancer thriver, she's determined to find any way she can to find the strength to keep fighting.
Dr. Junella Chin explains how medical cannabis can alleviate pain
Olivia Newton-John's Mission To Help Others
As a woman who's had to face breast cancer several times, and still continues to fight through it, Newton-John is now channelling her energy to give back to others. She's just launched the Olivia Newton-John Foundation in an effort to spread awareness about the disease, and remind others battling a diagnosis that they can continue to survive and thrive like her. Following the news in July that actress Kelly Preston, wife of Newton-John's Grease co-star John Travolta, had passed away from breast cancer, Newton-John is determined to find better treatment options.
Related: Olivia Newton-John, 72, Launches Foundation to Help Others With Cancer Live a "Happier, Healthier, Kinder Existence"
"Obviously Kelly was a friend and a beautiful human inside and out," Newton-John says. "It really strengthened my determination to find treatments for people. I've lost many friends in this last year, and I seem to have lost a lot of people to cancer that I know. So it just makes me more determined to get this foundation going and get information out there. How people can help themselves on the journey and live better with it."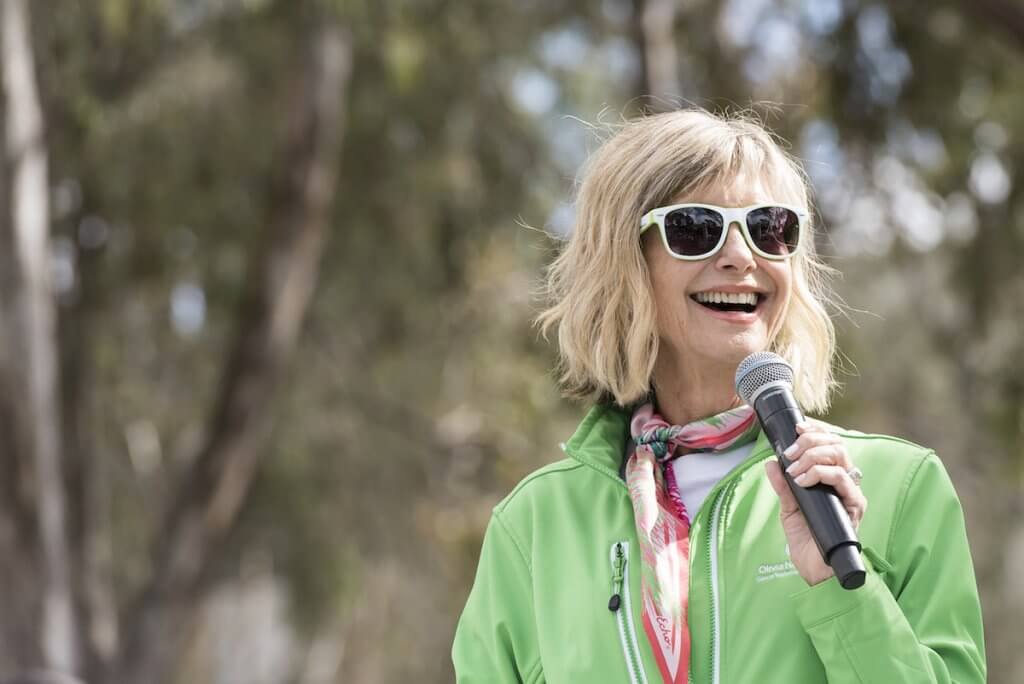 Through her foundation, Newton-John isn't just focusing on adults — she's advocating for children too. Despite advancements in cancer research over the years, the number of pediatric cancer diagnoses have not decreased since 2000. Cancer doesn't discriminate no matter your age, sex, or race, and Newton-John recognizes that.
"We need to live our best lives, with whatever problems we have."
"I'm horrified by the number of people who are getting cancer, especially younger people, younger women, children, it's devastating," Newton-John says. "My best friend lost her daughter to cancer when she was four, and that was another thing that inspired me to do this. Children need therapies too."
Her Advice to Others Battling
When asked about the advice she would give others struggling with a metastatic diagnosis she was clear in her message: strength and positivity are key. She says, "None of us are going to live forever. None of us know when our last days are, whether it's COVID-19 or whether it's being hit by a bird or whatever." She continues emphatically, "We need to live our best lives with whatever problems we have. So I just encourage them to do things for themselves that they love."
Mental health is very high on her list, as she reminds us "how important thinking well is and your mindset, which kind of controls everything about your life. Your mind is your most important organ, it influences everything you do and trying to stay positive and surrounding yourself with positive people is very important."
Learn more about SurvivorNet's rigorous medical review process.