A Diagnosis Expedites A Couple's Vows
Cameron Hughes, 51, and his partner Carene were married in North Carolina on Sunday after Cameron received a stage four cancer diagnosis.
Cameron begins chemotherapy in July, and he wanted to be in ideal condition for his wedding.
Having a supportive partner or community through cancer can help make the process easier; a diagnosis may cause mental health issues seek out formal support, like therapy,  if needed.
For most people, a cancer diagnosis presses the fast-forward button on life, and highlights what's most important; and for Cameron Hughes, 51, of Wilmington, North Carolina, who was diagnosed with stage four pancreatic cancer last month, that's exactly what happened.
Related: Detecting Pancreatic Cancer Early Is Crucial
Read More
Cameron and his partner, Carene, had planned to marry in April 2020, but the wedding was put on hold due to the pandemic. They postponed it until August 2021, but the wedding was expedited due to a health crisis. Cameron was diagnosed with cancer. "I found out that
I have a tumor
on the head of my pancreas," Cameron tells North Carolina's WECT, "it's about 2 cm. I also have two lesions on my liver, so it's metastasized to my liver so I'm technically stage four."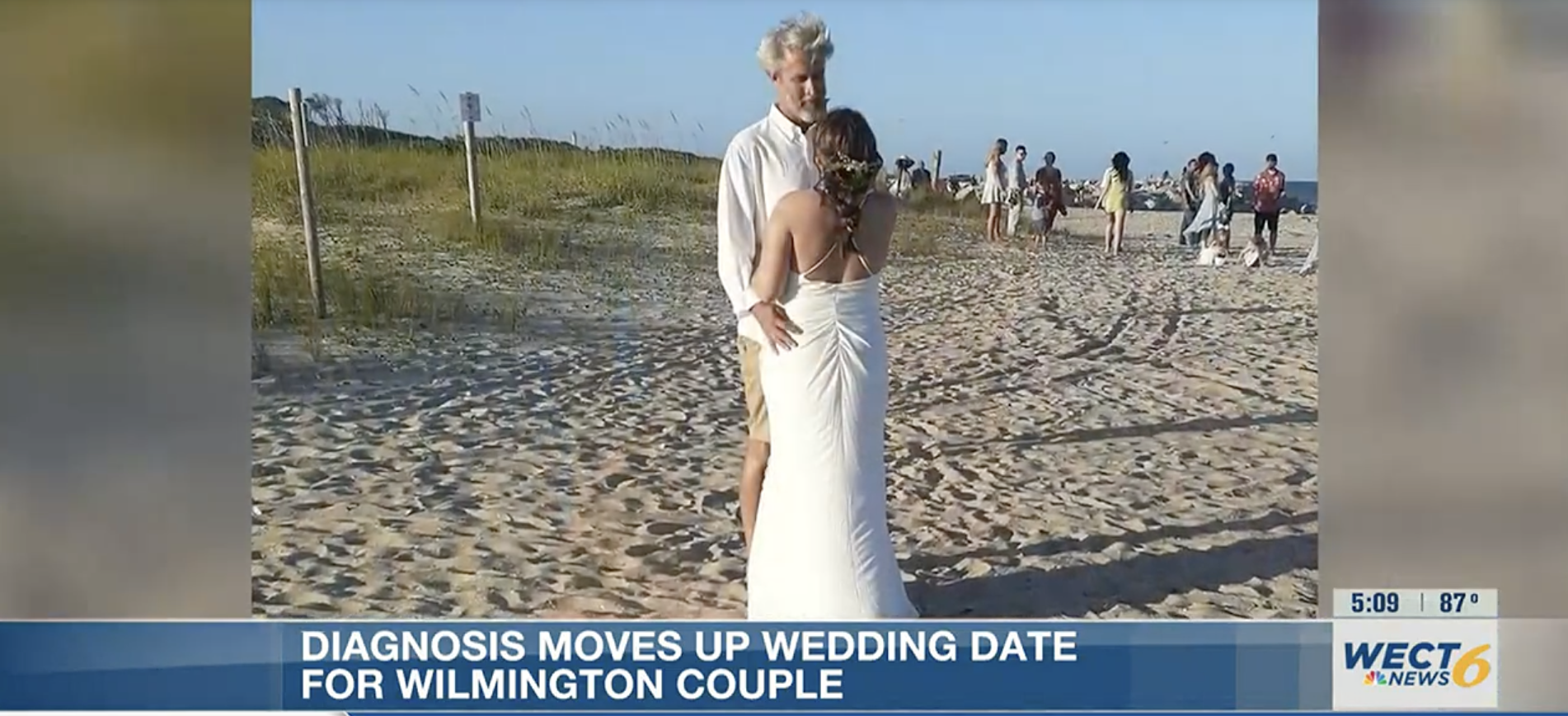 Cameron tells WECT, "Most of the vows you know, the traditional says '
till death do us part
' and I told her I don't want that in our wedding at all, it's not allowed in our wedding." Carene and Cameron, with the help of their community, threw the wedding together in order to be married before Cameron's chemotherapy treatments begin in July.
Related: If You're A First Degree Relative of Someone With Pancreatic Cancer, Screening and Surveillance Could Save Your Life; Here's Why
Carene explains the necessity of the treatment path, saying, "It was 4-6 months [left to live] if we didn't do anything, if we didn't do any treatment. Then it was 9 to 12 months with chemo, so that's just no time at all. It's less than a year so we just wanted to go ahead and do it now while we have time."
The pair married on Sunday, surrounded by loved ones. Cameron recently got into a clinical trial at Duke, which the couple hopes will make a difference in terms of his prognosis.
Focusing on the Good Through Cancer
For people like Cameron who are faced with a life-altering diagnosis, remaining positive can be a challenge. Many people, when they are first diagnosed with cancer, experience grief, and its varying stages, along with anxiety, and even depression.
Related: Treating Depression After a Cancer Diagnosis
Options are available for those suffering from their mental health after a diagnosis; seek out a skilled therapist, or ask to be connected with one. You don't need to suffer alone, and therapy can help keep things in perspective. Dr. Zuri Murrell of Cedars-Sinai says that his patients with a positive outlook tend to do better. In an earlier interview, he says, "My patients who thrive, even with stage 4 cancer, from the time that they, about a month after they're diagnosed, I kind of am pretty good at seeing who is going to be OK."
"Now doesn't that mean I'm good at saying that the cancer won't grow," says. Dr. Murrell. "But I'm pretty good at telling what kind of patient are going to still have this attitude and probably going to live the longest, even with bad, bad disease.And those are patients who, they have gratitude in life."
For Cameron Hughes, he tells viewers of the local news station, "Don't take life for granted. You know, I'm 51 and I've lived a pretty good life. There's things I want to see that I may not get to see, so live life, be happy, love, one love.".
Supportive Partners Through Cancer
Actress and melanoma survivor Jill Kargman says in an earlier interview that having a support system through cancer, like a partner or spouse or friend, is imperative. And for her, she believes that cancer is a litmus test for romantic relationships.
Related: Actor Damien Lewis Writes Beautiful Tribute to Wife Helen McCroy Who Died of Cancer: 'She Has Been Utterly Heroic'
In an earlier interview, Kargman says, "I think cancer is a great way to find out if you're with the love of your life or a shithead. I think it presses the fast forward button on getting to the bottom of that answer, because a lot of people in middle age are kind of at a crossroads, waiting for their kids to fly the coop."
Related: Did You Know Actor Tom Hanks' First Wife, Samantha Lewes, Battled Bone Cancer? Resources For Coping When A Spouse Has Cancer
"And I think if you're with someone who is not supportive and kind of emotionally checked out or doesn't tell you you're still beautiful," says Kargman, "this might not be your person."
Jill Kargman on Relationships and Cancer
Learn more about SurvivorNet's rigorous medical review process.